'Pitch Perfect: Bumper In Berlin' Review: "Aca-Exhausting"
Posted On November 21, 2022
---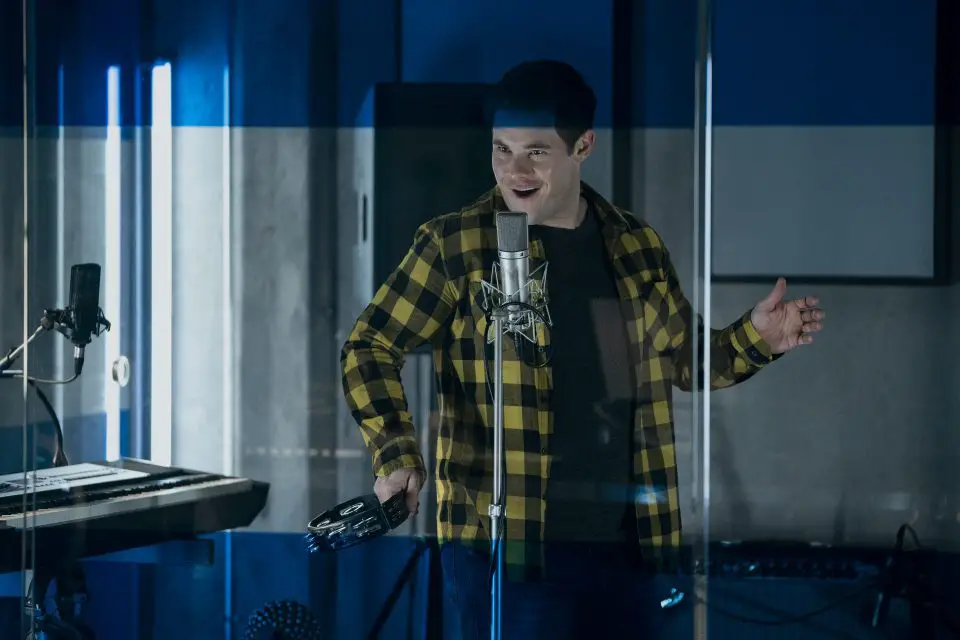 It's hard to believe it's been over ten years since the original Pitch Perfect was released. The film, starring Anna Kendrick, revolved around the collegiate world of acapella (mouth music) and went on to spawn two sequels as well as a hit song with "Cups." The films were wildly successful and have maintained a strong, passionate fanbase since. So a spin-off starring rival acapellaist Bumper Allen (Adam Devine) seemed like a no-brainer. However, the show is far from aca-awesome.
The series finds Bumper still working security at Barden University and hoping to make it big as a singer one day. His music career gets a shot in the arm when one of his TikToks (yes, really) blows up in Germany. Former DSM member/turned talent manager Pieter (Flula Borg) reaches out and asks Bumper to fly to Berlin and pursue this newfound stardom. Booking a one-way ticket, Bumper flies to Berlin and sets his sights on securing a spot at the German Unity Day festival. Along the way, he meets Heidi (Sarah Hyland), Pieter's bubbly assistant, Thea (Lera Abova), Pieter's successful DJ sister, and Gisela (Jameela Jamil), Pieter's ex and main competition.

The synopsis above is about all there is to the show. The premise is teed up in the first ten minutes, and everything after that is filler. Bumper is repeatedly put in wacky situations that have little to do with the plot. What if he tried to make a German expressionist music video? What if he went on a "Hot Ones" parody show? The setups themselves aren't inherently bad, but nothing significant is done with them other than highlighting the different cultures.
One thing the series has going for it is the chemistry between the four leads. They establish the found family dynamic early on and make great use of each performer's comedic sensibilities. Unfortunately, this dynamic slowly fizzles out as the series progresses. The actors are given little to work with other than a few solid jokes. And with a total runtime of over three hours, these solid jokes are few and far between. These characters fail to break out of the one-dimensional box they're in and begin to feel stagnant. Bumper is the foreigner, Heidi is a little odd, Pieter wants to move past his failure as a performer, and Thea is an edgy anarchist. The differing personalities feel ripe for conflict, but most of it comes from out-of-left-field heel turns, forcing any form of conflict. They feel less like characters and more like caricatures that are one-note. And speaking of one-note.
One of the big draws of past Pitch Perfect films is to show the talents of acapella music with some really unique musical mash-ups. Pitch Perfect: Bumper in Berlin fails to deliver on that front. Despite a few great musical performances (Sarah Hyland is the clear stand-out), most numbers fall flat. The decision to move away from strictly acapella was smart, but none of the acoustic-accompanied songs feel distinct. The songs sound similar enough that it's difficult to distinguish between most of them. The less said about the riff-off, the better.
Pitch Perfect: Bumper In Berlin feels less like a genuine attempt at a follow-up and more like Peacock filling out its streaming service with something recognizable. If the show's purpose was to be an ad for visiting Berlin, it did a great job. However, a few solid gags and even fewer catchy songs aren't enough to salvage this lackluster script. The show utilizes the charisma of its leads, but fails to make any real use of their individual talents. There is a better show in this premise, but the final result isn't it. It's aca-exhausting. –Kellen Murack
Rating: 3/10
Pitch Perfect: Bumper In Berlin premieres all six episodes November 23rd on Peacock.
---
Trending Now