'Guillermo del Toro's Pinocchio' Review: "A Reinventive Masterpiece"
Posted On November 20, 2022
---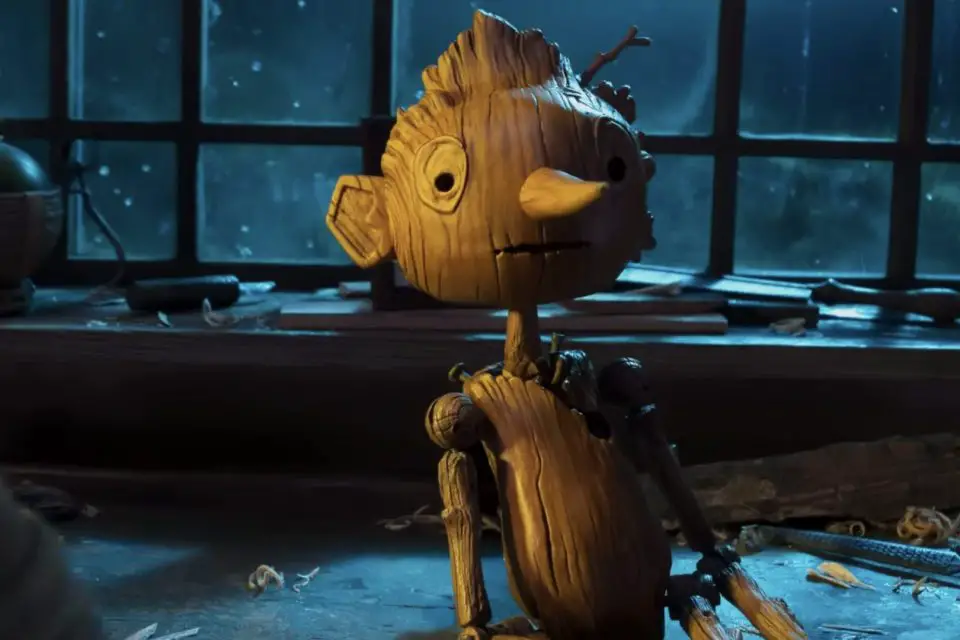 In a year that saw the release of not one but two Pinocchio movies, I've decided just to acknowledge one. Guillermo del Toro's Pinocchio is, without a doubt, not just my favorite animated film of the year but one of my favorites this year in general. The story of Pinocchio has been told time and again through several iterations. Most notably done to death by Disney, Guillermo del Toro has reinvented the classic tale in a fresh and exciting way. Set in the backdrop of fascist Italy, Guillermo del Toro's Pinocchio returns to the roots of the original story. Firmly about disobedience, the film's themes go hand in hand with the backdrop, as del Toro weaves every aspect of the production to tell a truly incredible story.
Guillermo del Toro's Pinocchio expertly displays its tonal balance from the film's start. Starting as a deceivingly wholesome stop-motion tale, del Toro introduces the setting and characters while making way for tragedy. Telling the story of Geppetto (David Bradley) and his son Carlo in 1930s fascist Italy. This period isn't chosen without purpose but is instead the whole tipping point of the story, as Geppetto loses his son in an unexpected bombing of a church where Geppetto was doing his woodwork. Del Toro's version of this film isn't afraid to show children and adults the horrors of the real world. 

Even better, this version of Pinocchio is unafraid to address the consequences of creating life, akin to Mary Shelley's Frankenstein. Years after losing his son, Geppetto angrily makes a wooden puppet that looks eerily similar to his lost son Carlo. del Toro captures this creation not in a wholesome way but by displaying it as a horrific act that practically feels macabre. Guillermo del Toro's Pinocchio has a constant shift in tone that shouldn't work but somehow does, all while keeping the audience engaged. 
This is all told from the perspective of Sebastian J. Cricket (Ewan McGregor). The actor brings vitality and charm that leans more toward the childlike side of the film's story, and he witnesses Pinocchio being brought to life by the Wood Sprite (Tilda Swinton). What follows is a reckoning for Geppetto in a creator/creation interaction that addresses the fundamental responsibility of creating a life. 
The rest of the film follows Pinocchio (Gregory Mann) as he discovers the world for the first time. The film's beauty lies in Mann's innocent and exuberant performance as the wooden boy is brought to life. Exploring the small Italian town that has only become more steeped in fascism since Carlo's passing, Pinocchio is introduced to so many ways he could live his life in such a small amount of time. The story at the center of this stop-motion film feels much more human than many other live-action projects released this year. Addressing questions of happiness, love, fatherhood, and humanity, this iteration of Pinocchio is a powerhouse film that shows the true potential of the medium of animation. 

Whether it's becoming a sideshow for the sleazy Count Volpe (Christoph Waltz) circus, being the ideal soldier to Mussolini's regime to Podestá (Ron Perlman), or just being a dutiful son to Geppetto, Pinocchio grows as a person in real-time. Of course, the iconic nose also grows when he lies. For a tale that's been told so many times, del Toro and his incredibly talented production team add many new and exciting layers to the story.
Mann's performance as Pinocchio is filled with equal parts childlike wonder and the rebellious nature of a child who just wants to enjoy life. This story of self-discovery is accompanied by the occasional musical number that never feels tacked on but rather has music and lyrics that deeply connect to the character's emotional state at the time. The film never shies away from its darkness or complexity, shown unequivocally well in moments where Pinocchio dies – sent to an awe-inspiring underworld as the wooden child unknowingly waxes poetic with the Wood Sprite's sister about mortality, among other things. 

Throughout its nearly two-hour runtime, Pinocchio feels like a complex and challenging film, as through the lens of the titular character, audiences ruminate on things like war, fascism, blind loyalty, and the burden of love. del Toro's film feels unflinchingly real to the end, all while managing to keep its magical wonder intact. The character and creature designs, the sets that bring the stop-motion world to life, and the beautiful and endearing score by Alexandre Desplat all make Pinocchio one of the best films Guillermo del Toro has made. 
The creativity on display easily makes this film my favorite period piece of the year. Filled with such imagination and creativity, Guillermo del Toro's Pinocchio shouldn't be missed. Not only can it entertain yonder audiences with its vivid imagery and detail, but it will also keep older audiences just as invested with its complex themes and powerful storytelling that will have you thinking about it long after the credits have rolled. – Ernesto Valenzuela 
Rating: 9.5/10
Guillermo del Toro's Pinocchio is Now Playing in Theaters and Will Release on Netflix on December 9th
---
Trending Now