'My Policeman' Review: "A Clichéd, Disappointing Adaptation"
Posted On October 22, 2022
---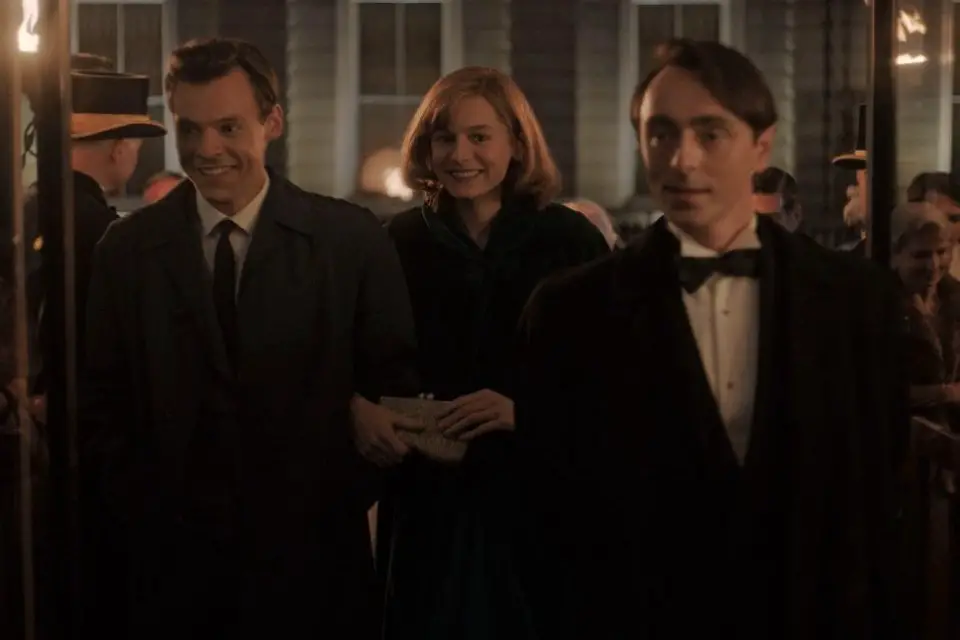 With countless musical accolades under his belt, Harry Styles has spent the past few years taking the world by storm. Unfortunately, that storm turned into a drizzle when it passed through Hollywood (forgive me, Harry). My Policeman is the newest addition to Harry Styles's growing filmography. And, as someone who has seen him in concert more than double the number of years they've been alive, I really wanted it to be good. But alas, it's just… not. For the most part, at least. 
Based on Bethan Robert's novel of the same name, My Policeman tells the story of three characters at two different times in their life. Directed by Michael Grandage, part of the film is set in the 1950s when homosexuality is illegal. Tom (Harry Styles), a young policeman, is set to marry Marion (Emma Corrin), a schoolteacher. However, Tom is simultaneously having a secret love affair with Patrick (David Dawson), a museum curator. The rest of the movie toggles between the three characters many years later, where an older Tom (Linus Roache) and Marion (Gina McKee) remain married. After he suffers a serious stroke, Marion brings Patrick (Rupert Everett) into her and Tom's home, where her husband and his ex-lover reunite for the first time in several decades. Yeah… got all that?

If that summary alone feels like a linear narrative mess, just wait until you watch the movie. The first flaw in My Policeman is its expectation for viewers to care about the older versions of the characters as much as their younger counterparts. This is simply not the case. The charm of Tom and Patrick's young love is the most interesting part of the film. However, it's often swiftly contrasted with the bleak and lonely aftermath of their older years.
Through this, viewers are shown from the start that things likely won't end well for the entire trio. Not only does this make any scene with the present-day characters feel like an absolute drag, but it also strips the emotional weight out of the love story unraveling back in their youth. How can we be expected to grow attached to characters who, on top of being deeply flawed, have their tragic ending presented to us from the start? At times, it seems almost unfair how little McKee, Everett, and Roache have to work with. 
The subject matter of the film is heavy. It includes many unsettling themes, such as internalized homophobia, questionable moments of consent, devastating betrayal, and beneath it all: a really poor script. The sensitive issues covered are bogged down with endless clichés. Tender and heartbreaking moments feel significantly less impactful than their potential. It's confusing, actually, how a movie that takes itself so seriously can include so many moments of levity. I'm not sure if the comedy was actually meant to be funny or not. Either way, it doesn't work.

And here is where it gets painful for me to keep writing this. The ensemble cast is not as convincing as I had hoped it would be. For the above-stated reasons, it's mostly not their fault – the script didn't give them much to work with. Dawson in particular gives a standout performance, but the others fall short. Of course, Styles is always going to be held to a high standard due to this success in music. Unfair or not, he doesn't reach that expectation. He shines when the scenes give him a real challenge, such as tender moments of sexual uncertainty or heartbreaking revelations. But when the script falls flat, so does his performance, and it's hard to tell which is at fault. 
All this said, there are good moments within My Policeman. The cinematography is stunning. Color contrasting between past and present storylines is effective, if not unsubtle. It's comparable to Call Me By Your Name's sunny nature with a splash of the never-ending water archetypes present in Claire Oakley's Make Up (if anyone has ever actually seen that criminally underrated film). Steven Price's string-heavy score is also excellent, oftentimes doing more for the movie's emotion than the actual performances. 

With this, for a movie sometimes painfully thin, it excels in its vulnerability. The intimacy scenes in particular are beautifully done, displayed with a sensitivity often omitted in film for the sake of appeal. There is an authentic exploration of sexuality within the story of Tom and Patrick, and it's not shied away from. Contrasted with scenes involving Tom and Marion, or rather the lack thereof, the showcase of different types of relationships within the film is well done. Although a little outdated in some of its material, I applaud Grandage and everyone involved for taking on a story like this. To see an underrepresented type of love expressed in such a carefully crafted way is rare. These moments, at the very least, are something the movie got right. 
Yes, there is some good within the film. My Policeman is a raw and tragic love story with some tear-worthy moments. What's more tragic, however, is the injustice of being far too flat when the potential to be spectacular was painfully within reach. – Avery Wohleb
Rating: 4.5/10
---
Trending Now