'Atlanta' Season 4, Episode 6 Recap/Review
Posted On October 13, 2022
---
The following Recap/Review Contains Spoilers for Season 4, Episode 5 of 'Atlanta'. Check out our review of Episode 5 here.
After last week's self-contained episode featuring the return of Zazie Beetz as Van, it feels like season four is telling the story of two Atlantas. One where, Earn, Darius, and Alfred exist and another where Van inhabits. This week, it appears we are back with the three guys as they face some delayed deadly consequences for making "Crank Dat" videos in the past. Featuring a cameo appearance from Soulja Boy Tell 'Em himself, episode 6, titled "Crank Dat Killer" brings the anxious, terror-inducing tension that betrothed TV fans to the ninth greatest series of all time (according to Rolling Stone).
Arriving at Alfred's new lavish home in the suburbs, Earn joyfully chops it up with his pals and mentioned someone by the name of the Crank Dat Killer. Apparently, this particular serial killer is hellbent on taking out anyone who kills people who made videos during the "Crank Dat" era of hip hop in 2007. On one hand, it's refreshing to see Earn, who has been struggling with the state of his own mental health, being able to hang out with Darius and Alfred again. On the other hand, the scene sets the scene for what is to come. Turns out, Alfred made a "Crank Dat" video back in the day, and, while he does not suspect he'll be a victim of the Crank Dat Killer's killing spree, Earn wants the video scrubbed from the internet out of embarrassment. A much-needed humorous moment in the show that, while billed as a comedy, is also incredibly dramatic and, sometimes terrifying.
Much like any good slasher flick, the narrative introduced a slew of could-be killers. Among them an incredibly kind rapper named Some Guy Named Doug, who is desperate to get on a track with the one and only Paper Boi. After doing all he can to shut his advances down, Alfred returns to his car to once again view his Crank Dat video and sees an ominous skull-face emoji appearing in the comments. While the notion itself is silly, the execution of Atlanta's famous brand of storytelling and editing mixed with award-winning performances of the cast makes the anxiety levels rise just a bit at the appearance of a simple skull-face emoji.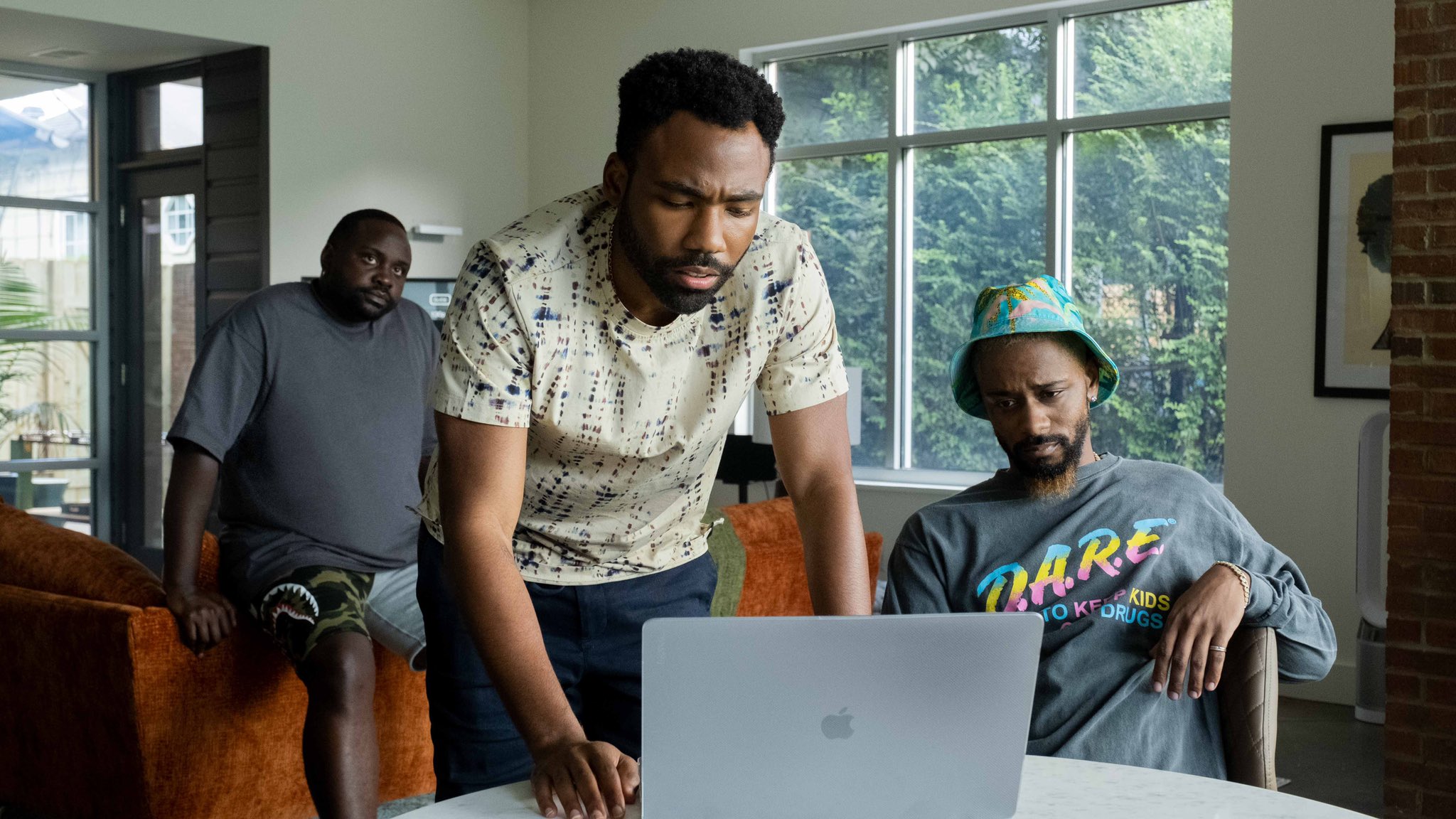 Next up on the Potential Killer list is a brand new character to the Atlanta canon named Roberto. Apparently, he is an up-and-coming rapper, living with his mom along with his girlfriend and young daughter. However, he works at a mall as he hopes for a run-in with a famous rapper a la Kanye West's discovery of Big Sean. Elsewhere, Earn continues his surprisingly un-stressful adventures with Darius as he meets the Shoe Man to purchase a pair of Nikes at the price of kissing Darius. Earn refuses due to the does not want to kiss anybody, let alone his friend for a pair of shoes. While this is going on, Alfred calls up Soulja Boy who advises him to head to something called a safe farm to stay alive from the Crank Dat Killer. Soulja Boy being the one to warn Alfred and raising the stakes is definitely a part of Atlanta's history that will live on because of the line written for the rapper. From "I basically invented Youtube" to "like a good *****, a safe farm is there" Soulja Boy continues the trend started by the likes of Katt Williams and Kendrick Lamar and steals a scene he shares with a powerhouse performer like Brian Tyree Henry.
After a quick commercial break, Earn and Darius is back in the Shoe Man's van haggling about how long the kiss has to be and whatnot. LaKeith Stanfield and Donald Glover are absolutely sensational in this exchange and their combined delivery is something truly remarkable. Let's make this clear, Earn is not against kissing Darius because of any sort of gross homophobia. He thinks he and Darius are above this sort of behavior for a pair of shoes. And he makes a lot of good points. This once again highlights another reason so many fans and critics alike tune in to watch Atlanta religiously, the writing is absolutely rock solid, relatable, and genuinely hilarious.

While sitting outside and enjoying his freshly purchased pretzels, Alfred watches kids doing their own version of the "Crank Dat" videos: TikTok. However, he soon meets a third possible suspect to be the Crank Dat Killer, a random person pulling up in a red Mustang, rocking a haircut that only The Weeknd would love. This sets the stage for a tense, slow-chase scene through the mall. Turns out, this might be the guy. the new character pulls out a gun and starts firing on Alfred. Then a mother pushing a stroller pulls out a gun and starts firing. Then EVERYBODY pulls out their guns and starts firing. Alfred is left stunned and running for his life, pushing poor Roberto out of the way and through a shop window. As Darius and Earn finally lock lips in the back of The Shoe Man's van, he is shot and killed by a stray bullet because this van is located in the parking lot of the treacherous mall where the shootout is happening. However, Some Guy Named Doug returns to seemingly save Alfred's life.
As it turns out, the Crank Dat Killer is some random person and none of the suspects above. However, the forty minutes of pure speculation and anxiety just prove why this series will stand the test of time when season four concludes its historic run. With only four episodes left, Atlanta is not taking their foot off the pedal and is well on its way to creating an iconic final season. – Christian Hubbard
Rating: 10/10
Atlanta premieres Thursdays on FX and the next day on Hulu!
—–
Did you enjoy this article? If so, consider visiting our YouTube channel, where we discuss the latest and greatest in pop culture news.
---
Trending Now