'Atlanta' Season 4, Episode 5 Recap/Review
Posted On October 6, 2022
---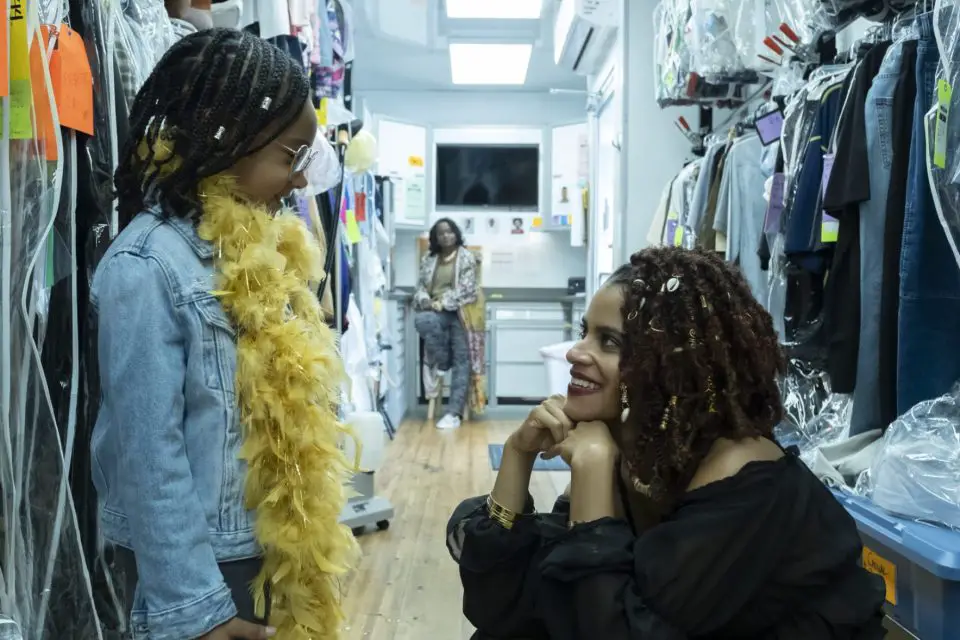 The following Recap/Review Contains Spoilers for Season 4, Episode 5 of 'Atlanta'. Check out our review of Episode 4 here.
Zazie Beetz is finally back as Van in the latest episode of Atlanta's fourth and final season. If you've been following along with our coverage here at Full Circle Cinema, you know that season four is a far cry from the experimental antics of season three. However, that does not mean Atlanta does not shy away from a certain level of mystique and creativity with inspiration from other various genres of film and TV. In episode five, titled "Work Ethic!", Van and her daughter Lottie find themselves at Chocolate Studios, owned by Mr. Chocolate. Here, all the projects tell Black stories for Black audiences. However, not all is as it seems as Van begins to unravel a more devious plan behind the gallery of welcoming but cautious faces.
Van and Lottie are at Chocolate Studios to have their lives changed. However, a few strange instances (an introduction to an off-limits building and a man in the waiting room speaking loudly about putting somebody in a trunk) throw Van off a bit. While in the hair and makeup chair, Van reveals that she came to Chocolate Studios to support Black art and give Lottie a positive dream-chasing female to look up to. Over the past three seasons, Van has had a knack for performance art and even over-commits to a role at times. It's nice to see her character get an entire episode devoted to her again, as Zazie Beetz clearly cares about the character and is able to flex a bit with how complex Van can be.

Things take a turn when during a blocking rehearsal, Lottie tells a mean character to "shut up" the ominous Mr. Chocolate booms over the loudspeaker and demands she joins the cast, effective immediately. This, again, puts Van in an uneasy frame of mind. Her child is suddenly being thrust into a position where she may feel uncomfortable or unsafe. In seconds, Lottie is the star of her own programs. A blossoming star.
The whole vibe feels like the episode is a dig at Tyler Perry and his incredibly successful studio lot. While Tyler Perry creates stories of Black families in Black neighborhoods, some feel he is exploitative. Regardless of which side of this story you stand on, Atlanta is creating a narrative and using its platform to become a voice for the lesser-heard stories of the world. Donald Glover is a master at making real life feel cinematic, and episode 5 tells the story of people being manipulated by a male-controlled system that has long existed in Hollywood. To many, it will hit close to home.
On her quest to find and confront Mr. Chocolate after he demands Lottie works a rigorous schedule and promotes her, Van unravels more and more to make Chocolate Studios feel cerebral. She finds Lottie on a more dramatic project set, unable to get to her before she is taken off to a different set. A mother unable to find her child is bad business for anybody in her way, and Van is hellbent on getting to the bottom of this. After Van demands Mr. Chocolate give her daughter back, the recluse simply says, "no." She makes a beeline for his private headquarters. She is surprisingly aided by the religious makeup artist, who shoots a security guard in the foot to gain entry.
Van's adventure is unlike anything I may have expected (I do not watch the weekly trailers), but it is remarkable to watch the screen-commanding prowess of Zazie Beetz as she takes on the unknown, like her costars before her. Like the infamous episode "Teddy Perkins" in season two of Atlanta, Donald Glover hides under layers of makeup and pulls off an absolutely hilarious performance as Mr. Chocolate himself. Everything about his performance as Mr. Chocolate is funny and terrifying all at once. He is a supervillain in ever since, attempting to manipulate those around him. But the typing a script on the piano and the drinking grits from a mug just scream Glover's brand of humor and stands apart as the biggest highlight of season four that will be talked about for years, much like Teddy Perkins.
I may be biased due to being a massive Zazie Beetz fan, but episode 5 is the best from an already solid season. This installment's stakes and mystery were extremely satisfying and peeled back many layers to Van's character growth and her renewed commitment to Lotti full-time. If season four is the show's swan song, this is the perfect way to discover who Van truly is as a mother and as a fully fleshed-out main character in this series.
Rating: 10/10
Atlanta premieres Thursdays on FX and the next day on Hulu!
—–
Did you enjoy this article? If so, consider visiting our YouTube channel, where we discuss the latest and greatest in pop culture news.
---
Trending Now