'Project Wolf Hunting' Review: "A Thoughtless and Bloody Time"
Posted On October 1, 2022
---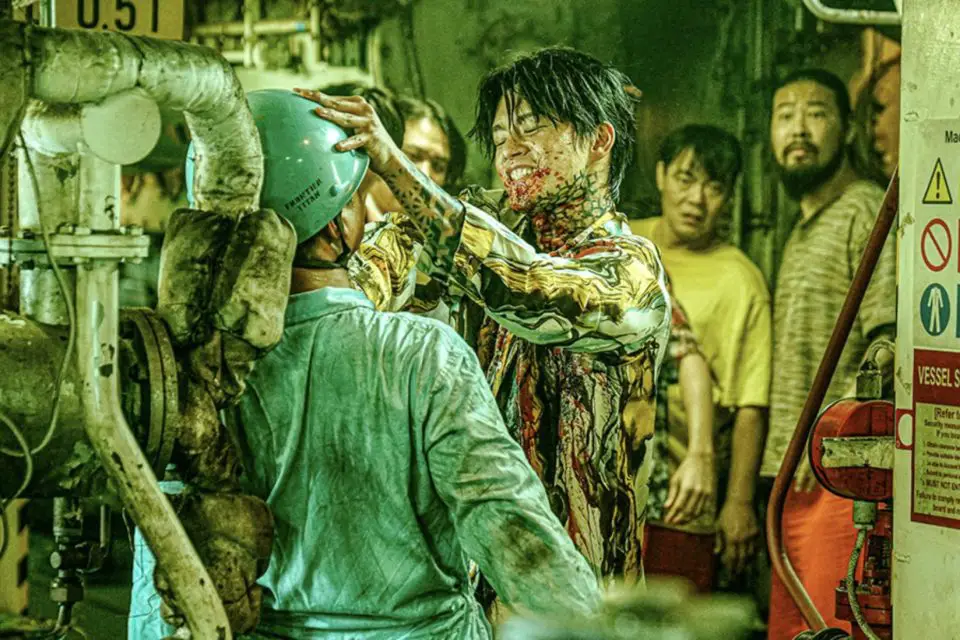 Project Wolf Hunting is the South Korean film version of Resident Evil that we didn't know we needed. Directed by Kim Hong-sun, the film tells the story of a group of detectives attempting to extradite ruthless criminals via freighter transport. It's an unconventional way to transport prisoners, and so much could go wrong. As with most South-Korean horror action-thrillers, things indeed do go wrong in the goriest way possible. However, there's a terrifying twist in the film; another piece of incognito cargo within the freighter, an unstoppable mutated force, only known as "Project Wolf Hunting." And so begins the terror of the film.
While I'm not familiar with the previous work of Kim Hong-sun, I will say that the film is nothing like I've seen before. If there ever was a film to go into with zero expectations, it's Project Wolf Hunting. The two halves of the film feel like two completely separate things, but how the movie manages to weave the two plot lines is surprising. What starts a Die Hard but on a ship turns into Resident Evil but on a ship, and that's not something to complain about. However, the characters, story, and some performances all feel shallow.

The detectives caught in the mayhem all feel like lambs to the slaughter. Every single one of them comes off as a caricature, and the sheer amount of them in the film is so that they could all be killed off in extremely gory ways. There hasn't been a film as gory and absurd as this one in quite a long time. As the vicious criminals escape, their desperation and evil nature come across through the creative ways in which they dismember nearly every detective.
Another odd aspect of Project Wolf Hunting is its lack of a protagonist throughout its runtime. The film has multiple fake-outs, making you think it's one detective or another. However, another body drops each time you think you've figured it out. As the sci-fi monster twist hits, viewers better understand who the main character really is, though it comes too late into the film to care.
The action is the saving grace of Project Wolf Hunting. The absurd story is an excuse to put the most insane and brutal action on the screen. Once the poorly conceived setup is over, the film feels like non-stop action and bloody mayhem. Characters are fighting for their life on the freighter, with fists, knives, guns, and swords flying in what feels like a battle royale. Exploding heads and severed limbs are prioritized over character arcs and impactful themes.

The choreography for every fight is entertaining, and the setting of a cargo ship makes the horrific action feel claustrophobic. Elevators, tight hallways, and labyrinth engine rooms are all fair game in this movie. While the story isn't original or compelling, every fight scene is. The actors displayed incredible levels of physicality, really making the characters feel like they were fighting for their life. There's a level of desperation not usually seen in horror that's captured expertly here.
Overall, Project Wolf Hunting is a mixed bag. The story is very one-note and surface level, with an uninspired open-ended conclusion that teases sequels. However, the bloody action and thrills that come with it make the movie tolerable and one that should be seen. If you can stomach obscene amounts of blood and gore, Project Wolf Hunting is your turn-off-your-brain movie. – Ernesto Valenzuela
Rating: 6/10
Project Wolf Hunting Releases in Theaters on October 7, 2022
—–
Did you enjoy this article? If so, consider visiting our YouTube channel, where we discuss the latest and greatest in pop culture news.
---
Trending Now