'Bones and All' Review: "Luca Guadagnino's Darkest Film Yet"
Posted On September 29, 2022
---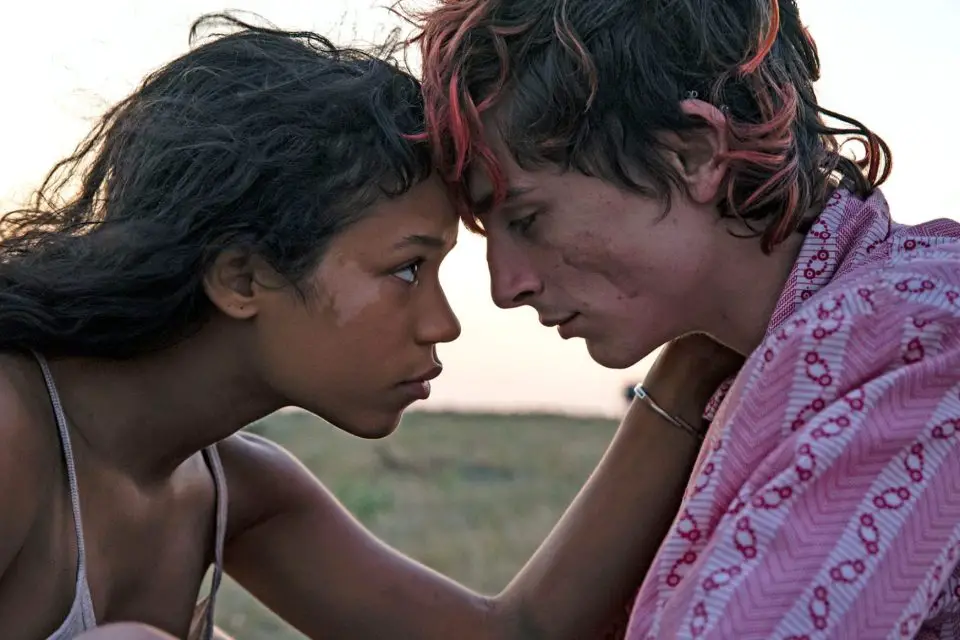 Director Luca Guadagnino has never been one to shy away from controversy. Based on the young adult novel of the same name, Bones and All tells the story of a young couple living on the outskirts of society for one reason: their desire to consume human flesh. Her father has only recently abandoned Maren (Taylor Russell). A father who no longer knows how to handle her cravings for human flesh. Lee (Timothée Chalamet) is a drifter who has long gotten used to being an outsider. The kinship that the two find within each other and the subsequent road trip they go on to find Maren's mother is what drives the narrative of Bones and All.
Many of Guadagnino's films are sensual and intimate. His last two films, Call Me By Your Name and Suspiria, push the boundaries of physical and emotional relationships. However, Suspiria is on a much more twisted and macabre level than Call Me By Your Name. Bones and All is more on the Suspiria side of things. While not supernatural, Guadagnino's latest is a horrific and dark look at an otherwise beautiful and blossoming relationship between two young lovers.

The 1980's Reagan-era Americana backdrop of Bones and All help to establish the film's tone. The beautiful landscapes constantly contrast with the midwestern states' more grimy and darker corners. The film is essentially a cannibal road trip movie. Moreover, Guadagnino sells the movie with the idea that "even monsters deserve love." While some characters in the film would disagree, the movie aims to dissect what it means to be a "monster" and the kind of love they feel they either do or don't deserve.
The thesis is a slippery slope, and the way Guadagnino explores these themes makes the film one of his darkest. The way the darker inclinations of these characters are played off in such a nonchalant manner is a large part of what makes the movie so thematically intense. Bones and All isn't about characters struggling with who they are. It's about characters who know damn well what they are and are coming to terms with how everyone else perceives them.
Cannibalism in movies and TV is usually played for scares and gut reactions, but Bones and All takes a much more casual approach. Seeing Maren understand and learn about her cravings and different ways to handle them is all incredibly disturbing. That's never more apparent than with the film's antagonist, Sully (Mark Rylance).

Mark Rylance as Sully is one of the most terrifying antagonists in film in recent memory. The moment you see the character on screen, there's an air of tension and extreme discomfort. Rylance is a powerhouse actor, and he reminds us of that in Bones and All. Whereas Chalamet's Lee represents a possible best-case scenario for those who prefer human meat, Rylance as Sully is the worst-case scenario.
The road trip aspect of the movie is used as a storytelling device to introduce Maren and Lee to other like-minded monsters who share the same affinity for cannibalism. Besides the terrifying Sully, Maren and Lee converse with others who retell the first times they ate another person. While there is something beautiful about finding others with similar desires and experiences as you do, the fact that it's about cannibalism makes it all feel so tonally jarring.
Such a dark and taboo topic paired with intimate and romantic story beats shouldn't work. However, somehow Guadagnino more or less pulls it off through his twisted lens. In between eating people, Maren and Lee develop a genuine connection with each other that feels real. Their story, as disturbing as it is, speaks to larger feelings of struggling with belonging and generational trauma. The empathy Luca Guadagnino invokes in viewers is genuinely impressive.

While the marketing would convince you that Lee is the lead, Maren is the story's focus. Maren's understanding of her cannibalism is told expertly through narration from her father, Frank (André Holland). Taylor Russell gives a vulnerable performance like Maren, showing equal strength and weakness when opening up to others. Her chemistry with Lee is the film's highlight, and Chalamet in the role of the carefree cannibal with a dark past is a lot of fun.
That'd be a different story if the film didn't have the charisma of Russell and Chalamet to carry the film. Their love and respect for each other lift Bones and All out of its perpetual darkness. While much of the film's content is extremely troubling, the relationship driving it all isn't. Using cannibalism as a way to tell the story of two troubled individuals finding solace in each other makes it beautiful.
Bones and All boasts a complex narrative. A film filled with dark subject matters, Guadagnino has made a film with truly incredible performances. While it may not always justify its darker inclinations, the story is still powerful. Whether it be about intergenerational trauma, addiction, or just plain love, it's a moving film. When you look past the darker and gorier moments, there lies a film that speaks to anyone who felt lesser or not belonging. That's enough to make Bones and All an exceptional film. – Ernesto Valenzuela 
Rating: 8.5/10
Bones and All is in theaters on November 23, 2022.
—–
Did you enjoy this article? If so, consider visiting our YouTube channel, where we discuss the latest and greatest in pop culture news.
---
Trending Now