'Pearl' Review: "X-tremely Okay"
Posted On September 18, 2022
---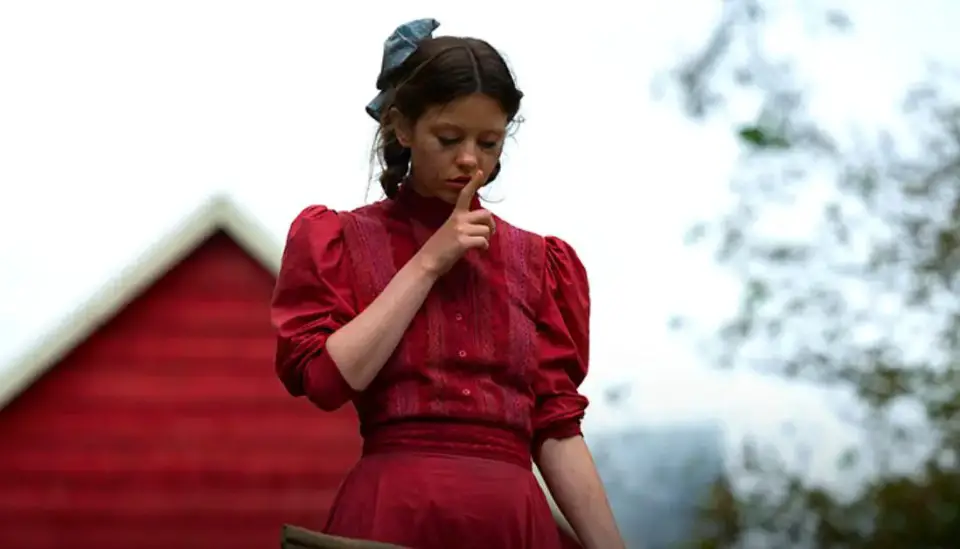 Desire, desire, desire – that's what drove Ti West's foray back into filmmaking with X. Widely acclaimed, profitable, and featuring a monstrous performance from Mia Goth, X was a stroke of perverted genius. After learning a prequel was in the works with Pearl, I was ready to ride that high. West still rocking and rolling and Goth was coming back to star as the psycho-killer Pearl in her younger years. To add the cherry on top, it would be modeled off of a technicolor melodrama. Sadly, the transition from trash-70s-porno-slasher to a melodrama is far from seamless.
Pearl follows the character from X of the same name, but in 1918. Pearl (Goth) is a German immigrant living on a farm in Texas with her disapproving mother, Ruth (Tandi Wright), and paralyzed and infirmed father. In the meanwhile, her husband Howard is off fighting in World War I. Pearl leads a basic farm life tending to the needs of her father and barn animals. She grows discontent with her current situation and the idea of becoming a big movie star soon enamors her. When Pearl meets an unassuming projectionist (David Corenswet), she begins to actively pursue a more exciting lifestyle.

There are a few positives with Pearl – namely the score and Mia Goth. To hear such a sweeping, melodramatic score accompanying this movie was a pleasant surprise. Reminiscent of technicolor melodramas of the past, the score really elevates the environment entirely. If it weren't for the score, you would be watching a different movie entirely. While this may come off to you as "well duh, a score should pound in the ethos of the scenes", there is truly something magical about how it utilizes this score in particular. Then there's Mia Goth. MAN OH MAN, Goth is just a powerhouse. This may come as no surprise as she brought the house down in X. Her descent from a deprived farm girl to a psycho-killer is terrific.
There's a weird dichotomy between Pearl and X. The latter film is a much more perverted and pulp horror movie that rides until the end. Pearl is a tame melodrama with a sprinkling of horror in the end. This contrast in style could be an interesting tee-up for the next X movie, MaXXXine. Sadly, Pearl's melodramatic approach doesn't lend well to the material. This is mainly because it spends too much time focusing on nonsense than it does making Pearl a more compelling individual.

What makes Pearl so disappointing goes back to one moment: the scarecrow scene. There's a scene early on where Pearl pulls a scarecrow to the ground where she can dance with it. Pearl dances with it, jumps around with it, and eventually kisses it (tongue and all for Goth). Which if it could tie together with the rest of the movie it would be a fine and unsettling scene. And I'll admit, it's unsettling enough that I actually laughed my ass off. Still, this is just a throwaway scene intended to be weird for the sake of being weird.
How this scene sums up my gripes with this movie is its inability to focus. The ideas it's presenting about privilege, fame, or lust don't mesh well in this movie. There's a lack of cohesion between the characters and the scenes. It isn't until the end of the movie when Pearl goes insane that these things really come into view. But by the time we're starting to get to the good stuff, the movie ends. The interesting imagery and the unsettling environment are all in the last minutes of the film.

A lot of ambition was really geared towards X and it shows. Pearl may not be an outright misfire, but it is far less assured than it ought to be. With an X sequel in the works with MaXXXine, I can only hope that that movie can circle back to what X was. Even if it's not, maybe it'll explore the ideas of desire more than what was done in Pearl. But as far as my desire goes, I have no desire to watch Pearl again. – Jacob Mauceri
Rating: 5/10
Pearl is now playing in theaters.
---
Trending Now