SXSW 2022: 'Bodies Bodies Bodies' Review
---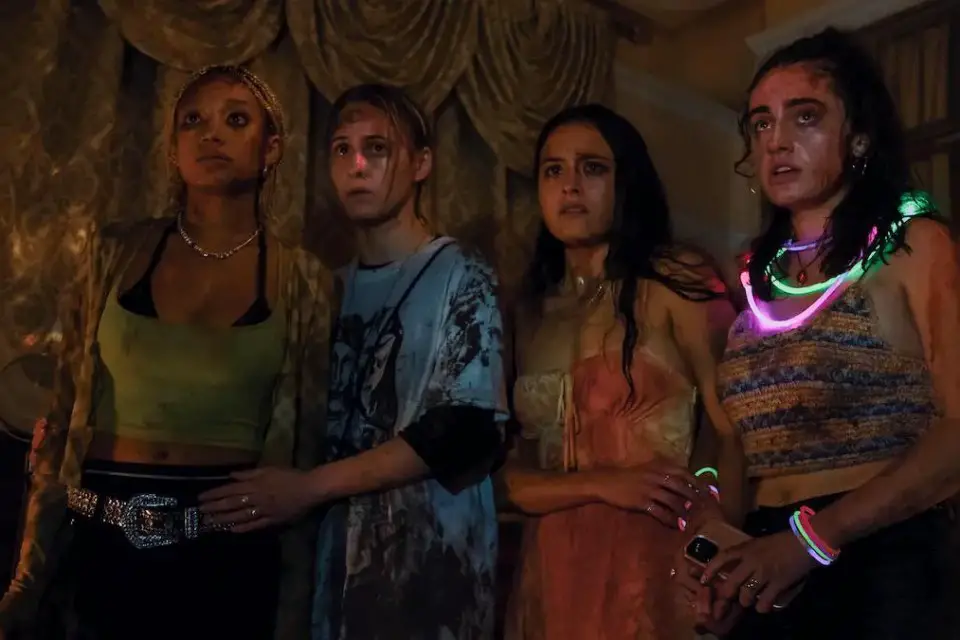 Distributors are a dime and dozen, but ones like A24 are hard to come by. No matter what genre, that logo is a signal for audiences that they're getting something a little different. Directed by Halina Reijin from a screenplay by Sarah DeLappe based on a story from Kristen Roupenian, Bodies Bodies Bodies fits the bill. Part slasher, part social satire, all the way lively, Reijin's potboiler from a feminine lens feels guaranteed to find its audience.
Recently clean addict Sophie (Amandla Stenberg) and her girlfriend Bee (Maria Bakalova) drive to a house party hosted by Dave (Pete Davidson) on the night a storm is supposed to hit. Sophie's arrival causes tension between her and former friend Jordan (Myha'la Herrold). Her other friends, Emma (Chase Sui Wonders), Alice (Rachel Sennott), and Alice's much older boyfriend Greg (Lee Pace), are unfazed. Ultimately, the requisite debauchery expected from a party ensues. Once they simmer down, the group decides to play a game: "bodies bodies bodies". Like Mafia or Werewolf, said game is a murder-in-the-dark party game. One anonymous "player" is the murderer, picking off other players. The goal is to figure out who the murderer is. Their game, however, comes to an abrupt end when a member of the party is murdered. Now it's up to the group to figure out who the murderer is.
Stories like these usually play out as real nail-biters. Halina Reijin flagrantly denies this expectation. For example, steadily growing kills don't get a highlight. As well, a great score from Disasterpeace does only what it needs to. The entire movie plays more like a stage play. Furthermore, it's a vehicle to get into the heads of these very spoofable characters. A level of aesthetic sheen to match the hard-partying turned "Lord of the Flies" situation may have acted as a complement to the story, but what we're left with works on its own turns.

There's not an unkind word to say about any of this cast. Maria Bakalova, fresh off of Borat Subsequent Moviefilm, shines in the role of an outsider bearing witness to the breakdown of some very selfish people. Rachel Sennott, riding the wave of her own recent successful Shiva Baby turn, frequently grabs the movie, runs away with it, and refuses to give it back. Her manic, professional victim energy always inspires laughs. It's rare to see a comedic talent this plugged into a hyper-specific character. This is especially considering her recent semi-dramatic role. Place your bets entirely on her star continuing to rise. Not that any of the cast is shabby, though. Davidson and Pace are terrific dunces in their own ways, while Herrold and Wonders bring a game spirit and their own personalities to the table. Moreover, Stenberg is in rare form, digging into a layered hypocritical, broken character.
On the whole, Bodies Bodies Bodies contains potent commentary regarding the current generation. We get a detached observation of how willing these characters are to backstab each other. The lies they tell themselves. How concerned they are to convince the world they're good people, despite treating every around them like dirt. It's a tough line to walk, one that could come across as depressing. Masterfully, Reijin and DeLappe milk it for pure comedy. The truth is stranger than fiction, and no one has to read these characters for filth; they're outing themselves. Laughs come from just how recognizable these people are. You want to shout at the screen "you get it!". A final reveal highlights, underlines, and puts an exclamation mark on the point the film tries to make.
Saying "trying" is unfair, because Bodies Bodies Bodies is absolutely successful in what it sets out to do. That stage play comparison I made is a huge boon to the film, characters shining through and letting the delicious social satire flow through. It's easy to imagine clips from this being posted over and over again on social media because it's ready-made to be embraced! A24 adds another fantastic, different movie to its roster. – James Preston Poole
Rating: 9/10
Bodies Bodies Bodies has yet to get an official release date.
---
Trending Now