SXSW 2022: 'Halo' Series Premiere Review
---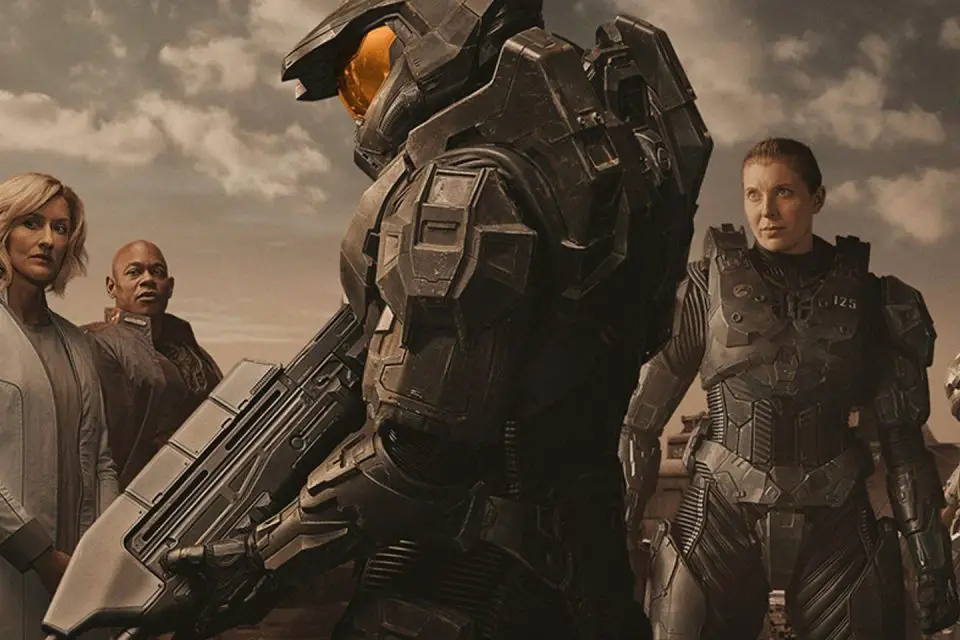 The following is part of our coverage of SXSW 2022. For more, click here.
Getting a proper adaptation of the video game Halo has been a long road. One that started as a live-action project involving directors from Steven Spielberg to Neill Blomkamp that was reconfigured to a switch to the small screen. This particular Paramount+ adaptation has itself endured a long development process, involving 265 scripts written. Now that it's finally here, reviewing Halo seems almost surreal. Especially considering that the final product is so bizarre.
Halo premiered its first two episodes – "Contact" and "Unbound" – at this year's SXSW film festival. Both directed by Otto Bathurst, the episodes are set in the 26th century, following two distinct protagonists. The first is the legendary "Master Chief" Petty Officer John-117, an elite supersoldier known as a Spartan sent from the United Nations Space Command (UNSC) base on Planet Reach to quell an alien species known as the Covenant. His hunt of the Covenant brings him to the planet Madrigal, where a Covenant attack has left all but insurrectionist/secondary protagonist Kwan Ha Boo (Yerin Ha) alive. Kwan Ha and a mysterious Covenant artifact in tow, Chief sets a course for planet Reach. However, an order to eliminate Kwan Ha leaves Master Chief to forge his own path.
Similar to the two protagonists present, there are two ways to critique the premiere of Halo. The first is as an adaptation of its namesake. On that front, it's impossible to predict how audiences would feel. In some respects, it nails it. The rich universe Halo built brand loyalty on remains very much intact. The vigor/massive scale of the Spartans, the instantly identifiable imagery of the weapons, designs of specific planets and the Covenant, and well-known characters such as Dr. Catherine Elizabeth Halsey (Natascha McElhone) all make their appearance. Pablo Schreiber, namely, serves as a perfect Master Chief. Until he very quickly takes his helmet off by the end of "Contact".
No need to check your eyes, Halo blows the lid on a gaming mystery that's been preserved for 20+ years. If it's a declaration that this is not your older brother's Halo, message received. The showrunners of Halo claim that the project takes place in an alternate/parallel universe to the games, dubbed the "Silver Timeline". Still, it's no less surprising than to see it strike out on its own this quickly. Unlikely to repeat any of the classic story beats, the question becomes: does Halo stand on its own two legs as a television series?

Well, kinda. Schreiber kills in his interpretation of Master Chief; a gruff badass starting to question his role in the military machine. Instilling in him a doubt that the original Chief never had makes for a more dynamic character than expected. Yerin Ha's Kwan Ha fares well too as a young woman having lost everything looking to strike back. The action set piece that opens the first episode hits the notes all science-fiction action should aspire to, as do the fantastic creature and world design. A base on a giant hollowed-out meteor produces a cooler spacey image than anything a recent Star Wars production has managed.
The story that Master Chief and Kwan Ha embark on varies from scene to scene. Despite rock-solid lore independent of its video game origins, dialogue scenes drag on. Other than the two leads, and great turns by McElhone as Halsey and Bokeem Woodbine as one of Chief's former friends, there's just about no one for the audience to care about. The Lone Wolf & Cub like story of an older, seasoned warrior taking along a young protege on a dangerous mission feels incredibly stale by this point, as well. Nevertheless, there will still be moments where a mind-blowing image or a genuinely thrilling idea will come to the forefront. It's a series at war with itself.
Paramount+'s Halo stands as an anomaly in video game adaptations. Maybe, though, the word "oddity" fits more. Not a straightforward adaptation, nor completely divorced from its material, sometimes remarkable, sometimes generic, I don't know what to make of this series. The jury is very much out on what Halo will amount to, but it has my attention. –James Preston Poole
Rating: 6/10
Halo begins streaming on Paramount+ on March 24.
---
Trending Now