'Inu-Oh' Review: "The Greatest Feudal Rock Opera Ever Made"
Posted On September 14, 2022
---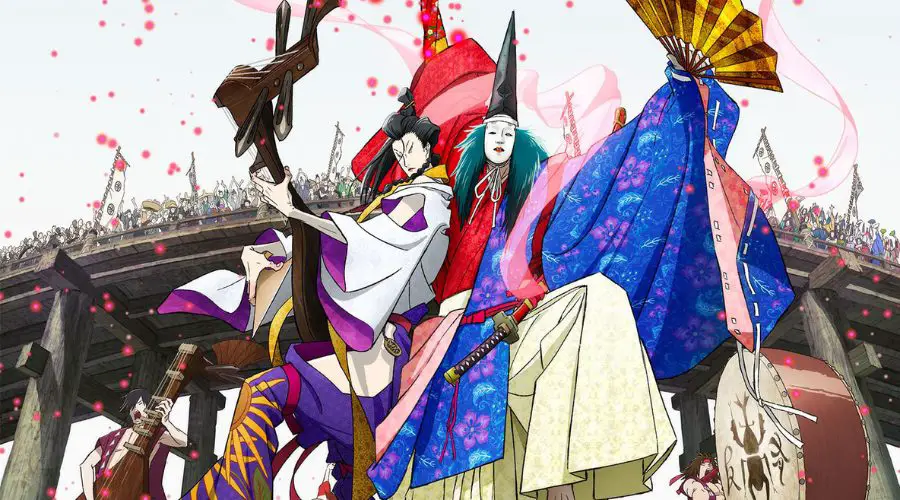 Inu-Oh is perhaps the greatest rock opera set in feudal Japan ever made. It might also be the only one ever made, but that is beside the point. The latest theatrical film from the anime studio Science Saru tells a fantastical story highlighted by incredible animation and stirring rock numbers.
From director Masaaki Yuasa, Inu-Oh is based on the novel Tales of the Heike: Inu-Oh by Hideo Furukawa. A play on the medieval epic The Tale of the Heike, the movie focuses on the unconventional friendship of Tomona and Inu-Oh. Tomona (voiced by Mirai Moriyama), blinded as a child in an accident, sets off on his own in search of answers as to why this happened to him. Eventually, he finds his calling as a biwa-playing priest as a member of a local troupe. Tomona soon meets Inu-Oh (voiced by Avu-chan, lead singer of the Japanese rock band Queen Bee), the son of a Noh dance troupe leader who was cursed at birth. Together the two find a unique style through their music and dance that eventually takes Japan by storm.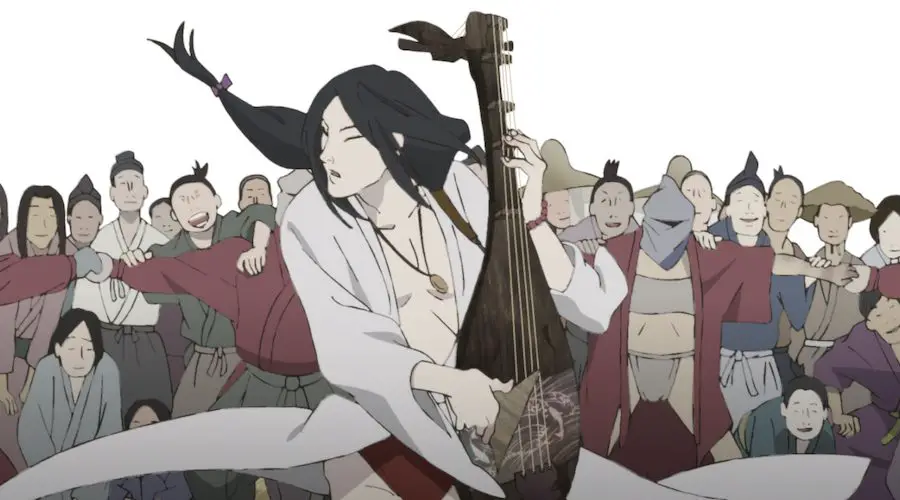 Told primarily through Tomono and Inu-Oh's performances which are highlighted by amazing animation and music, the film has a breakneck pace. Viewers feel much like the duo's audiences as they are sucked into the show. As a result, there is a sort of chaos to the musical numbers as they not only move along the story but also provide insight into Inu-Oh and Tomono's development as both individuals and partners. This storytelling benefits the film by providing it with a unique structure but, at the same time, may leave some wanting more time spent between the characters.
READ: 'Bubble' Movie Review: "Breathtaking Animation Snuffed Out By A Disappointing Story"
But overall, this works well for the characters as it highlights their growth and development not only as performers but also as individuals. For Tomono, he soon develops his own style and confidence as he lets the past go and looks to his future with his new partner. While Inu-Oh is able to prove himself and realize his own potential through his dance and the stories, he is able to tell with Tomono.
So with a story so focused on music, it is essential to highlight the film's composer Otomo Yoshihide who wrote the original songs along with Avu-chan, Yuasa, and soundtrack musician Yohei Matsui. Not only will each piece be stuck in the audiences' heads long after the film is over, but they also offer insight into Inu-Oh's current state in the story. And this is where the true theme of the story becomes clear as Inu-Oh explores the transformative nature of art in a literal sense.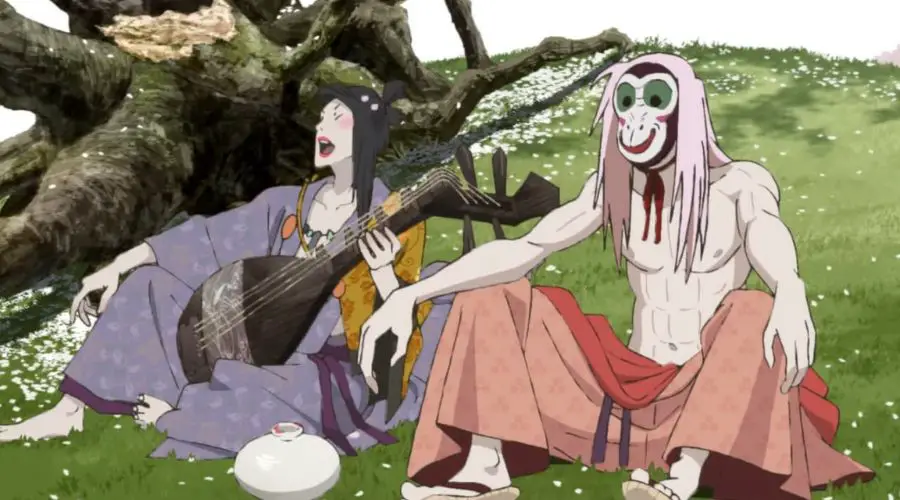 In addition, the film's animation is just as praiseworthy as its music. Produced by Science SARU, the same studio behind Devilman Crybaby and Ride Your Wave, the movement in Inu-Oh feels incredibly natural and smooth. Even with Inu-Oh, who has an unnatural body with fantastical elements, all of his actions and movements feel right.
Inu-Oh is an incredibly unique movie and as stated earlier may be the greatest rock opera set in feudal Japan ever made. Every song and performance leaves the audience enthralled not only in the performance itself but in Tomono and Inu-Oh's story. The pair find themselves fully transformed over the course of the film as they find themselves through their music and dance. Inu-Oh is about not just them but how art can change us all. – Jacob Campbell
Rating: 9/10
Inu-Oh is currently playing in select theaters.
---
Trending Now