'Bubble' Movie Review: "Breathtaking Animation Snuffed Out By A Disappointing Story"
---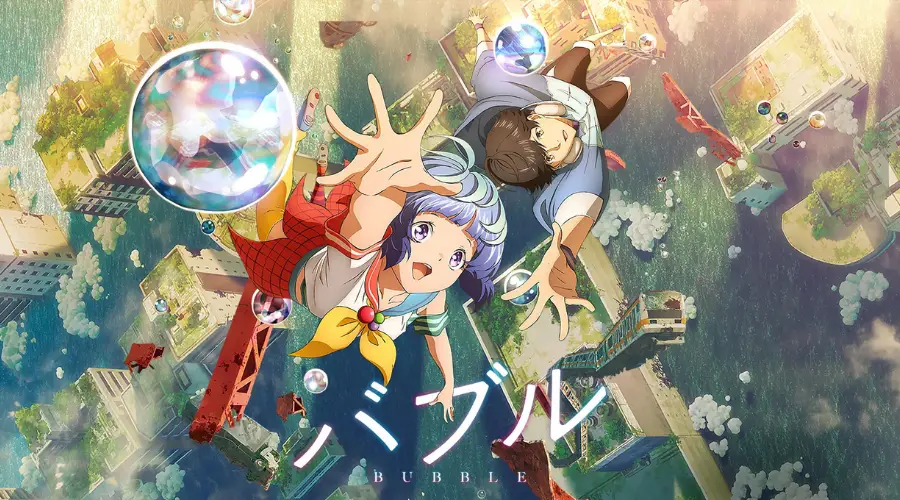 Bubble is Wit Studio's new post-apocalyptic battle parkour take on The Little Mermaid. While the film tries to offer a unique version of the classic fairy tale, it fails to provide anything new, which, when coupled with underdeveloped characters, makes for only a mildly interesting story. However, Bubble's saving grace is an exciting score and beautiful animation from the film's all-star creative team.
Set in the near future, where mysterious bubbles have covered the Earth, an explosion at Tokyo Tower has concentrated all of the bubbles in Tokyo. Now uninhabitable, the city was abandoned except for several children and teens who have claimed the area as their home. They spend their time holding parkour tournaments for honor and to wager resources. The story follows one group of teens focusing on the male lead Hibiki, an exceptional athlete with sensitivity to loud sounds. After hearing a faint song coming from Tokyo Tower, Hibiki explores the area where he is almost crushed by falling debris. Hibiki is then saved by a mysterious girl, Uta, who has a connection with the bubbles.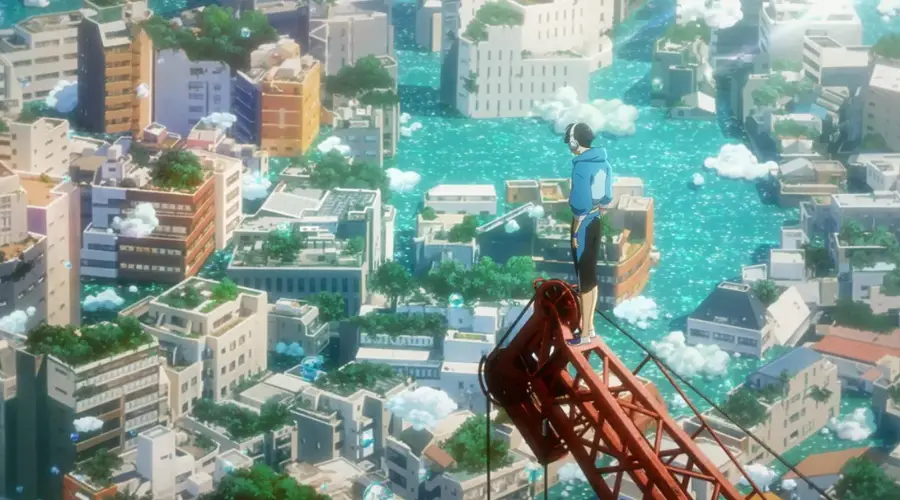 The movie was directed by Tetsurō Araki, who helmed the first 59 episodes of Attack on Titan, and produced by Tetsuya Nakatake, who also served as producer on Attack on Titan. Bubble was written by Gen Urobuchi (best known for co-creating Madoka Magica and writing Psycho-Pass and Fate/Zero), Naoko Sato, and Renji Ōki. So with an excellent creative team, it is surprising that the movie had such a lackluster story.
READ: 'Jujutsu Kaisen 0' Spoiler Review: "Peak Shonen Storytelling"
As stated prior, the movie is a take on the classic The Little Mermaid, but unfortunately, it doesn't try to do anything new or exciting with this concept. In fact, the movie constantly reminds you that's all it is with Uta not only being read the actual story by another character, but she quotes it several times throughout.
Another missed opportunity of the movie is the underdeveloped characters. Hibiki (voiced by Jun Shison and Zach Aguilar) starts out as the typical loner main character but begins to open up after meeting Uta. But his development feels rushed and doesn't feel as natural as it could have. Similarly, Uta (voiced by Riria. and Emi Lo) is your classic mystery girl whose primary purpose is to bring out the best of the male lead and, unfortunately, never does much for herself beyond that role. The film also features a number of side characters, including the legendary retired parkourist Shin (voiced by Mamoru Miyano and Keith Silverstein), Makoto (voiced by Alice Hirose and Erica Lindbeck), who is researching the bubbles, and Hibiki's teammate Kai (voiced by Yuki Kaji and Robbie Daymond). And while the voice actors provide an excellent performance, unfortunately, they cannot make up for their two-dimensional characters.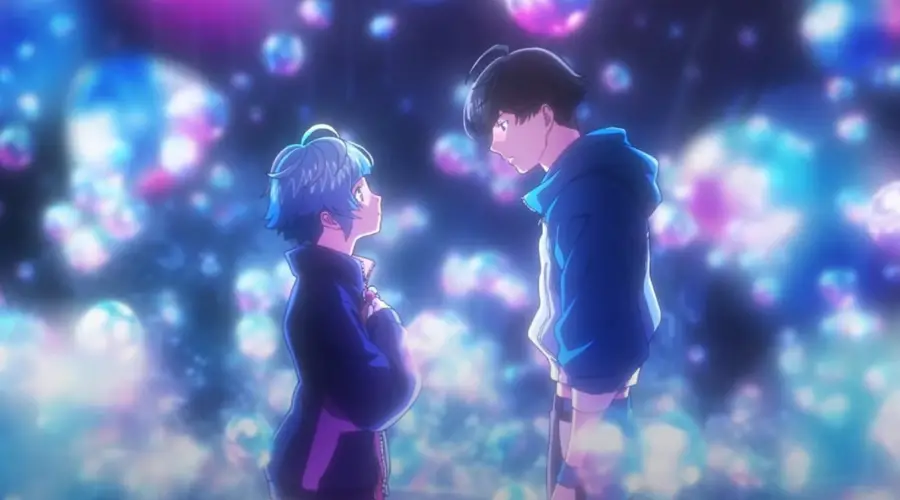 Bubble does have a few saving graces, one being the film's music. The movie features an exciting electric pop score provided by legendary composer Hiroyuki Sawano who has worked on several anime, including Attack on Titan, Blue Exorcist, Kill la Kill, and 86. Sawano's score brings the film to life and keeps the story going when at times, it would have faltered. The score is joined by the movie's fast-paced theme "Bubble (feat. Uta)" performed by the band Eve and the calming ending theme "Jaa ne, Mata ne." performed by Riria.
READ: 'Belle' Movie Review: "A Big Spark Of Emotion"
The film's score also does a great job of complimenting the other saving grace, Bubbles' breathtaking animation. Given the movie comes from the same studio that produced the first three seasons of Attack on Titan, it is no surprise they were able to capture the effortless movements of their parkouring characters. With smooth animation, the film makes it seem like the characters are at times flying through the condemned yet colorful cityscape of a destroyed Tokyo. But the movie also takes opportunities to illustrate astoundingly detailed stills of the characters (a practice common in another of Wit's productions, Vivy: Flourite Eye's Song), highlighting Takeshi Obata's (the illustrator of Death Note) character designs.
But ultimately, despite an exciting score and breathtaking visuals, Bubble is unable to salvage what could have been a unique story.  I would still recommend watching the movie for its animation but to try and manage overall expectations. Had the film developed its characters a bit more and hadn't clung to the safety of adapting The Little Mermaid beat for beat, Bubble could have been something far more unique. – Jacob Campbell
Rating: 6/10
Bubble is now streaming on Netflix subbed and dubbed.
---
Trending Now