'Belle' Movie Review: "A Big Spark Of Emotion"
Posted On January 13, 2022
---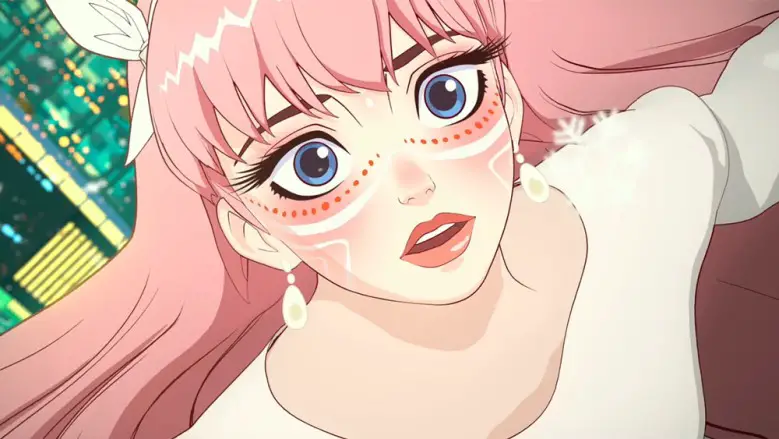 In a modern retelling of Beauty and the Beast that's half a cautionary cyber-bullying tale and half a riff on The Matrix, Miraï director Mamoru Hosoda returns with his latest film, Belle. The film follows a high school student named Suzu Naito who becomes the globally beloved singer Belle after entering a fantastic virtual world. She soon embarks on an emotional and epic quest to uncover the identity of a mysterious beast. A beast who happens to be on the run from ruthless vigilantes. Belle is an absolutely fantastical story that allows Hosoda to fully embrace his creativity and imagination.
This is evident as soon as the film begins. We see Belle performing a song on top of a flying humpback whale, covered by thousands of speakers. The imagery is both striking and jarring, throwing viewers headfirst into this extraordinary world that Hosoda and his team have created. It's a beautiful vision for a very different digital age. However, as creative and futuristic as this form of social interaction is, it's very akin to how a social presence would work today. The heroine of the story – known as Belle in the virtual world – is a socially anxious teenager in the real world.

A bit of a wallflower at school, Suzu is nowhere near as outgoing at school. Hosoda tells the first half of the story in a somewhat non-linear format. Detailing Suzu's rise to fame as Belle, as well as her tragic family background. The narrative design is inspired and keeps viewers invested by giving different pieces of Suzu's backstory as the present-day story moves forward. Belle boasts stunning animation to tell its tale as old as time, with two distinctive styles for the real world and the virtual world of 'U'. The different animation styles help to elevate the story and message of Belle.
In the world of U, everyone desperately wants to be the center of attention. However, at the same exact time, everyone has the fear of truly being seen. Being exposed and shown for what someone truly looks like. U makes for a world filled with outrageous designs and appearances. From over muscular superheroes to an array of mythical creatures with vividly inspirational designs. The irony of wanting to be seen but not truly found out plays a big part in Belle's story. Moreover, it's a true testament to how online interaction usually works.

If there are any issues with Belle, it's that Hosada's vision stretches the story too thin. The world-building and relationship development between Belle and the Beast are almost conflicting goals. Both story elements are pulling the film in opposite directions. However, it's a testament to Hosoda as a visionary and a skilled filmmaker that Belle doesn't stagger too much because of it. Overall, Belle manages to stick the landing with an emotional conclusion. The online world and the real world collide in a spark of emotion.
Suzu, in an act of bravery, shows kindness and gets the Beast of U to trust her. But only by showing vulnerability from herself first. It's in this leap of faith that the entirety of U sees that it's okay to show authenticity and vulnerability. Overall, Belle tells the story of an anxiety-riddled girl who learns to love herself again. While her online persona of Belle and her relationship with the Beast plays a big role in the film, it's really about Suzu. Moreover, how she comes to terms with herself and the loss she experienced.
Director Mamoru Hosoda has crafted a heartwarming and powerful tale in Belle. One that's a little weighed down by world-building. Beautifully animated and acted, with a near-flawless soundtrack. Belle could teach us all a thing or two about showing kindness to others. Whether online or in real life. – Ernesto Valenzuela
Rating: 8/10
Belle is Now Playing in Theaters.
---
Trending Now