'Day Shift' Movie Review: 'A Fun but Very Bad Vampire Film'
Posted On August 15, 2022
---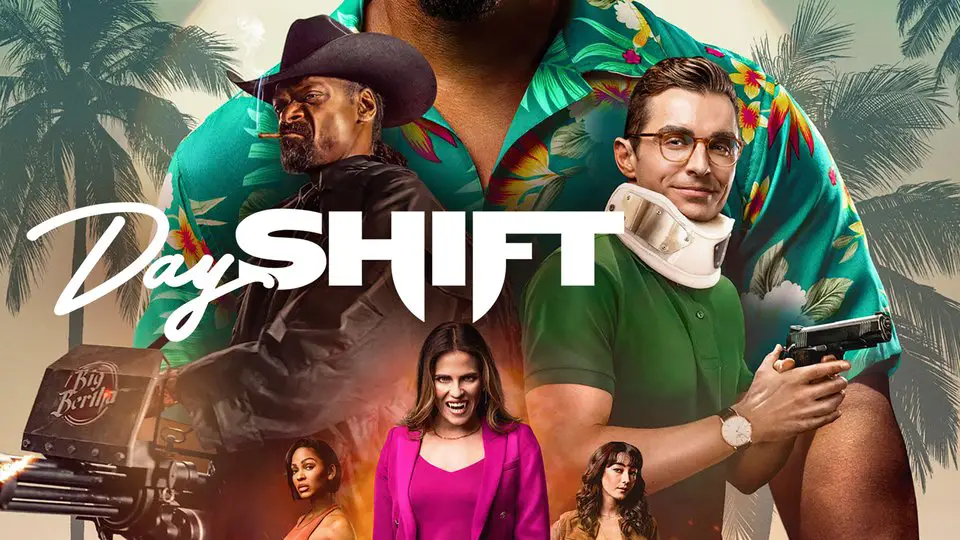 Vampire and action films are all the rage on Netflix lately. Night Teeth, Blood Red Sky, Castlevania, and Netflix's latest film Day Shift starring Jamie Foxx. The film's cast consists of big names from film and television. If you take Blade and pretty much any other 'buddy cop' action film this is essentially what Day Shift is. Unfortunately, as fun as the film is, it's not as good as the trailers would you leave you to believe.
Day Shift follows Foxx's character Bud Jablonski, a vampire hunter posing as a pool cleaner. He's trying to keep his family including his 8-year-old daughter Paige (Zion Broadnax) and his wife Jocelyn (Meagan Good) together. He's a rogue vampire hunter, that's reckless and always breaking code. After his life gets put in a bind, Bud rejoins the Vampire Hunter Union with the help of Big John Elliot (Snoop Dogg) but must have Union Rep Seth (Dave Franco) tag along with him. He ends up having to hunt down the new self-proclaimed Vampire Queen Audrey San Fernando (Karla Souza) to stop the vampires from taking over.

Now, J.J. Perry joins the ranks of stunt men turned film directors along with David Leitch, Sam Hargrave, Hal Needham, and many others. The action sequences and fight choreography were amazing. The opening scene is extremely impressive and creative. The cinematography Get Out's Toby Oliver provides is simply awesome. These are the elements that carry the weight of the film.
Sadly, Day Shift suffers from Tyler Tice and Shay Hatten's weakscreenplay. The plot is sloppy and doesn't fully culminate until about the middle of the second act. I am not one for using logic in movies because they are movies, but this film doesn't even care to try to make sense. You don't even fully understand Audrey's motivations until the film hits the third act. This film has so much potential, and it capitalizes on almost none of it. There's no reason the film should be this written. It lacks the nuances that make most action films enjoyable outside of the action.

That being said, some pretty incredible performances help Day Shift. Of course, Foxx as Bud is amazing. He's charismatic and funny like most of Foxx's characters. Snoop Dogg and Dave Franco are an incredible supporting cast, and Broadnax has a bright future. Souza's villain was interesting but there wasn't enough of her to make me care either way. The potential was wasted severely with Audrey. Meagan Good was also underutilized in this film as a well as a love interest. Also, Natasha Liu Bordizzo's character is a complete mess that would have worked if she had more screen time early on in the film. This was just a bundled mess due to writing.
Netflix has given us some peak vampire action, but Day Shift, unfortunately, falls short incredibly due to writing. Is the film enjoyable? Most definitely, but it's a complete failure if you're looking for anything other than killing vampires. Sadly, the way things have been going at Netflix I'm sure we will hear about a greenlit sequel in the next few weeks. It takes more than cool action sequences and star actors to make a great action film. The sooner Netflix understands that, the better. – Rascal F. Kennedy
Rating – 5/10
Day Shift is currently streaming on Netflix!
---
Trending Now