'Luck' Review: "A Unique Approach To Making Your Own Luck"
---
Reminiscent of Pixar films, the latest Apple TV+ animated film Luck tells an important lesson using a unique setting and some very impressive animation. The film focuses on Sam Greenfield (Eva Noblezada), an orphan who's aged out of foster homes, as she takes on tackling college, her own apartment, and a part-time job. All while being incredibly unlucky. Meanwhile, her foster sister Hazel (Adelynn Spoon) has all things but a lucky penny. When Sam finds a penny on the ground, left by a black cat named Bob (Simon Pegg), her life turns upside down as she discovers the Land of Luck.
Luck is a fairly predictable movie from an adult's point of view. Yes, it's meant for kids, but the twists and turns still feel fairly derivative. However, this film takes a unique approach by basing itself around the ever-elusive luck. One of the things we as humans can be the most jealous of.
The main lesson taught in Luck is to make the best out of what you're given. You can manufacture your own luck by looking on the bright side, and just pivot. It's a good lesson to teach to kids, however, the resonating theme becomes overwhelmed by all the cuteness in the film. It keeps the idea of luck to a straightforward simple, randomized gift. Unfortunately, it feels like there was a chance to have way more fun with it than what occurs.

The talent behind the cast of characters is led Noblezada and Pegg, who play really well off each other. Pegg, in particular, has fun inserting vocal changes as Bob shifts throughout the movie. However, Flula Borg voices my favorite character in the film, Jeff, a German unicorn who's embodying make the best with what you have. In another department, the animation in Luck feels very modernized, almost replicating the aesthetic of Apple's Memoji, and it looks superb. That said, it would have been nice to have had a more fantastical setting for the Land of Luck, instead of everything looking like the ideal futuristic world.
Narratively, the events of the film are primarily focused on Sam, who's focused on Hazel, who we don't get much out of. Sam is lively thanks to Noblezada's committed performance, but I wish she got more character development. While she accepts that being unlucky is inevitable and makes the best of it, the character would have benefitted from receiving more time to develop to earn that conclusion. Exploring the world of Bad Luck more could have potentially given her that, while also completely fleshing out the Land of Luck.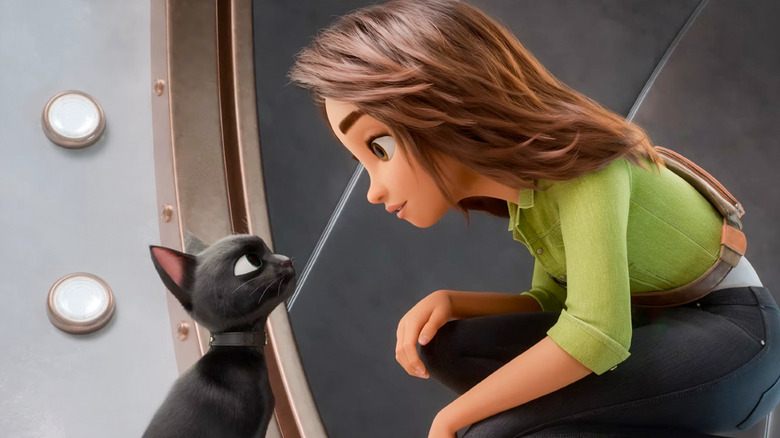 Overall, Luck isn't terrible. It brought me back to watching Pixar films, and it's clear a lot went into the development of Skydance Animation's first feature-length project. As a renowned klutz, I related a lot to Sam as a character on that front, but she definitely deserved more depth. The Land of Luck feels more dedicated to telling us the story of good luck while focusing on an unlucky character. Despite this, it feels like one of my favorite childhood films and I can't negate that in any way. – Katie Rentschler
Rating: 7/10
Luck will be streaming on Apple TV+ on August 5th.
---
Trending Now