'Bullet Train' Review: "Too Much Steam"
---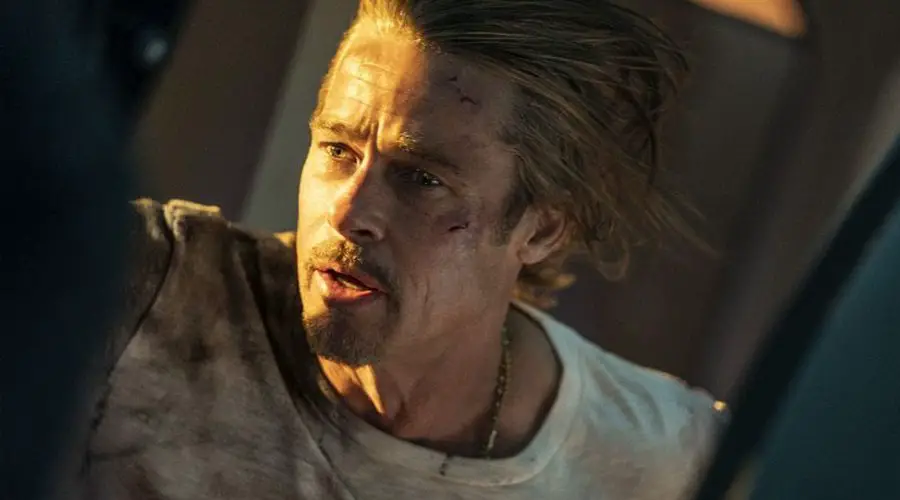 If you're looking to know whether Bullet Train is worth the watch, I'll cut to the chase. Bullet Train is a fun, albeit bloated time. If you plan on watching this in theaters, I would say follow through – because at the very least you'll be entertained. With that said, it has to be my most disappointing movie of the year. Not because I expected this to blow past any of my top movies of the year, but because there was a much better film somewhere in here.
Bullet Train follows a barely competent assassin being hired on to do a job on a bullet train. Meanwhile, four other assassins are on the same bullet train to do a similar job. The setting and premise alone set the film apart from other blockbusters that have been released this summer. And, for the most part, it lands those two aspects pretty well. There are quite a few things that don't land, but everything sticks together when it comes to the story and aesthetic.

However, Bullet Train has a lot of interesting lore and ideas to grasp onto, yet nothing really grows into fruition. Bad Bunny's "Wolf" and Zazie Beetz's "The Hornet" are notable letdowns in this regard. Both really go all in with their respective characters but are not given ample time to accomplish much. "Wolf" had an expansive backstory and other characters describing how dangerous he is. "The Hornet" was an intimidating, mysterious force up until she was introduced. But, in the end, their potential and characters were squandered to a measly couple of minutes of action.
The main issue with Bullet Train was that it needed to have some items cut. The amount of lore they were trying to inject into this movie would have been more serviceable spread out across multiple movies. Hell, even a Bullet Train series/limited series/whatever could have given these characters enough time to breathe. The current product hitting theaters this week exercises interesting concepts rather than a cohesive experience. This results in probably the biggest action blockbuster mess of slop of the summer. A fun mess of slop, but a mess of slop nonetheless.

For what it is worth, Brad Pitt, Aaron Taylor-Johnson, and Brian Tyree Henry kill it in this movie. Despite not being a fan of his character, Brad Pitt shows why he's the movie star he is. He practically owned the screen anytime he was front and center. Taylor-Johnson and Henry are also fantastic in this. Their relationship as twin brothers feels palpable. The energy and quips they have are enjoyable and elevate this movie above what it could have been. Although there is a consistent (and borderline tiresome) gag involving Thomas the Tank Engine, their characters somehow make it work.
Bullet Train is an overly long, Guy Ritchie/Kill Bill rip-off that didn't really find its footing. If Guy Ritchie or Kill Bill is your jam, then you will find something to like out of this. I wasn't really expecting anything spectacular and it's equally reassuring but also disappointing that my expectations were met. On the one hand, it's good that Bullet Train was a pleasant time, but there was a much better movie lodged in-between the half-baked ideas. This could have been something really special, but I imagine this will resort to being a TNT mainstay in a couple of years. – Jacob Mauceri
Rating: 6/10
The film hits theaters this week on August 5.
---
Trending Now