'Marcel the Shell with Shoes On' Review: "Little Scale, Little Effort"
---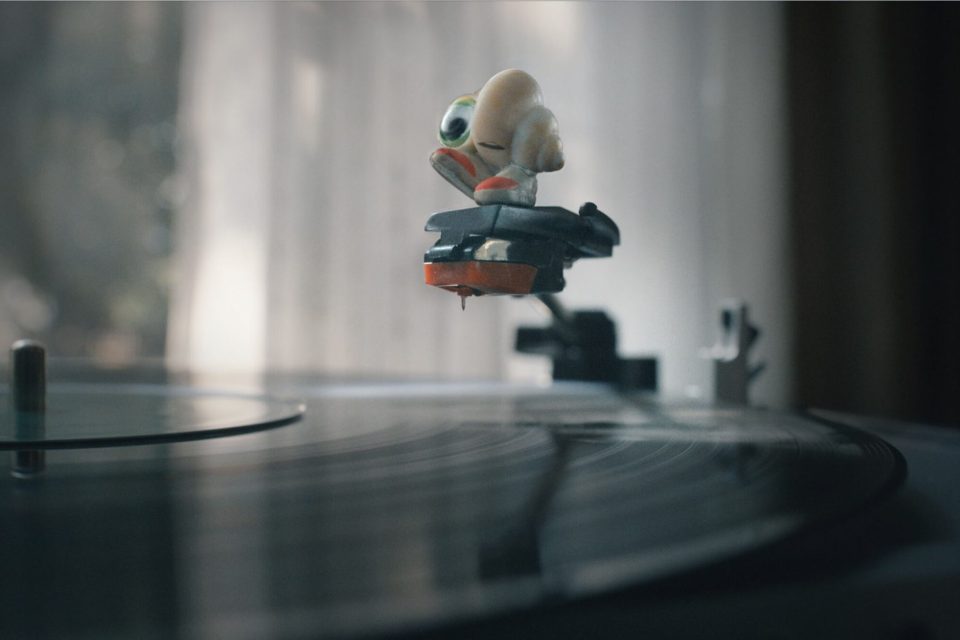 As the kids say, a little goes a long way. In the world of internet videos, it's almost a given that a showcase of the small and cute becomes a sensation. Such as it did with the 2010 internet short Marcel the Shell with Shoes On. Created by Dean Fleischer-Camp and Jenny Slate, the short garnered attention thanks to its humorous depiction of the world. Of course, any sensation is bound to result in a brand expansion. In the years following, there were two sequel shorts and two picture books. Now in 2022, that expansion takes the form of a feature film called Marcel the Shell with Shoes On. With an expanded scope, how exactly does it make itself comfortable?
To answer that, one has to grapple with a new element to Marcel the Shell: an actual story. No longer is it just about gags like treating a stray piece of lint like a dog. Here we have Marcel (Slate) trying to find his family after he and his grandmother Connie (Isabella Rossellini) become separated from the shell community. His best guess centers around his last encounter with humans Mark (Thomas Mann) and Larissa (Rosa Salazar), but it's hardly concrete evidence. Helping them is Dean (Fleischer-Camp, who also directs), a documentarian whose current project involves filming everything Marcel does. In fact, Dean's Marcel videos get popular enough online that the family search becomes a genuine piece of news.

On the surface, this is a solid foundation for Fleischer-Camp, Slate, and Nick Paley's screenplay to build upon. However, the mere existence of a story doesn't mean the film will make it a top priority. Early on, Marcel the Shell announces to the audience that fade-to-black transitions will be a recurring way to move between scenes. This might seem like a benign choice by editors Fleischer-Camp and Paley. But by the halfway point, it comes off as them thinking of the plot as a series of sequences – shorts, if you will – and not as a whole. And it's this distinction that makes its relatively short 90-minute runtime feel bloated.
Perhaps this would be a non-issue if the filmmakers reinvigorated the Marcel formula for the big screen. Even here, Marcel the Shell struggles with adding a new funny bone to the equation. If you have seen one of the shorts, you have seen the extent to which the movie mines comedy. Quite often, it's some variation of "this X is my Y" repeated a hundred times. In the context of a short film, this can be hilarious. In the context of a feature film, meanwhile, it becomes tiring. To give some credit, in the instances where the comedic insight elicits embarrassment – such as the fans taking selfies in front of Marcel's house – it feels intentional. Nevertheless, the recycling of fun observations tends to put a hard limit on how charming they can be.

But then there's the major compensating factor: visually speaking, it is a near-flawless tribute to the little big world. Marcel may not be doing a lot comedically, but what he does is a lot more polished than before. Every other minute, production designer Liz Toonkel gets to repurpose items on a small scale, and each time is an utter delight. The film has a lived-in aesthetic that can counteract the stalest gags, from the mini treehouses to the bedroom made out of a hole in the wall. As expected, this also extends to the expressive character designs that never ignore their scrappy roots.
It's honestly frustrating how close Marcel the Shell comes to clicking as a movie. Between the soft lighting from cinematographer Bianca Cline and the detailed macro imagery, it excels at creating a cozy environment. In addition, this is yet another case study of Slate as one of our most gifted vocal performers. Unfortunately, the coziness seems to have transferred to the aspects that ought to be more inventive. So instead of an unabashed cinematic experience, we get a lengthy compilation of shorts that Fleischer-Camp and Slate had in mind. It sure is cute, but a movie has to be more than that to make an impression truly. – Mark Tan
Rating: 6/10
Marcel the Shell with Shoes On will have a wide release on July 15, 2022.
---
Trending Now