'Thor: Love and Thunder' Review: "Breezy, Flawed Spectacle"
---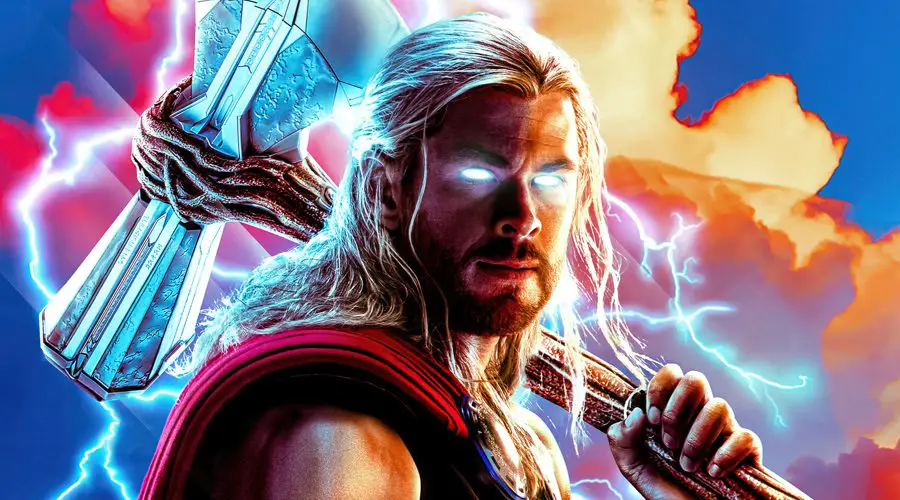 Several years after Taika Waititi revitalized the Thor franchise, the eccentric filmmaker delivers another comedy-infused sequel with Thor: Love and Thunder. If Ragnarok was a complete overhaul of the character, its breezy sequel accentuates what made fans fall in love with the God of Thunder. For better or worse, anyway. While the film ambitiously indulges itself in what worked before, a rapid-fire comedic tone threatens to uproot its thematic intentions.
Taking place after Avengers: Endgame, this film finds Thor (Chris Hemsworth) in a desperate attempt to find his place in the universe. After living for thousands of years and joining the Guardians of the Galaxy, his journey is far from over. The return of Jane Foster (Natalie Portman) makes him reevaluate what is important in life, and what makes it worth living. It also means the introduction of the Mighty Thor, the Goddess of Thunder made popular in Jason Aaron's 2015 comic run.
Of course, the arrival of Gorr the God Butcher (Christian Bale) forces Thor to team up with the Mighty Thor, alongside Valkyrie (Tessa Thompson) and Korg (Waititi). They also look to recruit other gods in danger of being slain by the God Butcher, including Zeus (Russell Crowe). The premise doesn't exactly live up to its epic ambitions. That said, the two lead characters and their arcs are what keep Love and Thunder from only being colorful fluff. With Jane becoming a Norse Goddess, the film wastes no time in confronting the implications this has on Thor himself. Moreover, Portman is able to reinvigorate her character, delivering a committed and emotional performance that doesn't waste any screen time.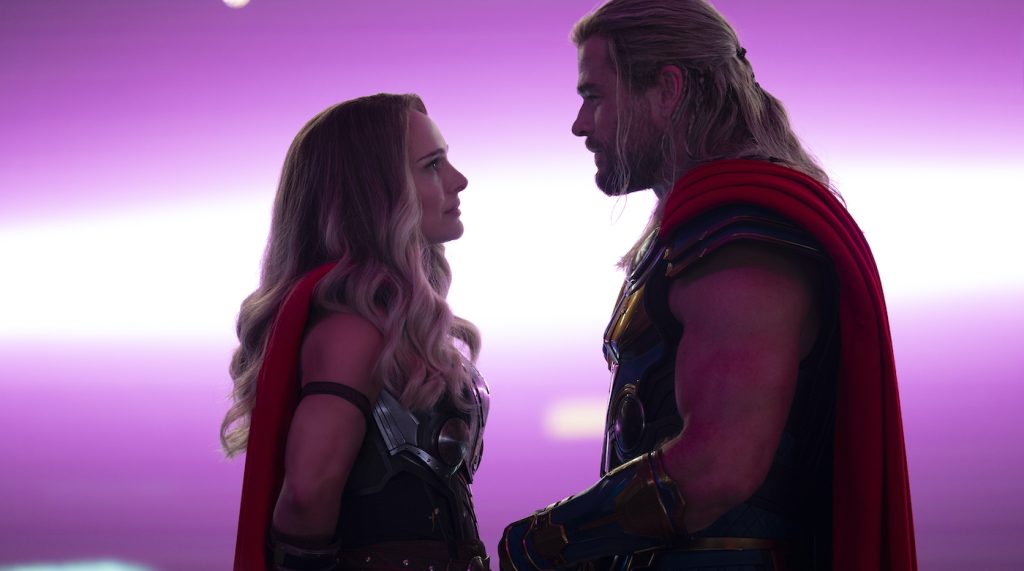 Some of the weaker aspects of the film lie in the lack of follow-through with Gorr the God Butcher. Outside of an ominous opening sequence, it takes far too long for Bale to be a consistent presence on screen. Despite a good performance, Bale never quite reaches the ceiling of the character. By the end, it is tough to be emotionally invested in him after taking a backseat for the majority of the film.
As previously mentioned, the insistent use of humor works negatively this time around. Moreso than other MCU projects, there is a tendency to revert to cheap gags at any given moment. It really, really tries to carry over the charm and wittiness of Ragnarok, but without the necessity. In that film, it was keen on reimagining what audiences thought Thor could be. And although Hemsworth continues to balance both humor and drama, Love and Thunder would've benefited from more restraint in the laughs. The worst offense is how rapid-fire and thin the jokes are, rarely igniting a hefty laugh that another lesser gag didn't immediately dissipate.
Outside of a few funny moments, the most impactful scenes are ones that finally focus on the emotional core. Despite little screen time, Bale injects some emotion on top of his zany performance to breathe life into Gorr. Most notably, Portman successfully fuses the relentless humor of Waititi's style and the tragic circumstance in which Jane finds herself.
As the latest installment of Phase Four, Thor: Love and Thunder provides another fun time at the theater. The status quo of Thor is addressed in all of its facet. However, the relentless injection of lackluster humor and a rarely-present villain cuts it short of its ambitions. Still, the action is high-energy as always, with the Mighty Thor providing some of the film's most exciting moments. Most importantly, its two lead characters have a solid narrative path that leaves them in a satisfying place. – Marcos Melendez
Rating: 7.5/10
Marvel Studios' Thor: Love and Thunder hits theaters on July 8.
---
Trending Now
You may also like