'Westworld' Season 4 Episode 1 Recap/Review: "The Auguries"
---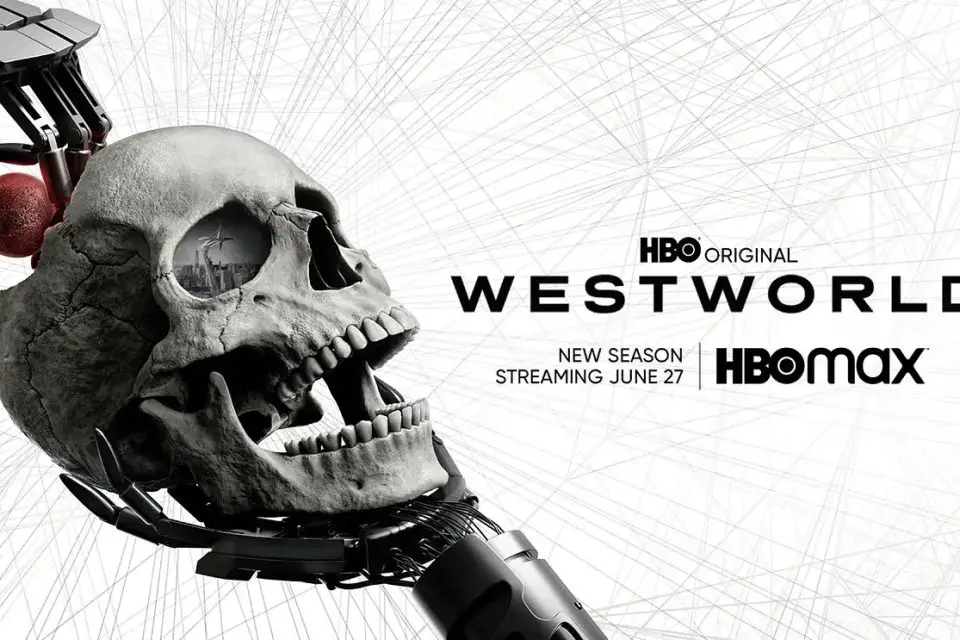 It seems like forever since HBO has last taken viewers into the physical/psychological warfare between humans and hosts. Two years have passed since the supremely underrated third season of the series, and a lot has changed in the world. Moreover, a lot has changed in the Westworld universe. A seven-year time jump sets the stage for the series' fourth season premiere. All-encompassing artificial intelligence Rehoboam is gone and humanity looks upon the dawn of a new era. Don't fret, though- Westworld is still Westworld. One can be certain Jonathan Nolan & Lisa Joy are cooking up a new odyssey for the audience no less mind-bending than prior seasons.
Journeyman series director Richard J. Lewis returns for "The Auguries", a title that means "omens". Fitting, as much of the episode, is a prelude for what's to come later on in the season. That includes a mysterious, engrossing opening. The cartel-adjacent new owners of the Hoover Dam harbor a server farm containing unknown data that is valuable to one man in particular: William/The Man in Black (Ed Harris). With stark confidence barely masking his menace, he offers the owner of the dam a high sum for it, which he quickly declines. The Man in Black chilling proclaims that this was only his offer for today, and that tomorrow he's going to give it to him for nothing.
Unnerved, the dam owner returns home, only to find it infested with flies. Cut to black. The owner walks to his fellow compatriots the next day, in a daze, and brutally murders them all. He walks outside, hands William the keys to the dam, and slits his own throat. William's prophecy came true, but how? Were the flies involved? And is this the real William or the host copy of him last seen slitting his throat at the end of season 3? Westworld raises the customary million questions we've come to expect at this point, but at least we know exactly the questions we're supposed to be asking this time around, which is a step up from the confusing sludge of, say, season 2.
Really, all across "The Auguries" writers Joy and Will Soodik do a bang-up job of building in mystery without losing the audience as we check in on familiar characters. Caleb (Aaron Paul) now has a wife and kid, living out a quiet life as a construction worker while battling his PTSD from… all of season 3. He also has a laughable "rugged" look, but, hey, it's Aaron Paul so he manages to act his way around it. He becomes increasingly paranoid that someone's coming after him and his family. At this point, the savvy audience member knows it's a matter of when and not this idyllic existence goes awry.

Caleb's story runs parallel to that of (incredibly badass series standout) host Maeve (Thandiwe Newton), who lives her own kind of quiet existence. Hers is quite a bit more isolated, however. She is, expectedly, forced to come out of her de facto retirement when a group of assassin hosts comes to eliminate her. Maeve quickly dispatches them, finding out that their employer is none other than the Man in Black himself. She arrives just in time to save Caleb from another group of assassins, recruiting him to go after William… or host William.
And there we have our A-plot for Westworld so far. It's clean, coherent, and exciting. Therefore, of course, a wrench gets thrown in to make the proceedings a bit more interesting. That's where Christina comes in. Christina appears to be some kind of copy of the fallen Dolores (Evan Rachel Wood), sharing the same physical features. She has no ties to Dolores from what we know at this point, working in the gaming industry as someone who creates the stories for Non-Player Characters in video games, longing for happy endings for herself and the characters. Her roommate, portrayed by Academy Award-winner Ariana DeBose in a thankless role, pokes and prods at her to go out.
Christina has a much bigger issue to contend with, though. She's being stalked and harassed by someone named Peter, claiming that she has the ability to give an unknown "us" a better ending and that she is torturing people. This continues until Peter kills himself in front of her. Huh. By the end of the episode, Christina is left in no better or worse an emotional place. As she yearns out the window, a familiar face looks on as an orchestral cover of Lana del Rey's "Video Games" plays: Teddy (James Marsden). And that's how we end the season premiere- a character who may or may not be a character we know looking at another while a cover of a pop song plays and our confusion intensifies. Westworld is back, baby!
It feels a little pointless to attempt to theorize quite yet about what's going on with Christina, as members of the cast like Jeffrey Wright and Tessa Thompson haven't even entered the season yet. One thing is for certain: Westworld has its hooks in me once again. I can already see some tricks beginning to play out. Slow fades to black could indicate a non-linear timeline a la previous seasons. There's a general unease as to who's a host and who's not. Really, that's part of the appeal at this point. It's time to venture once more into the center of the maze and embark on a messy, cerebral sci-fi journey together. I can't wait. –James Preston Poole
Rating: 8/10
Westworld season 1-3 and the season 4 premiere are now streaming on HBO Max.
---
Trending Now