'Halo' Episode 8 Spoiler Recap/Review "Allegiance"
---
The following will contain spoilers for season 1, episode 8 of 'Halo.' For a recap of episode 7, click here.
This week's Halo opens with Master Chief taking Makee out of her room and into Reach City. Following their joint "out of body experience" in episode 6, they begin to feel a stronger connection growing between them. They discuss their experience, neither completely understanding what happened to them. The set design and costumes, once again, are incredible. The whole world feels lived in and alien at the same time.
Master Chief gets called away to the War Room, where he learns that a Covenant fleet wiped out an entire city. Chief tells Admiral Parangosky and Captain Keyes that they need to bring the fight to the Covenant and that Makee can lead them to their location. He asks for their permission to allow her to use the Keystone. Despite some trepidations, they agree to John's plan under Miranda's supervision.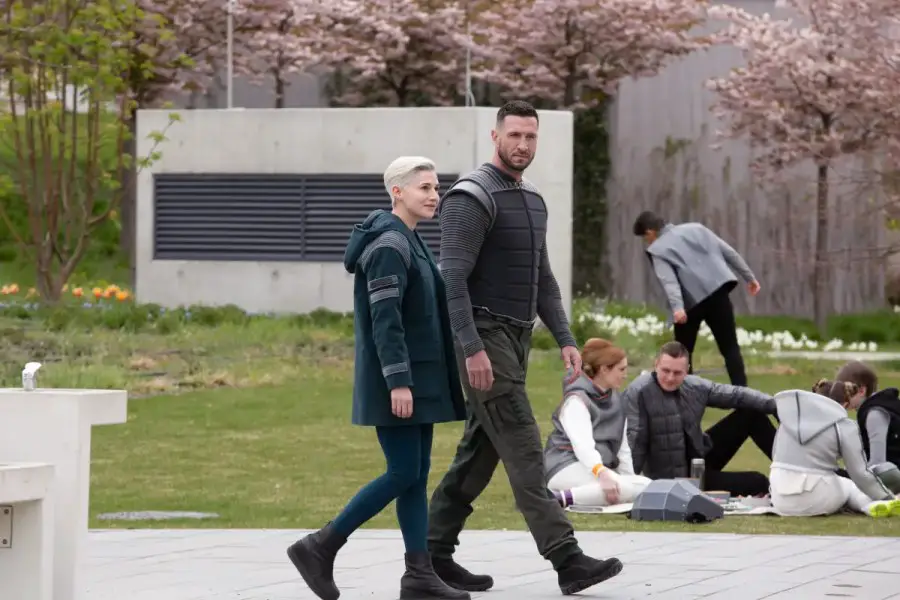 John brings Makee a copy of the book she has carried with her since childhood. The two of them find themselves in the throw of passion while Cortana watches from a respectful distance. While Chief sleeps, Makee goes to the sink and removes the plasma knife from her finger. This new development feels rushed. Charlie Murphy and Pablo Schreiber's chemistry doesn't seem to be there. The two of them act against each other well enough, but their romantic moments almost feel hollow.
We transition to Dr. Halsey's apartment, where Cortana has just finished filling Halsey in on John and his new "girlfriend." Cortana feels melancholy over John's new relationship, stating he's "not alone in the universe anymore." This statement doesn't sit well with Halsey, who seems more suspicious of Cortana than before. Not long after, Captain Keyes shows up to inform her she will be sent off-planet soon. After Keyes leaves, Halsey and her "asimpstant", Adun, finish building a contact lens that allows her access to the UNSC security system. And like any psychotic helicopter mom, she inserts herself into Makee's entertainment system to warn her of the UNSC.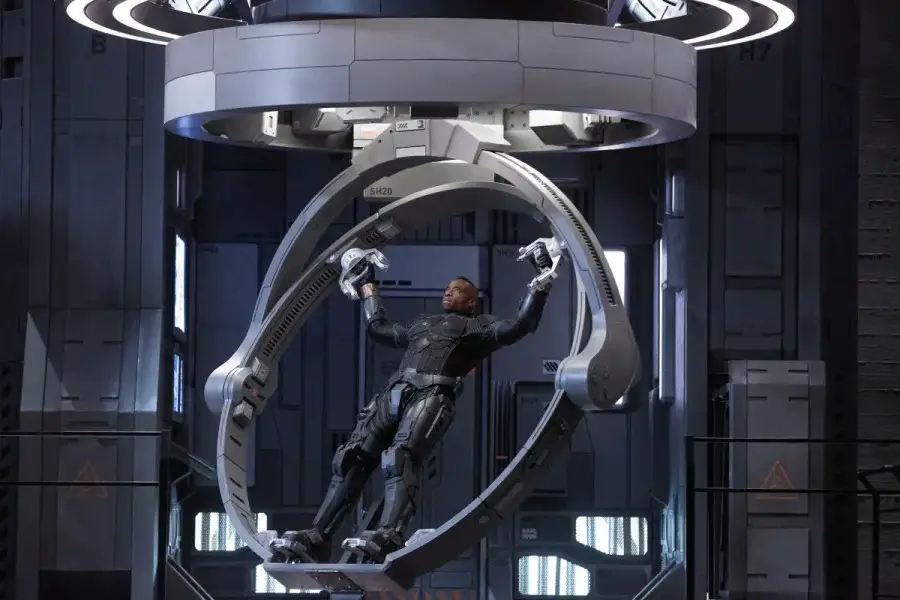 Halsey connects to the other Spartans after hanging up, telling them they now only report to her and to not trust Master Chief. Realizing Kai is still compromised, Halsey orders Riz and Vannak to take care of her. The other two Spartans knock Kai out and leave her behind as they move onto the Keystone. Halsey then tells Cortana that she'll render John unconscious and take over his body. Combining John's body and Cortana's mind will give Halsey complete control over the Keystone and lead them to the sacred ring. This moment showcases Halsey's ruthlessness. Throughout the season, she's said that she will do whatever it takes to assist humanity's evolution, and this is her following through on that promise.
With Chief and Makee making their way to the Keystone, Silver Team in position, and Halsey prepping Cortana, Miranda Keyes makes a startling discovery: the voice she's been analyzing is Makee's. Cortana gives Master Chief a warning about what Halsey is up to, and he sends Makee away. While John fights the two members of Silver Team, Makee finds Admiral Parangosky and Captain Keyes. As she's about to convince them of what Halsey is up to, Miranda comes in to tell them she's the one who slaughtered the crew of the UNSC cruiser. They attack Makee, reminding her of what happened in her childhood. She goes for the Keystone, which emits a large blast and knocks John's consciousness back onto the ring. It's here where Makee says goodbye to John.
This episode of Halo was a vast improvement over last week's. Shifting the focus back onto the characters and setting audiences are much more familiar with. The romance between Master Chief and Makee, though rushed, could lead to an interesting dynamic in the finale. The season is careening towards the "Fall of Reach." This turning point in the Human/Covenant War is where we first met our protagonist in the original Halo. It's too soon to tell if the show will stick the landing, but the penultimate episode sets up an explosive finale.
Episode Rating: 7/10
Season Rating: 6.6/10
New Episodes of 'Halo' Premiere Every Thursday on Paramount+
---
Trending Now
You may also like