'The Duke' Review: "A Fitting Swan Song"
---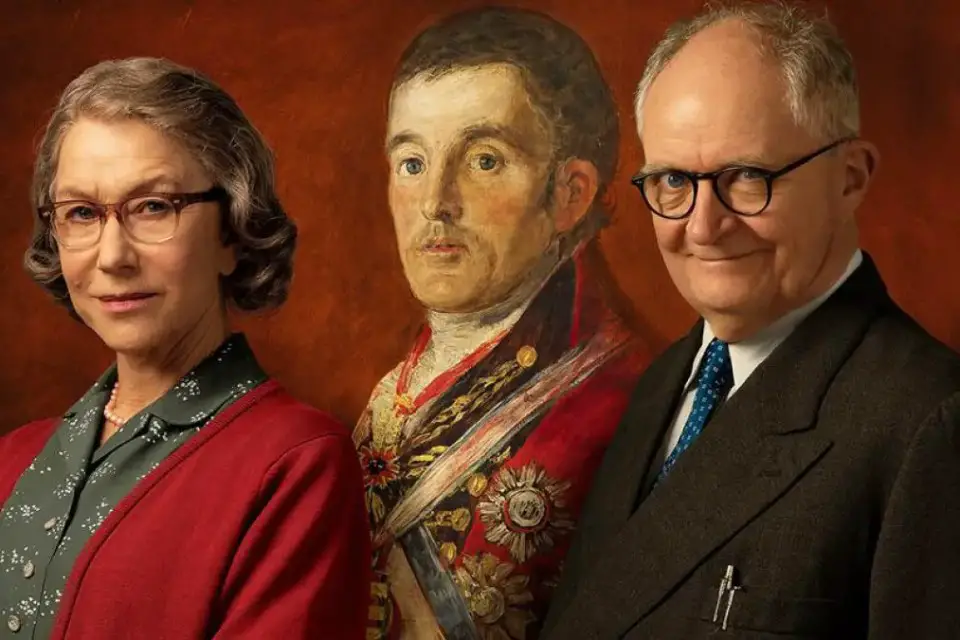 From Persuasion to Notting Hill to My Cousin Rachel, Roger Michell has always found ways to pull the audience into the narrative. Even if the film in question doesn't work wholly, you still get something out of it. Sometimes it's a witty remark, other times it's a fervent scene. As it happens, this is a fitting description for his final feature, The Duke, which was released after his passing in 2021. From the charm of his comedies to the delicacy of his dramatic features, this has everything that makes a Roger Michell film so indelible.
The Duke bases itself on the real-life theft of Francisco Goya's iconic painting of the Duke of Wellington. In 1961, it was put on display in London's National Gallery after being purchased for almost 140-thousand pounds by the British government. It's a prized possession for the UK governance, albeit one so prized that it baffles many. One of them is Newcastle citizen Kempton Bunton (Jim Broadbent). His beliefs of old-age pensioners unfairly paying for television licenses caused quite a movement, including several protests.

Being constantly in and out of jail causes his partner, Dorothy (Helen Mirren), to ask him to stop the activism and get a job somewhere. As a way to cause a stir in the right direction, Kempton steals the luxurious painting from the National Gallery. Afterward, he sends the government ransom notes regarding their unjust treatment – a protest against the BBC's TV license cost on pensioners. People will remember Kempton for this act, and hopefully, it will amount to what he strives for.
The Duke has similarities to other British comedies in its tone and comedic approach. Imagine The Full Monty without the strippers and you're pretty much on the right track. And thanks to Michell's direction, it makes it easy for the audience to follow and enjoy. Even if you're unfamiliar with the events that transpired, he takes his time to deliver a lovable story. It isn't a whole heist story, even if its central narrative plot point revolves around it.
It is more of a feel-good dramedy, which later switches to a courtroom drama once Kempton's questioning begins. Because it's quite an absurd story, Michell seeks its heart to give it some necessary sincerity. Coincidentally, it elevates Richard Bean and Clive Coleman's script. In an interview during the 77th Venice Film Festival, Michell described the film as a story about an English eccentric who reminds us that we are co-dependent and that societies aren't made of individuals.

He also mentioned the factor of working-class men and women from impoverished areas speaking truth to high power. This helps to fortify the film's last act, which contains a couple of crowd-pleasing and heart-touching moments. Although these individual elements work in unison, the performances are what carry the film. This is Broadbent's showcase of excellent comedic timing and charming the pants out of everyone. Kempton is bumbling around the town with a smile on his face. Even if his methods for equality are questionable, Broadbent makes him a character to root for as the film transgresses.
Then there's Mirren, who perfectly encapsulates the essence of a wife weary of her husband's shenanigans but loves him dearly. Although you can argue that Dorothy only exists to disapprove of everything the lead character does, her performance is strong enough to uplift those concerns. In addition, Broadbent and Mirren's chemistry sparkles, making the confrontation scenes more heartfelt. The Duke may not be Michell's best work. However, it is an appropriate finale to his fascinating career thanks to its British wit, pizzazz, and small dashes of melancholy.
Rating: 7/10
The Duke is now playing in theaters.
---
Trending Now