'Young Justice: Phantoms' Episode 18 Spoiler Review/Recap
---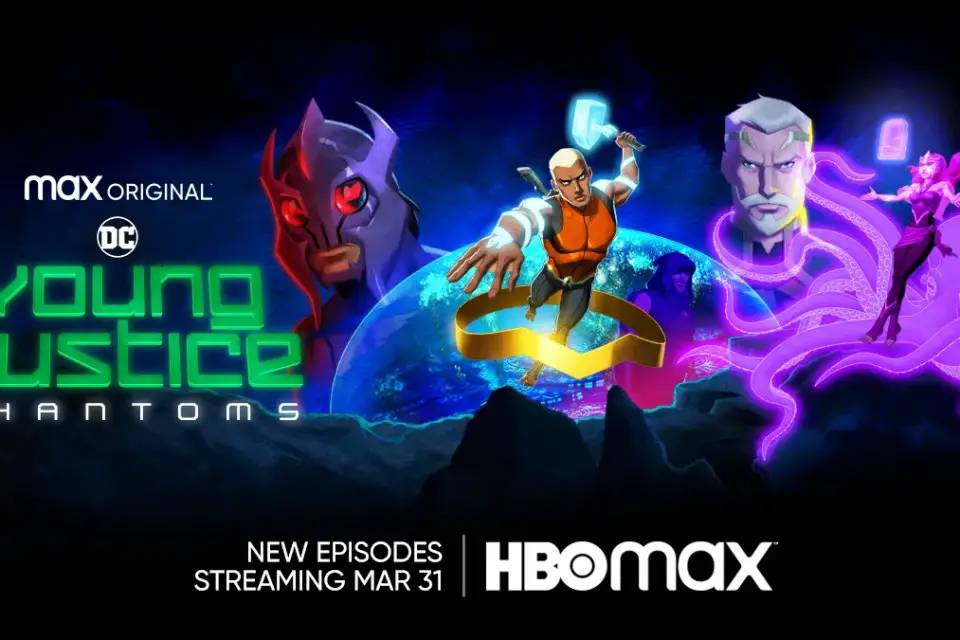 This review contains SPOILERS for Young Justice: Phantoms, for last week's review click here.
Much of this season of Young Justice: Phantoms has been focused on our original characters and their grief, still reeling from the death of Superboy. Mourning and grief have been a continuous theme this season, along with finding with yourself and doing the right thing. We've also been following Vandal Savage's point of view on The Light. Well, this episode twists and turns all of that.
We continue to see Darkseid working behind the scenes from Apokolips. As well, there are some fresh characters in this episode of Young Justice: Phantoms. Rocket, Forager, and Jay Garrick are our main heroes this week, alongside some very interesting cameos. This was a really fun episode of Young Justice, and covers an important conversation.
Rocket is taking her son to his father so she can go on a mission. Her son Amistad is autistic, and while she tries to ignore it, he has two episodes that cause her to acknowledge it. He needs his toy cars upside down (so he can play with the wheels) and his gray wool hat. He's a child with particular needs. Rocket doesn't want to acknowledge it, but his father Noble does and accepts it. She will learn an important lesson in this episode though.
Rocket, Jay Garrick, and Forager travel to New Genesis to meet HighFather, Madame Nature, and Orion. A Forager steals a weapon and goes back to the Hive. This weapon is one that can cause mass destruction, but it's not the Foragers' idea. Megan's brother M'Comm is the culprit behind the deal. He's trying to get the Foragers to destroy New Genesis, or at least a portion of it. Almost like an unsuspecting domestic terrorist attack, in the name of Darkseid.

When the group figures out what's going on, they go speak to the Foragers. The Foragers don't want to give the weapon up, but ultimately do when it's all said and done. While trying to retrieve the item, Orion displays a bit of claustrophobia. He has an outburst of the same vein that Amistad does. Rocket begins to realize it's something she must take seriously. After the group retrieves the item, we see Lor-Zod, General Zod's son, working with Darkseid.
We also finally figure out where Superboy is. I was wrong in last week's review; he is indeed in the Phantom Zone. He's still seeing ghosts and talking to shadows. That is, until he sees General Zod. Zod talks to him and helps him realize that everything he's seeing are shadows and his mental state. Now, they are going to try to figure out a way out of the Phantom Zone.
There are some major cameos here, and they work. The cameos are also essentially swaps, in a sense. In the comics, Lor-Zod isn't evil. In fact, he's a good guy solely because his father was evil; similar to Brainiac-5. General Zod seems to have changed his ways, looking to help Connor escape (and possibly himself), but at what cost? Will he betray Connor if he escapes?
Rocket and the subject of autism may rub some folks the wrong way, but it starts a conversation. People with autism are sometimes seen as burdens, and this Young Justice episode doesn't reinforce that. It's telling you they should be seen, heard, and understood.
Teneka Stotts serves a very good teleplay with a lot of great underlying subplots. Obviously, the display of autism stood out to me; I've worked with autistic kids and have family members that are autistic as well. Seeing how they portrayed it was interesting. These kids and adults deserve the same care and love as anybody. Christina Sotta's directing style blended well with the topic. Also, the switching of the Zods and their cameos was great. It will be compelling to see how their dynamic plays out with the Kents. Young Justice continues to bring up great conversations and engage with its audience. That's what gives this show its longevity. – Rascal F. Kennedy
Rating – 9/10
New episodes of Young Justice: Phantoms premieres on HBO Max every Thursday!
---
Trending Now