'Atlanta' Season 3, Episode 3 Spoiler Recap/Review "The Old Man and the Tree"
---
This review contains spoilers for Atlanta, for last week's review click here.
We always hear about those parties rich and famous people have. Even the Oligarchs we don't know of, have them. It's how famous people get famous, there are rumors of what happens at said parties, but most of it is just networking. Rich people pass ideas to other rich people essentially. Sometimes those situations end up being scams, and sometimes you gamble money you don't have. As Paperboi/Al's (Brian Tyree Henry) tour continues in Europe, they get invited to one of those parties. They also learn that Europe is just as janky as Atlanta.
Earn's (Donald Glover) associate Will (Patrick Kennedy) is having a party at his house. The house is on top of a flat filled with lower-class people. At first, it looks like a setup, or like they are in the wrong place. Then, they go upstairs to a lavish bachelor-style pad, and a home with a Nando's inside it. Darius (LaKeith Stanfield) and Van (Zazie Beetz) are also in attendance at this party along with Earn and Al. Each character kind of goes on their own adventure inside the house.

Earn, talks with Will about an idea Will has. He's hosting a UK artist, and trying to set up the house for another artist to come and work for free while staying there also. They want to create a type of subscription. Earn isn't sure at first, but after a talk with TJ (Sheyi Cole) about how white people have finessed black folks for decades and centuries; he agrees it's a good idea. He knows TJ is just hustling Will, and he agrees to become TJ's manager also.
Darius, is just enjoying the party. He asks a woman named MK (Jasmine Leung) for a bottle of scotch.  After realizing that she mistook Darius' advance for a drink as him trying to get at her because she "attracts nothing but black men," she quickly apologizes. Also to note, she's Will's ex-fiance, and she's in a relationship with a woman. Which makes the entire interaction hilarious, along with what comes after. She makes a "All Lives Matter"-esque statement, and that leads to her being chastised. A group gathers with Socks (Hugh Coles) and Darius to discuss the "discrimination" he just faced, and it leads to chaos.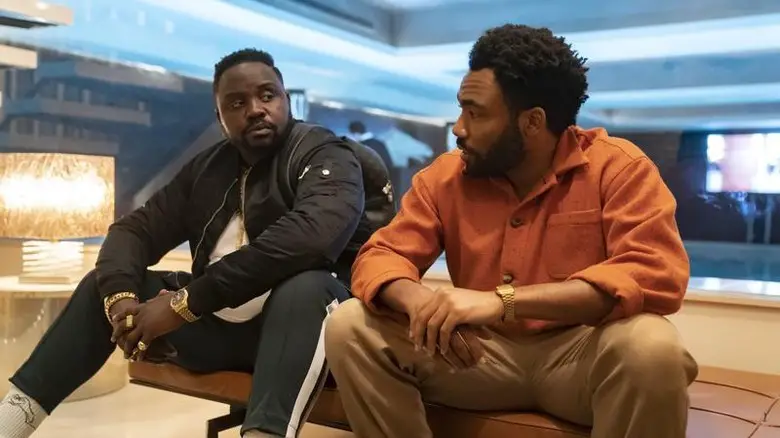 Van is just kind of there, enjoying herself. She's in a billionaire's house, just walking and enjoying everything. She pushes women in the pool, and she does a few more menacing things. She talks to Earn about their daughter and just says she wants time to herself. Explaining to Earn that he doesn't have to keep trying to take care of her. As he continuously worries about her the entire time she's there.
Al/Paperboi, goes upstairs to play poker. He listens to the owner of the house, Fernando (Daniel Fathers), talking about having sex with a black ghost, most likely a slave of his grandfather. He's a rich bureaucrat, that just has fancy parties and likes Nando's.  Al beats him in Poker, and is owed $40K. He ends up spending the rest of the night looking for Fernando, and after several attempts to collect his money… Al decides to take things into his own hands, and he starts cutting the tree in the middle of the property with a chainsaw. This prompts Earn to call an Uber and get everybody out before things get even worse.

This was a hilarious episode. It was fed by tension and some uneasy conversations, everything was just hilariously awkward. Hiro Murai's style of directing fits this episode perfectly. He gets a good performance from each character and just continues to make these strange atmospheres. He does it so well, and it's incredibly enjoyable. His work on this show is something to pay attention to.
Taofik Kolade gives us a great Teleplay that feeds into Murai's style. It's such an entertaining piece and I think it was a relief from the previous episodes. This was still awkward and tense but it was fun. The social commentary and conversation about white guilt were hilarious. TJ talks about finessing white people, and Earn later sees the photograph with the slave in the background were gold. Everything about this episode from the setting to the actual story was amazing.
I think this is another one of those pinnacle episodes that you show your friends who have never seen this series. This was up there with "Teddy Perkins" as far as the comedy aspect goes. Black people are so vast and different that our experiences can be the same but different. We saw five different black people in a house, and each one had a different view or outlook on what was unfolding in that house. Things started off so calm and then just turned into chaos so quickly. Darius and Al were both put in unpredictable situations that led to an amazing climax. This was an incredible episode of television. – Rascal F. Kennedy
Rating – 9/10
Atlanta premieres Thursdays on FX and the next day on FX on Hulu!
---
Trending Now