'Atlanta' Ep. 302 'Sinterklaas Is Coming To Town' SPOILER Review/Recap – 'Blackface is not Funny Unless…'
---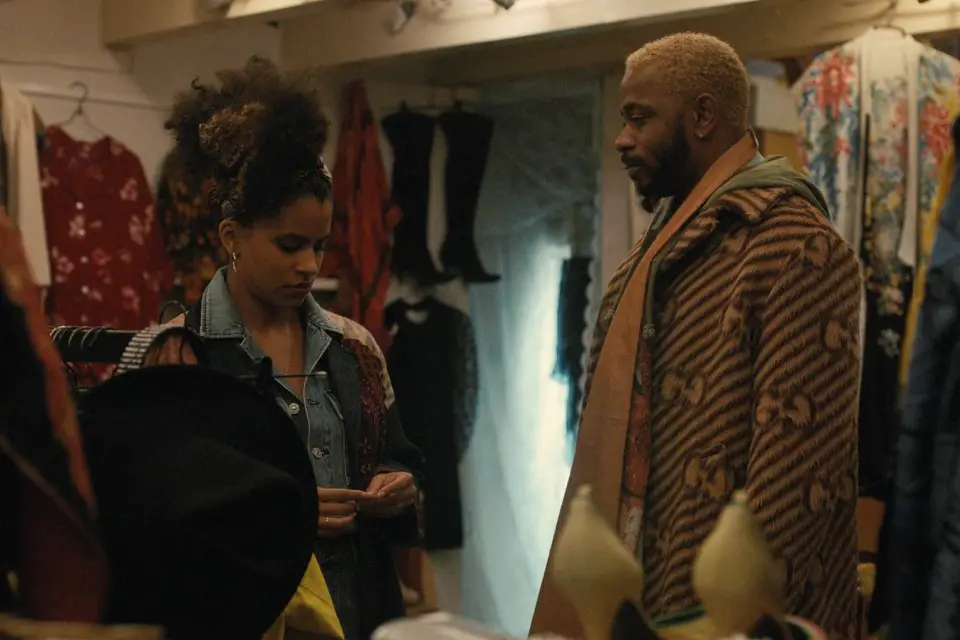 This review contains spoilers for Atlanta, for episode one review, click here.
You don't see Blackface in Atlanta, but it's has been something Europeans have been doing for ages. It's a practice that reached the U.S. and white people have unfortunately continued. Black Pete, is a Dutch character that is celebrated during Sinterklaas. It happens around the 5th of December. It's actually divided European countries that celebrate as the black citizens in those countries are fed up with the tradition. There have been protests and articles written about this for about 7 years. This is what's happening when Paperboi (Bryan Tyree Henry), Earn (Donald Glover, Van (Zazie Beetz), and Darius (Lakieth Stanfield) visit the country for the European tour.
We start this episode of Atlanta where we left off. Earn wakes up in a hotel room after his nightmare about Laquareeous. His phone is dead and he's got a flight to catch, he also needs Darius to pick up Van. Furthermore, Al is in jail and he needs to bail him out because he has a show that night. There are two separate adventures in the episode. They are both equally trippy and wild. Earn has to go get an advance from the promoter to bail Al out of jail, and he has to get their laptop flown to them so he can perform.

After he frees Al from jail, which isn't that bad in reality, the two go on a bit of a journey. They continuously folks in black face throughout the episode. They see children and adults, and when it's time to perform, the entire crowd is in blackface. Which prompts Earn to cancel the show. Afterward, the promoter beats up one of the attendees dressed in black face. We also find out why Al was in jail. He was about to have a threesome until the white woman involved says n***a and sparks a fight between her and the other woman. Somehow, Al ended up in jail though.
Darius and Van go to an address, Van finds in a jacket pocket. They have no clue whose address it is, but they decide to go anyway. They end up in a type of cult event, where somebody is committing suicide, or are they? There's a black man laying in a bed, and he looks like he's dying. Van has a conversation with Feena (Anniek Phiefer) about life and death. She then pulls a lever and covers the man's face with a plastic bag to suffocate him. He looks like he's trying to fight back, but he's chained to the bed by his legs and feet. Darius and Van look on in horror and terrified. They leave immediately after in shock.

The group meets back at the hotel, and Van and Earn see each other. She's getting ice, and he's still sick with whatever illness he has the entire episode. They are all alive after their separate but equally crazy adventures. There's a lot to unpack for everybody, from suicide to black face, it's been a crazy time in Europe.
Yes, there are indeed suicide houses in Europe. There are even suicide pods. The Dignitas House is one of the houses in Europe that assist with suicides. Euthanization isn't the only way to assist in suicides as shown in this episode of Atlanta. Also, Black Pete is another realistic thing that was inserted into the show as I spoke about above. Paperboi/ Al being in jail was a play on Asap Rocky's time in Sweden. You know, that time Donald Trump tweeted about freeing a rapper from jail.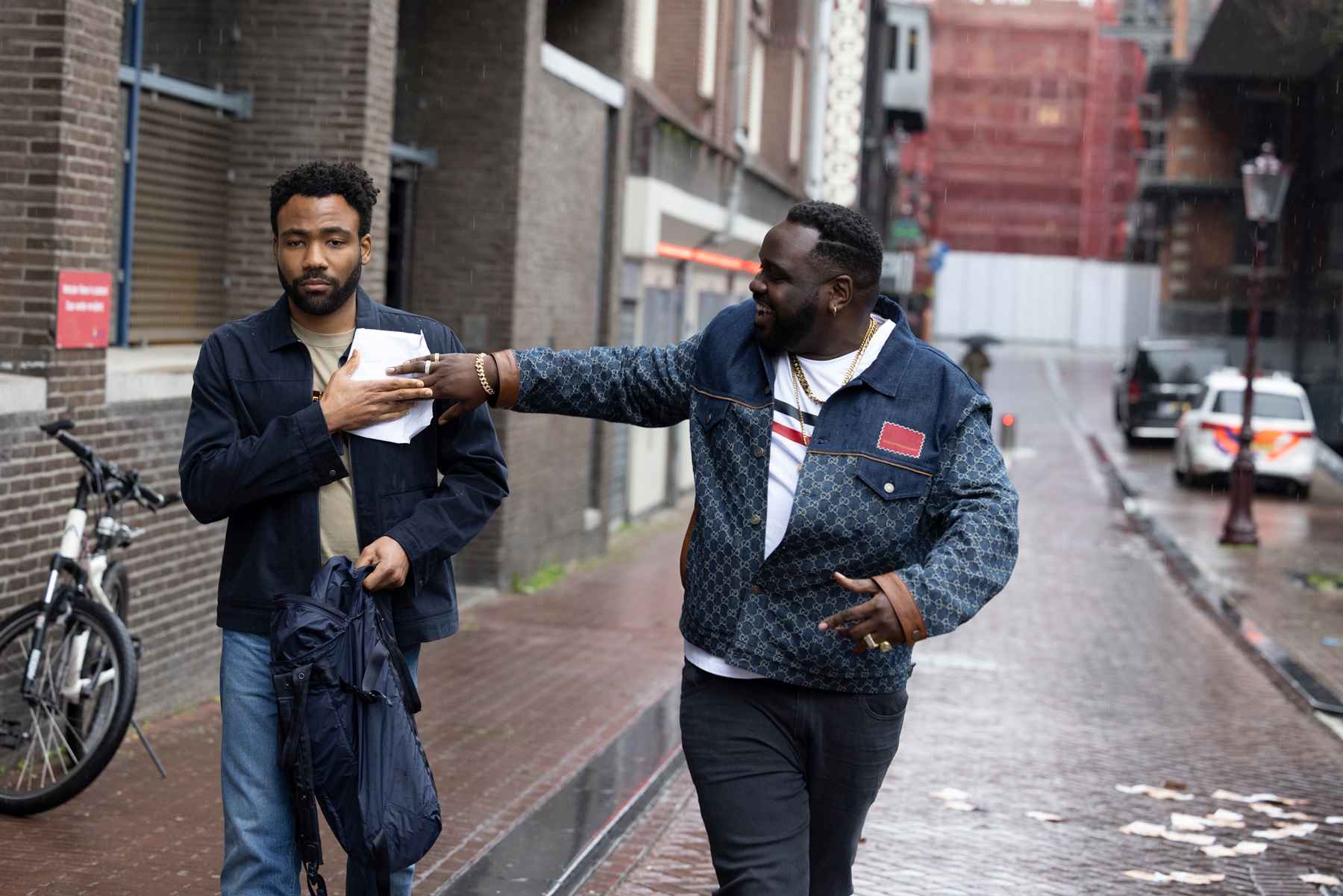 The prisons overseas in European country are far better than the ones in the states. Recently Freddie Gibbs and Rocky are two rappers that went to prison overseas. Both were freed after the allegations against them were proven false, but they still were arrested. Rap artists and overseas culture are things that have conflicted over time. Tyler, The Creator was banned in several European countries. It's just one of those unfortunate things because rap fans exist all over the world.
Janine Nabers gives a great teleplay. Being able to mix so many controversial things into one 40 minute episode is a tall task, but she got it done. Hiro Murai returns to direct again, and he again gives us an awkward energetic boost. Blackface is never ever funny. It's honestly a racist practice that should be deemed illegal worldwide. It's ugly, it's disgusting, and it's not funny at all. I don't care if t's a tradition. The suicide house isn't something I'm well versed on, but if it stops botched suicides then I guess it's a good thing. That being said, I still don't know if that guy was committing suicide.

Atlanta thrives on relatable content. Whether it's real-life situations you and I go through or the news. Taking real things and turning them into comedic experiences we can all enjoy helps the show thrive. They aren't saying that these instances are funny because they aren't, but the way the show portrays it helps you understand. The genre blends in the last two episodes have been great; horror/thriller/comedy mixing together is a fun aspect.
This was another masterclass from the Atlanta creative team and cast. The editing puts together a great way to follow both of our teams (Van/Darius and Earn/Al). It's a fun episode that has a really great underlying message. We can expect this season of Atlanta to be more and more like this. Especially considering it's been a trend in the first episode and sprinkled in each season so far. This is what made Atlanta the pop culture phenom it's been since 2016. Genre blending, real stories being turned into episodes, and the comedic effect. – Rascal F. Kennedy
Rating – 9/10
New episodes of Atlanta premiere Thursdays on FX!
---
Trending Now