---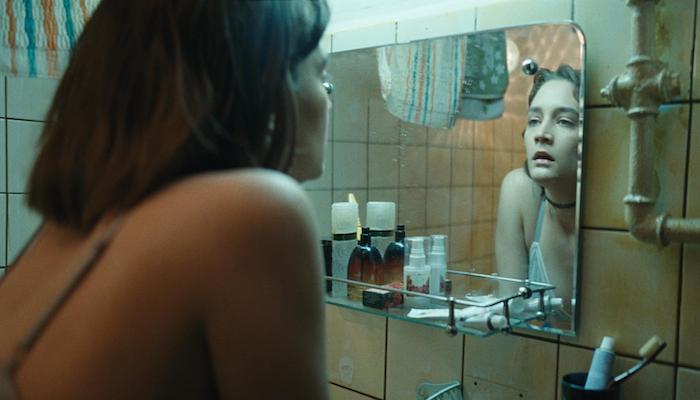 The following is part of our coverage of SXSW 2022. For more, click here.
The story of Nika Turbina is a turbulent one. Her poetry written at a very young age earned her national acclaim in Russia. Christened a child prodigy, at one point she simply stopped writing. Little about her life until her tragic death at the age of 27 is ever recounted. Director Vasilisa Kuzmina aims to right that wrong in Nika, presenting a dramatization of her final years. What follows is an often hard-to-watch, intermittently joyous, and illuminating portrait of a tragic figure.
At the start of the film, Nika Turbina (Elizaveta Yankovskaya) skates her way through life. Embarrassed by her prolific past, she spends her days wandering aimlessly around her hometown. Deep within her, she harbors a desire to start a drama school. Her mother (Anna Mikhalkova) holds a tight leash on her, all the while capitalizing on her fame, controlling her activities, and trying to set her up with potential suitors. When Nika starts a romance with a fan of hers, Ivan (Ivan Fominov), she finds some semblance of stability that's threatened to be ripped away by past haunts consuming her.
Nika is complex. Fitting, because its subject is anything but simple. Elizaveta Yankovskaya steps into the role of Nika Turbina fearlessly. At no point is any attempt made to sand down her rough edges. And why should there be? Nika remains a whirlwind of shifting moods throughout the film. At times she's cold, others boisterous. A good moment with her can quickly turn sour. It begs the audience to ask the question: what made her this way? Is it her myriad addictions, frustration with a lack of artistic spark, or her domineering mother?
Neither Vasilisa or Nika as a whole have the answers. Understandably, the "show things as they are" approach may leave some cold or irritate others. Yet, if you go in with the perspective of simply taking it all in, Nika has a lot to say. The power dynamic between Nika and her mother leads to some (potentially triggering) raw dramatic material. Seeing her in moments of tranquility gives an image of a better life, where those around her were not so eager to look at her as who she is rather than who she is famed to be. Of course, Nika doesn't have all the answers about its central subject, nor does it need to have any. It's very much like poetry; up to personal interpretation.
Whether an audience member wants to live in the skin of a figure who spiraled towards her inevitable demise is their own choice. No one would begrudge you for sitting this one out. Nevertheless, by taking a look at Nika Turbina in the harsh light of day, divorced from the work of whose praise she can not escape, Nika does a beautiful thing. The film allows Turbina to be seen, not as a legendary child prodigy poet, but as a woman. All we are required to do in life is be human. All we want is to be seen as human. Hopefully Nika affords its subject that dignity. –James Preston Poole
Rating: 8/10
Nika has no release date as of the writing of this article.
---
Trending Now