'The Endgame' S1, E2 Recap/Review: "Fairytale Wedding"
---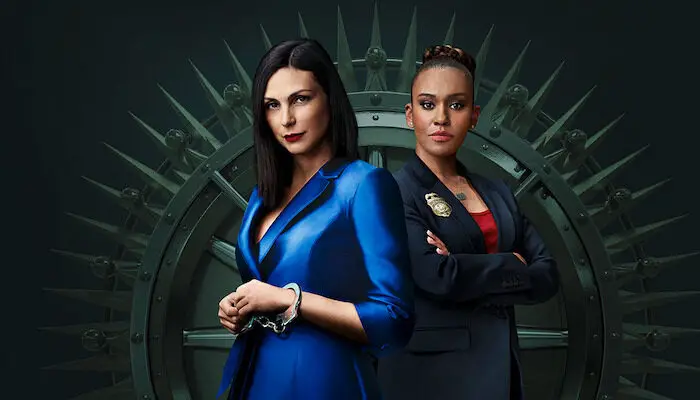 The following is a spoiler review for The Endgame, to view previous coverage on the series, click HERE.
The Endgame presents our two strong female characters, Agent Val Turner (Ryan Michelle Bathé) and Elena Fedorova (Morena Baccarin) as they confront each other. Fedorova's team manages to hack into the Fort's systems and reveals to everyone she has Secretary Bradbury's (Jenna Stern) son with a bomb around his neck set to go off in an hour. She emphasizes the whole time the bond between mother and child. Assistant Director Jonathan Doak (Noah Bean) and Agent Anthony Flowers (Jordan Johnson-Hinds) are covering Bank 2, trying to figure out the identity of the leader, while Flowers also tries to help Turner figure out where Bradbury's son is without revealing it to Doak. The FBI team onsite manages to sneak a camera into the bank and sees the leader and a lackey hacking the server for a video file, getting it before the FBI shuts the power down.
The leader walks back into the lobby, where she's confronted by the hostage "spokesperson", Lawton. Concurrently, Turner manages to find Bradbury's son with 17 minutes left. The bomb squad arrives, and they've set up everything to protect the team, but there are three minutes left, and not enough time to diffuse it without the code. Turner makes an attempt, thinking about Fedorova talking about mother and child, but fails. They continue to try things until Turner figures it out, typing in Isaac Bigby.  They manage to get the son out of the bomb with 14 seconds left. Lawton is getting sick, so Doak pulls in a paramedic to check him out over the video. Turner reveals to Flowers the code is the name of the man who killed her mother. With some of the details, Fedorova has had, together they decide Turner's car may be bugged, and they swap cars.
After consulting with the paramedic, Doak decides they need to get Lawton. Turner and Fedorova have a conversation about another thing they share, their lost moms. Fedorova asks for patience when Turner asks why Fedorova came after her. Turner asks about Lawton, Fedorova deflects, and Turner realizes there's another layer. Outside Bank 2, Doak and the paramedics are trying to get Lawton. Doak manages to speak to the leader and records her talking to get additional information to run for identification. Flowers and a forensics team are searching Turner's car, and just like she promised, Fedorova's clothes were delivered, along with a picture of Owen, Sergey, and Federova. Meanwhile, in the ambulance with Lawton, it's revealed he was just a means to an end. The paramedic removes a patch that causes his symptoms to go away and pulls the flash drive off of his shoe.

The paramedic gets out to take Lawton to the hospital, but not before she's grabbed by Turner and told to hand the drive over. Doak gets the video off the flash drive and asks Turner to present a united front with him. She refuses, confronting him on his attitude. Director Réal and Turner present what's on the flash drive to Bradbury, and it's a video of Bradbury quoting what money she wants to keep the cartel out of the Coast Guard's reach; connecting it back to the nautical rope found on Bradbury's son. The kidnapping of Bradbury's son was used to get her to lower her fee, and she offers to go quietly, resigning in a few weeks so it doesn't look like Fedorova's outing everyone corrupt as Attorney General Doblin has resigned already due to what was revealed previously. Réal refuses her request, and Turner arrests her.
Turner confronts Fedorova on the photo, and she simply says it's wise to keep records of who you meet with. Turner asks for details, but all Fedorova will say is "that's foggy". Fedorova says she's lifting the veil over Turner's eyes but has to do it slowly. Fedorova asks for her clothes and gets them. Turner returns to the prison to meet Owen, bringing the picture with her. He asks her to walk away, and she refuses, reminding him of the time he protected her from killing Bigby. He walks away, leaving her with a four-leaf clover. Walking into the prison working area, he meets with Sergey. Sergey asks if he said anything to Turner, and Owen says no, he's sticking to the plan. Sergey walks away and pulls a cellphone from under his bed, and we see he's communicating with Fedorova in Fort Toten via morse code.

After a promising first episode, The Endgame fails to achieve more. It's not enough to have strong characters, you need to have a strong story too. Yes, it's difficult when you're focused on developing the mystery and connection between characters. Fedorova and Turner clearly are strong on-screen and have something in the story. Despite this, too much time was spent on little bites of everything. The plot just jumps between overall season plotlines, but nothing feels concrete in this episode. We can't care enough about what's happening because we're not given the time to process. We just have to move to the next storyline.
Overall this episode really does nothing for the show. Baccarin and Bathé are still incredible together on screen, but this script by showrunner Nicholas Wootton fails to accomplish what it needs to. –Katie Rentschler
Rating: 5/10
New episodes for The Endgame premiere Mondays on NBC.
---
Trending Now