'Servant' Season 3 Episode 5 Recap/Review: "Tiger"
Posted On February 18, 2022
---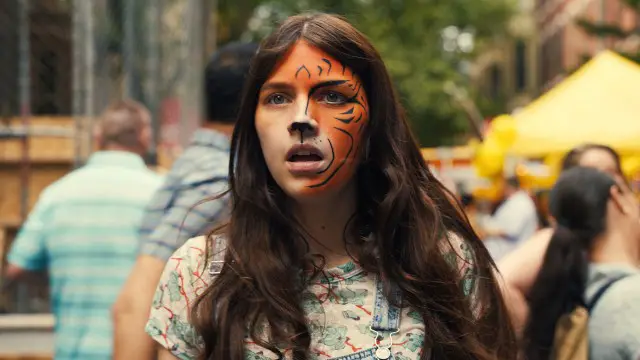 The following contains spoilers for Season 3 Episode 5 of Apple TV+'s Servant. For our recap/review of last week's episode, click here.
Servant seems to be making a habit of venturing outside the Turner household this season. If the past few episodes got their feet wet in the surrounding areas, "Tiger" is Servant's official coming out party. Directed by Celine Held and Logan George (Topside), "Tiger" represents a major step forward in the overarching plot of this season. And that isn't just referring to a change of location!
At the beginning of the episode, Leanne (Nell Tiger Free) walks downstairs wearing a pair of overalls belonging to Dorothy (Lauren Ambrose). Dorothy doesn't mind, excited that Leanne is going to be venturing out of the house. After all, Dorothy is putting together a neighborhood block party. Sean (Toby Kebbell) is in the kitchen preparing food for the homeless in the neighborhood as well as some liquid nitrogen-aided ice cream. There's a distinct sense of whiplash to Dorothy's behavior considering the events of last week. Yet, it's beyond characteristic of her. Throwing herself into a new project to distract herself from reality.
The block party itself is certainly a circus worthy of the Dorothy Turner. Tents aplenty housing multiple merchants. During the brouhaha, Dorothy notices the rival reporter from her station. She decides that the healthiest thing to do is grab Jericho, go in front of a camera (much to her brother Julian's dismay), and rub her rival's nose in this success. She does one better, completely taking over the broadcast to basically carry out the report herself. As cringe-inducing as her actions are, it's admittedly a little nice to see goofy Dorothy.
On Sean's end, he's confronted with a familiar face. To him, at least. A previously unseen kindly woman named Nancy talks with him. They seem to have a nice rapport, a notion solidified when it's revealed that she is actually his minister from a local Unitarian Church. That's… a bit of a bombshell. Sean has mentioned nothing about religion this whole season, but I suppose it does explain his more mellow demeanor this season. There's something nice about seeing Sean at peace. Lord knows he suffers enough for the family.
Unbeknownst to Sean, Nancy goes and introduces herself to Dorothy. Dorothy confronts Sean with this, but is strangely accepting. In fact, she invites Nancy to dinner. It's a tender, sweet moment. Well, as sweet as Servant can be. Of course this storyline is really only there to balance out the meat of the episode in Leanne's story.
Leanne overwhelms herself with the sights and sounds of the block party. She notices the homeless sitting at a table. Unnerved- as she should be judging by last week's ending- she asks a kindly manager of the block party to get them thrown out. They go without incident, and she can finally enjoy her time. She goes to get her facepainted, opting for a tiger design. In the middle of getting her face painted, she closes her eyes. The face painter walks away to take a call. Leanne doesn't realize this and is touched by a grimy hand, one that looks similar to Uncle George (Boris McIver), a character we haven't seen in some time. When the painter comes back, Leanne is horrified, realizing someone else had touched her. She flees the tent, face half-painted.

She sits down to relax, only to hear Dorothy's rival and another reporter talking badly about Dorothy. Leanne calls them out on this. The rival tries to make excuses, trying to break the ice by asking Leanne her name. Leanne gives her full name, then walks away. The rival then looks up her name, seeing many missing posters on Google Images. This begs the question- if her missing status is so widespread, how have the Turners been able to keep it under wraps so long? Anyhoo, it makes for an interesting development nonetheless.
Seemingly meeting bad luck at her first true outside outing in a while, a saving grace comes when Leanne bumps into Tobe (Tony Revlori). He explains that Sylvia broke up with him. (Note: before we go any further, a minor correction to the previous recap, where I referred to Tobe's girlfriend as Sylvie rather Sylvia). Leanne is sympathetic, but Tobe thinks it's the right thing in the end. Bummer to be losing such an entertaining character so quick, though a net gain as this leads to my favorite scene of the season so far.
Leanne and Tobe use the block party as an opportunity for a de-facto date. They get Tobe's face painted, jump in a bouncy house, just generally enjoy each other's company. It's a sequence of palpable warmth. We haven't ever seen this kind of happiness emanate from Leanne. She's no longer living just for the Turners, she's living for herself. All smiles, Leanne goes into a tent to ask if their still open. The kindly woman from earlier and the cook, with distinctly dirty fingers, brandishes a knife made out of a cross. The Church of the Lesser Saints are here.
My stomach dropped as Leanne ran away from them. Finally, the danger has come. She runs through the Turner household, being chased by them, and out the back. When she comes out the other side, she is confronted by a legion of the homeless who have been watching her. We cut to black. Next thing we see, a dazed Leanne is walking in the house. There's blood on the back of her head and on the overalls. She frantically washes everything off. Dorothy and Sean arrive, questioning nothing. Leanne goes up to the bathroom, grabbing onto the back of her head as visions of the people attacking her play out. She wipes the blood from the back of her head down her face as a single tear falls down her eye.
It's unclear what the ending of "Tiger" is trying to tell us. It seems Leanne is either under control of the people who attacked her, who may or may not be the Church of the Lesser Saints. Or, taking a big swing here, we're not being told everything and the homeless saved Leanne. Maybe they could even be similar resurrected ex-members of the Church, like her. Never mind that, I'm losing the plot.
What's important is that "Tiger" is the second truly phenomenal episode of this season. New blood in the form of Logan George and Celine Held's direction lays the foundation for an episode that's as tender as it is tense. By moving out of the house and onto the block, Servant signifies not only are the locales changing, so is the story that's being told. What is this new narrative Tony Basgallop is taking us on? I can't wait to find out. –James Preston Poole
Rating: 10/10
Season Rating: 9/10
Servant seasons 1-2 and the first five episodes of season 3 are now streaming on Apple TV+.
---
Trending Now
You may also like