'Peacemaker' Episode 8 Spoiler Recap/Review
Posted On February 17, 2022
---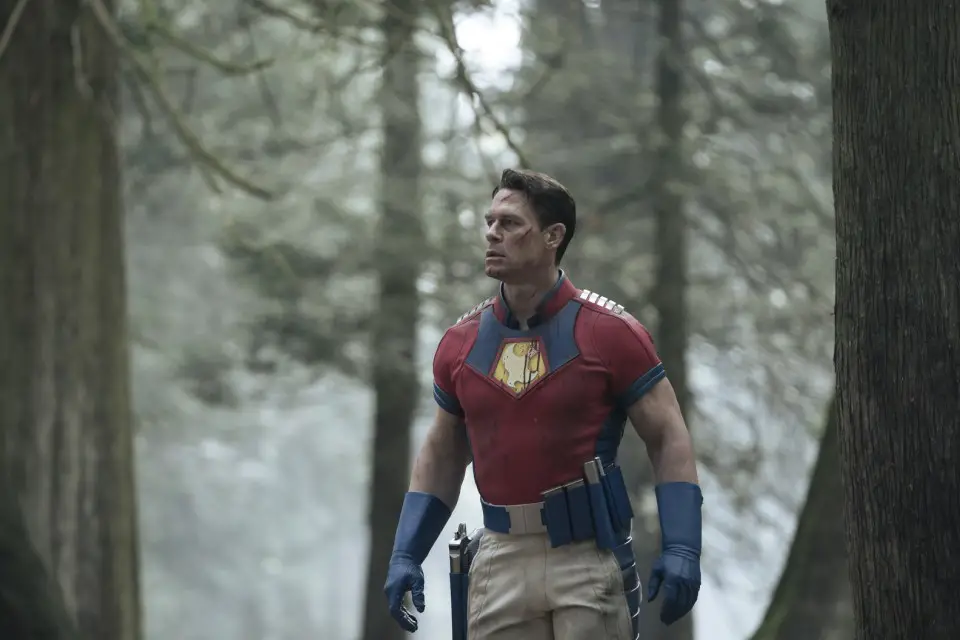 The Following Recap/Review Contains Spoilers for Episode 8 of 'Peacemaker'. For a review of Episode 7, click here.
Unfortunately, Peacemaker's first season has now reached its conclusion. Fresh off of the news of a Season 2 renewal, James Gunn's first foray into television has reached its conclusion. Throughout the past 7 episodes, Gunn and his guest directors have shaped the character of Christopher Smith. Originally an antagonist in The Suicide Squad that was meant to meet his end at Bloodsports hand, Chris has been humanized. Overall, Peacemaker transforms Cena's character entirely. It's never more evident than in the season finale.
Picking up where last week's left off, Project Butterfly starts to live up to its name. With the death of Murn and Chris' distrust of the team, there's an air of uncertainty. Mainly between Adebayo and Peacemaker. Danielle Brooks and John Cena display an incredible amount of chemistry. As Adebayo continues to try to apologize, Chris and Adrian continually interrupt her with farting noises. Moreover, it's a hilarious bit that's layered in heartbreak for Peacemaker. As Adebayo tries to confront Chris' "vow" to kill only for peace, Peacemaker is faced with introspection yet again.

The team arrives at the ranch, with Waller unable to send backup to the team. Meanwhile, the butterflies desperately attempt to teleport the cow. In order for the team to stop the butterflies, they use Peacemaker's helmets to devise a plan. It's a humorous moment that lets each character in the ensemble shine. When they lose an integral helmet thanks to Eagly, the team spreads out in the surrounding woods to look for it. Things take a dark turn when Chris begins hallucinating his father, Auggie. His father continues to berate him from beyond the grave, and Chris attacks him.
Gunn continues to blend humor with dark tragedy this episode, and it works incredibly well. While the scene is hilarious, it also has extremely dark undertones. They eventually recover the helmet, sending Economos disguised as an officer butterfly to place the helmet in a key location. Agee as Economos continues to play a pivotal role when it matters. The infamous 'dye-beard' nickname also comes full circle. It's a sad and emotional moment for Economos, and Agee uses it incredibly well.

The action begins to ramp up as Economos is made and nearly killed by the butterflies. The action begins to ramp up even more as the sonic boom helmet is used appropriately. Taking down the ranch and stopping the cow from teleporting, the real battle begins. The main intro song is played for the first part of the battle. With incredible choreography, Peacemaker, Vigilante, and Harcourt take down dozens of butterflies. It's extremely entertaining until the team is slowly overwhelmed. The song begins to take a demented turn, with the vocals going oddly uneven and dark.
Adebayo decides to stop standing around, going in guns blazing and saving Harcourt from being taken by a Butterfly. She goes to help Peacemaker finish the cow, not knowing he was trapped in rubble during the fight. The tension has never felt more real in the series. Moreover, the stakes feel genuine too, with the group massively outnumbered and outgunned. Adebayo, donning a Peacemaker helmet, goes to rescue Chris from the rubble. As soon as he gets out, he's forced to fight Goff (Sophie).
Alone with Goff, Peacemaker learns why Judomaster joined them. The Butterflies believe they are saving the planet, taking a vow similar to Chris when he was a child. He begins to understand, as the butterflies offer him to help complete his vow of peace. Chris politely declines, using Adebayo as a human torpedo to kill the cow. It all feels a little too tidy, but Gunn still manages to make it work.

It's an incredibly emotional sequence, with Peacemaker finally learning to come to terms with his dark past. The way that James Gunn is able to tie in the butterflies with Peacemaker's moral dilemma is incredible. After all the carnage, Peacemaker and the rest of Project Butterfly leave, triumphant. The Justice League arrive, although a little too late. Aquaman (Jason Mamoa) is confronted with the rumor he has sex with fish, with even the Flash (Ezra Miller) believing it. The moment is mindblowing, humorous, and helps to make the DCEU feel more interconnected.
As the dust settles, the team is hospitalized, with Adebayo realizing she needs to expose her mother. She and Chris finally come to terms, forgiving one another while he acknowledges her as his "BFF" (after Eagly). In the light of exposing Task Force X, everyone goes their separate ways. Harcourt and Chris bond as she is hospitalized and rehabilitated. Chris even befriends Goff, who continues to visit him. The hallucination of his father Auggie (Robert Patrick) continues to visit him too.
It's an ominous ending to the first season, with a whole new status quo for Chris. Haunted by his father, but at peace with who he is now, it'll be interesting to see where Peacemaker goes in its second season. Overall, the first season of Peacemaker is incredible. Filled with heart, humor, and incredible violence, the show hits all the right marks, although rushing some of the story beats, such as Judomasters arc. Still, though, Gunn's first foray into television is some of his best work yet.  – Ernesto Valenzuela
Grade – 9/10
All Episodes of Peacemaker are now streaming on HBO Max
---
Trending Now