'Legends of Vox Machina' Ep. 104-106 Spoiler Review/Recap: 'A Revolution for Whitestone'
Posted On February 4, 2022
---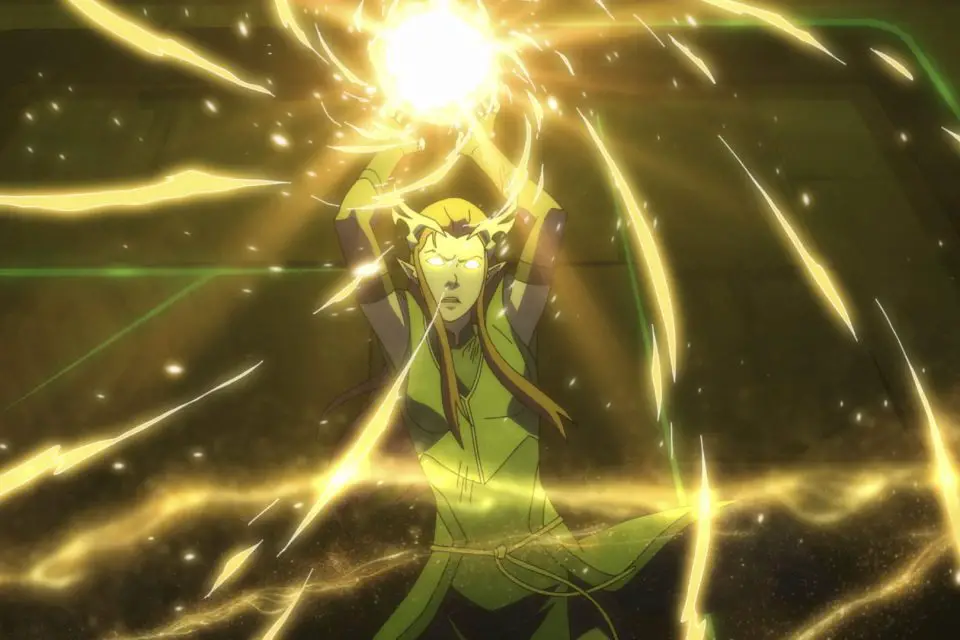 The Legend of Vox Machina has been a fun and adventurous journey through the first three episodes. Much like the role-playing game it is based on. Now that we've met our characters and had the proper introductions, we're getting to the meat of the story. This fantasy world is full of magnificent creatures – Dragons, Vampires, Werewolves, and Wraiths. This story that's transferred from YouTube role play to Amazon Prime is growing and getting better. If you thought the first three episodes were fun, this ride just got a lot more wild.
Episode 4 – 'Shadows at the Gates'
When we last left our heroes, Vox Machina had just gotten into a fight with Sylas (Matthew Mercer) and Delilah (Grey Griffin) Briarwood. Then, Percy who's seeking vengeance for the death of his family almost kills their cab driver Desmond. Sovereign Uriel (Khary Payton) has Vox Machina arrested and wants them in jail. They plead with Uriel and Lady Allura Vysoren (Indira Varma), telling them about how the Briarwoods are evil. They even suggest Uriel may be under a spell. Lady Allura has them sent back to their home and placed on house arrest instead of jail.  The guards take all the weapons and leave the group bored.

Keyleth (Marisha Ray) makes an attempt to get Percy (Taliesin Jaffe) to tell them the truth about the Briarwoods, and he does. He tells the group about how the Briarwoods came to Whitestone and seemed nice. Then they checked out to be evil people that would murder the de Rolo family in cold blood. Leaving Percy and his sister to run off, and killing Percy's sister. The group understands and vows to help Percy take down the Briarwoods. They are seemingly attacked at the same time by Wraiths raised by Delilah at the beginning of the episode. The Wraiths are after Delilah's book or tome full of wicked spells.
As the group is battling the Wraiths, Pike (Ashley Johnson) realizes she can't access the Everlight and becomes kind of useless. Keyleth ends up using her powers to shine light in the room and the group defeats the Wraiths after several soldiers die. The remaining soldier sets Vox Machina free after they vow to kill the Briarwoods. Pike, who hasn't been able to access the Everlight since the fight with the Briarwoods, stays back. She goes to visit her holy people, while the rest of the group heads off to Whitestone.
Episode 5 – 'Fate's Journey'
As Pike has gone to try to retrieve the Everlight and the rest of the group to Briarwood. Our heroes go to Gilmore's (Sunil Malhotra) store to gather weapons they will need to fight Vampires. Arrows, wooden stakes, and the best weapon of all: Holy Water. The group sets out on their journey and Scanlan (Sam Riegel) tries to decipher Delilah's tome, Vex (Laura Bailey) and Percy stay vigilant, Grog (Travis Willingham) is well, Grog, and Vax (Liam O'Brien) and Keyleth seem to be infatuated with each other. Delilah's tome is written in an ancient language and has the architecture of buildings that can connect to Gods. Scanlan can't break down the writings, but he tries.
Vox Machina rides and goes into a forest area where they are attacked by hideous monsters. The monsters want the tome/book as well. They chase the group through the woods, and through a mountain. Using the weapons they bought from Gilmore, the group manages to get away, and it almost costs them, Scanlan. The group loses the book and their weapons. They continue to Whitestone though. Meanwhile, Pike is back in her Holy land and seeking help to find her Everlight. They take her in and remind her she is always welcome.

When Vox Machina arrives at Whitestone, they see the Sun Tree Percy spoke about… Instead of it being this big magnificent beautiful glowing tree, it's withered and dead. Also, bodies that resemble Vox Machina are hanging from the tree, dead as well. Vox Machina also sees that Undead giants and Briarwood soldiers have taken over Percy's once home. There's no place to run or hide. They are here now though and must find a way to help Percy reclaim his home.
Episode 6 – 'Spark of Rebellion'
Percival de Rolo has spent his entire adulthood and teen years waiting to return home. His home may look vastly different, but it's still his home. He's returned with Vox Machina and they are ready to start a revolution. Vox Machina finds Keeper Yennen, the Holy Leader of Whitestone. After she preaches to the people she takes them to a hub where the revolutionaries are meeting. The leader of the revolt, Archibald Desnay is captured and must be freed. Vox Machina and the revolutionaries spend the episode trying to break Archibald out of the fort he's in.
Archibald is beaten severely by Stonefell and another captain for the Briarwoods. He is rescued when Vox Machina makes it inside the fortress. They also free other captured revolutionaries. Many of the revolutionaries die in the process, but the overall goal is achieved. Percy also kills Stonefell when the darkness takes over him like it did when he shot off Desmond's hand. He talks with Archibald and is told his sister didn't die, and that she is still alive. Percy is happy and filled with relief to know she's alive. Just one problem, Cassandra de Rolo lives with the Briarwoods.
These were well-written episodes that take us deeper into some of the mythology within the Vox Machina universe. Tal'Dorei is a magical land filled with mythical creatures. Some are good and some are extremely evil. It's like Game of Thrones meets Lord of the Rings. It's an extremely fun adventure in a magical land, and we are just enjoying the ride. The writing for these episodes continues to be consistent and fluid. The writers show us many different things, the dialogue is great, but also everything going on in the background. There are layers to every episode, especially episode 6. Ashley Burch and Jennifer Muro give us steady beats in the first two episodes and par the course. Mae Cut gives some very brutal imagery with Archibald's torture. It's distinguished though, and different from many cartoons.

Our directors Young Heller, Alicia Chan, and Stanley Von MedVey stay the same. They take these great screenplays and seamlessly blend them together. The styles are different, but they are sewed together perfectly. Each episode is a building block for what seems will be a great showdown with the Briarwoods. I also like how we are starting to understand each character more and more. Vox Machina is a pretty big team, and sometimes lore/background information is hard to stuff into 25-30 minutes.
This team is doing a wonderful at that though. Pike and Grog dynamic are definitely one of the better ones, they're like a brother/sister duo. Percy's background is coming to light more and more, we just haven't gotten much on his darkness. Keyleth and Vax have also become entertaining to watch. Scanlan being a nymphomaniac and Vex being concerned about her brother.  These characters have several layers and I'm glad we are exploring them.
The show isn't really lacking in any department. Pike is kind of an afterthought in a way, but that may be my only gripe. I understand she's on her own journey, but we should still see more of her. I would even suggest making the episodes longer. The only problem with that is that it puts a strain on the animation/art department, and they've been fantastic. Nothing is perfect, no not even you, but the show is nearing that. This is definitely one of the better adult animated shows out right now, and if they continue… All they will have to do is stick the landing. – Rascal F. Kennedy 
Rating – 8.5/10
The Legend of Vox Machina is now available to stream on Amazon Prime!
---
Trending Now
You may also like