'The Righteous Gemstones' Season 2 Episode 4 Recap/Review: "As To How They Might Destroy Him"
Posted On January 27, 2022
---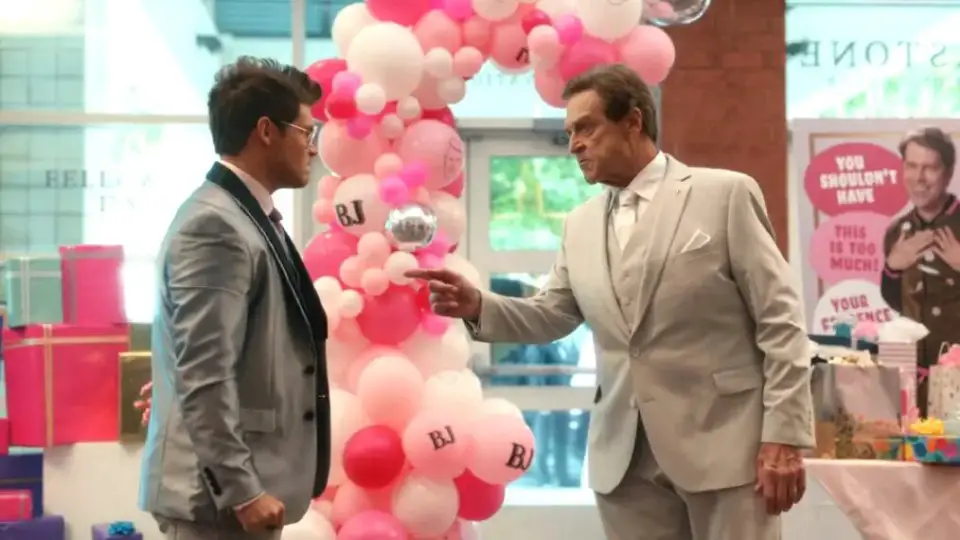 The following will include full spoilers for season 2, episode 4 of The Righteous Gemstones. For our thoughts on last week's episode, read here.
Right upfront: this week's The Righteous Gemstones is a doozy. Packed with laughs and major plot developments, there is much to discuss. So before we get into all that, let's break down the title of this week's episode. "As To How They Might Destroy Him" is taken from Matthew 2:14, discussing the plotting of the murder of Jesus Christ by the Pharisees. With the Gemstone dynasty showing signs of crumbling this season, this particular episode is the perfect moment to reference said passage.
"As To How They Might Destroy Him" opens in 1993 in a mall, where we see the grand return of "Baby" Billy Freeman (Walton Goggins). Accompanying him is his… wife and son, Harmon? Up to this point, if there's been any mention of Harmon it's been brief at best. The dynamic between Baby Billy and his wife is cold, stilted even. His son appears to be nonverbal. Harmon does light up when Billy suggests he can buy his own Christmas present this year. Harmon is drawn to the cats in a pet store, prompting Goggins' hilarious delivery of "oh, so you a cat boy?". He sends the wife to go get a store associate, but as soon as she and their son turn their back, he abandons them at the mall.
It's a cold-blooded move typical of the self-serving Freeman. Immediately, the question opens up of where Harmon is in the present day. My gut instinct tells me he must be involved in the murders somehow. Nevertheless, we jump to the present day, where BJ is preparing for his baptism. It's supposedly his big day. After all, his agnostic parents and his sister, who is disdainful towards Judy and the Gemstone family, come. Judy, however, makes this baptism entirely about herself, manifesting primarily in rudeness towards BJ's family.
Meanwhile, Kelvin attempts to take off in one of the Gemstone private jets with his "God Squad". Their plan is to walk the Judean desert for 40 days and 40 nights. His plan comes to a premature end when he's informed by Eli's assistant Martin (Gregory Alan Williams) that his attendance is required at BJ's baptism. As is typical of Kelvin, he throws a fit.
On Jesse's end of things, he and Amber are doing the (apparently?) Texan recreational activity of hatchet throwing with the Lissons. When they all sit down to have a beer, Jesse shoots it straight with them: he can't afford to be in business with them anymore. The Lissons do not take this well, even as Jesse weeps in front of them. The Gemstones are left alone in the bar, their friendship seemingly ended. Between Jesse, Amber, and Kelvin, the Gemstones have one hell of a bone to pick with Eli. Make no mistake, it will come to an explosive head at BJ's baptism.

At the baptism, a guest emcee appears in the form of Baby Bill Freeman, his white hair glistening. Can I just say how much I appreciate having Walton Goggins back in the fold? His comedic energy is a cut above just about every working comedian, and he's part of what makes The Righteous Gemstones such a deliriously enjoyable watch. In tow is also his very pregnant wife, Tiffany (Valyn Hall), whose childlike innocence is also a hoot.
When the ceremony begins, it's exactly the kind of overkill one expects from the Gemstones. BJ, complete with noseplugs, is washed away of his sin in a cross-shaped pool to the adoration of the masses and the horror of his sister. After the ceremony, it's time for the party. BJ, adorned in an absolutely fabulous pink suit, inspires laughs from his own family, causing Judy to turn the rudeness up to 11. She confronts BJ's sister in the bathroom, accusing her of being jealous because she wants to have sex with BJ. This antagonism on Judy's part is only the beginning of what the after-party has in store.

Jesse confronts his father about the lack of investment towards the Lissons. He's clearly in distress, to which Eli simply responds "I don't give a shit". On the surface, it's a cruel comment, but given how much his children seem to want to milk the sacred cow dry it feels… righteous. Baby Bill then goes to Eli to gloat about his success, to which Eli brings up his son Harmon. Billy doesn't want to hear any of this, saying that this is his time to do it right, and then he doesn't need Harmon coming back around to mess things up.
Clearly, this conversation gets to Billy, because not shortly after he takes off and leaves his pregnant wife. Not entirely sure where this is going to lead, but there must be some kind of a big payoff waiting around the corner. At the party, things escalate further when Kelvin confronts Eli. Eli tells him he's shutting the God Squad down entirely. Kelvin doesn't want to hear any of this, summoning up the Squad to beat their chests rhythmically to initiate combat. Now, this starts absurd, eliciting the biggest laugh of the episode, then it gets dark.
There is real rage behind Kelvin. Eli recognizes this and tries to de-escalate the situation, but gives into his old side, breaking his son's thumbs after manhandling him. The shocked look on everyone's faces says it all. Eli slinks away. The God Squad looks on disapprovingly while Kelvin is taken into the hospital. Alone, this event is one that could bring down the Gemstones forever. But much, much darker forces are at work behind the scenes.
Jesse and Amber, fed up, take a party bus meant for their father. When it breaks down, they're content to sit and drink some more champagne. Unbeknownst to them, a motorcycle gang appears. Brandishing automatic weapons, they fire directly into the bus, narrowly avoiding Jesse and Amber. The lives of the Gemstones have hit a dark, dark chapter. Who shot at them? Who knows! There are too many culprits to count.
No matter who the assailants are, The Righteous Gemstones reaches its peak in this episode. Directed by Danny McBride (!), this episode is the epitome of dark comedy on television, combining breathless tension with breathless laughs. Whatever happens next week, we're lucky to be in an age of television where this kind of story can exist. – James Preston Poole
Episode Rating: 10/10
Season Rating: 8.75/10
---
Trending Now