'Young Justice: Phantoms' Ep. 412-413 Review: "Zatanna's Arc Continues"
Posted On January 7, 2022
---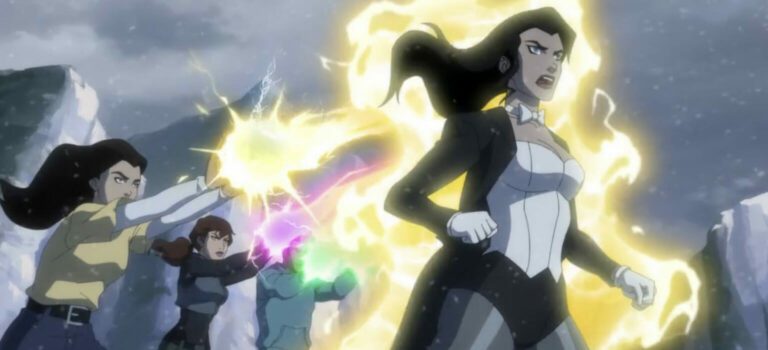 The bond of father and daughter was at the foot of these latest two episodes of Young Justice. The bond of Zatanna (Lacey Chabert) and Zatara (Nolan North), and how they've tackled ten years of separation. We all remember Zatara sacrificing himself in a sense to Nabu/Dr. Fate (Kevin Michael Richardson) for Zatanna's freedom. She has been on a mission to free her father ever since, and this episode laced with Zatara telling his story to Nabu helps play this out. It's a beautiful arc that takes a life of its own in the midst of a battle for chaos and Order.
Episode 412 'Og Htrof Dna Reuqnoc':

The last episode left off with The Child (Erika Ishii) taking down the tower of Fate. She is on a tear to destroy Earth with all her chaotic power. Zatanna and her Sentinels Thirteen (Lauren Tom), Khalid Nassour (Usman Ally), and Mary Bromfield (Ishii) team up with Dr. Fate to stop The Child from destroying the Earth. They run into Phantom Stranger (D.B. Woodside) and he tells them he has the League ready to help. Klarion (Thom Adcox-Hernandez) is defeated and spends his time trying to find the heroes and help them defeat The Child. We also see Garfield (Greg Cipes) dealing with depression still coming from the loss of Connor.
Episode 413 'Kaerb Ym traeh!':

As Klarion finally finds the heroes and looks for a familiar to get back on the Earthly plane, the Sentinels and Zatanna form an alliance with Fate that could prove detrimental. Klarion finds himself a new Tekkl and he joins the alliance. The group teams up to take down Flaw and The Child. The Phantom Stranger and Vandal Savage (David Kaye) go plead their case to the Lords of Chaos and Order to let the fate be decided on Earth instead of by them. Causing the Lords of Chaos to take their support of the Child away. Afterward, a deal is made with Nabu that causes Mary to lose her trust in Zatanna and open her up to manipulation. Garfield must also come to grips with himself and make a decision.
The episodes were directed by Christina Sotta and Christopher Berkeley, and they were written by Brandon Vietti and Greg Weisman. The teams were gracefully running the story together and the pacing never missed a beat. Everything flows perfectly from one episode to another. The Young Justice team has been amazing this season. It looks like the three arcs of Miss Martian, Artemis, and Zatanna will mesh together soon and we will get our favorite heroes all back together. This season continues to make up for the lackluster season three.

Zatanna's arc covered the background of Vandal Savage, Nabu, and Zatara. It covered years of ancient history and laid out the framework of the beginnings. It also laid out the possible endings as well, as Savage hints at a war with Apokolips on the horizon. We will see as more is to come within this fourth season of Young Justice.
This team seems to understand how to tell a story and integrate it all together. We definitely have a reason to have faith in Young Justice again. That mystery, that curiosity is back. Not knowing how things will end or who is truly in control. We also get a surprise in episode 413, and it's one that for better or worse could create more than enough chaos. – Rascal F. Kennedy
Rating: 10/10
Young Justice premieres Thursdays on HBO Max!
---
Trending Now