'The Tragedy of Macbeth' Review: "Insanity is Becoming"
Posted On January 7, 2022
---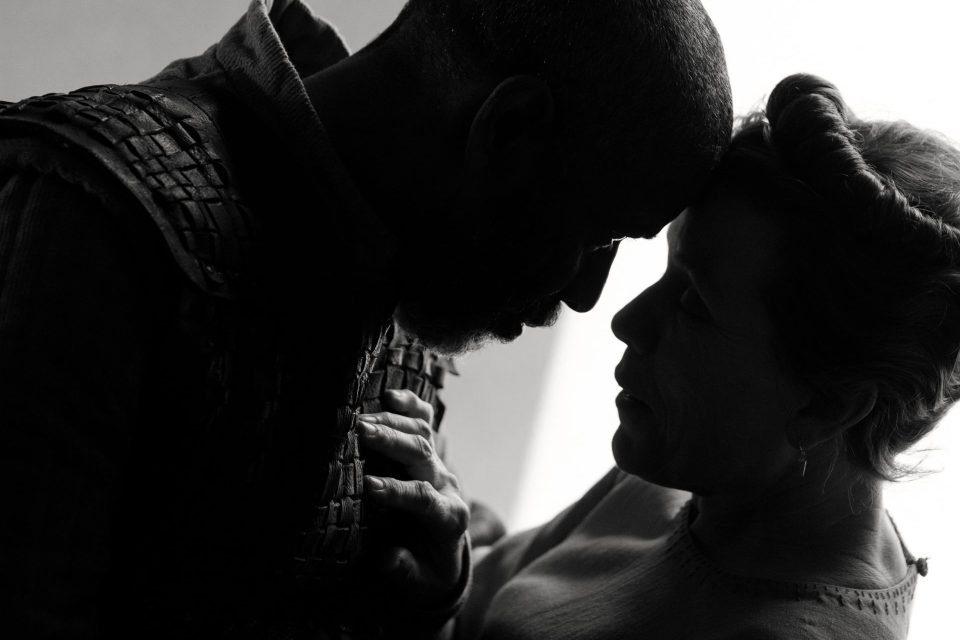 "Were such things here as we do speak about? Or have we eaten on the insane root. That takes the reason prisoner." (Shakespeare, 1.3.83-85)
Like a dream, in a hollow void, with clouds of smoke and stunning black and white images, the world of Shakespeare appears on screen. Joel Coen's eerie and moody The Tragedy of Macbeth plunges its viewers with abandon into a world of dominion and deceit, almost like the pen dipped in ink used to write this tragedy. Macbeth is a two-hour nightmare in the best way possible. Decadent, horrifying, and thrilling all at once. It's lush in its imagery and use of black and white toning. It often felt like flying above the events that took place, as one of the crows that torment Macbeth after killing Duncan. 
Leaning into the darkness, Coen utilizes every element to reimagine one of Shakespeare's most famous works. From Denzel Washington's stoic yet manic performance of Macbeth to the smooth scene transitions, this reimagining straddles the line between screen and live performance. Theatre is invited on screen not to compare but to enhance the experience. Dreams become a reality, and the undertone of the magic of theatre is felt in every sequence. It frames performances like that of Washington – along with a stand-out Kathryn Hunter as the three witches – in a visceral way that muddles the fourth wall from time to time. Characters are looming over the camera and peering down into the viewers' souls. Daring us to try and escape the watchful eyes of Lady Macbeth.

In a world of fantasies and cataclysm, how is Coen to recreate a tale built on the illusion of power? How do the words of a text so known and filled with its kind of persona come alive on the big screen? Simply put, Coen uses the 4:3 aspect ratio to make universal what is often limited: the theatrical experience Shakespeare wrote for. Coen knew that for these characters' words, mannerisms, and emotions to live up to their old English context, it is to close in on them. Create that one on one experience most audience members have during a live performance. Channel the insanity and the guilt that is the downfall of Macbeth. With this relatively narrow frame, he succeeds.
Is male success merely an illusion? Is it insanity masked as "ambition"? The Tragedy of Macbeth leans on the insanity, but only through the guise of masculinity. Washington delivers a performance that fits both the screen and stage. Shakespearean iambic pentameter flows through his speech like warm honey. Never missing a beat. In direct tandem and a formidable scene partner to Washington's Macbeth is Frances McDormand's relentlessly tormenting Lady Macbeth. It's like watching two of the most skilled boxers go head to head, only for it to end in a tie. There's no winner here. Both are too compelling in their own right as they face each other off during every scene. Individually, magnetic, but together, it's a flurry of acting. 

Never missing a beat, each scene moves almost too fluidly. You're constantly waiting for the other shoe to drop, even though you know how the story ends. How does one build suspense in a classic tale? Intrigue? There's not a moment for you to look away in case you miss something. Anything. That's how enigmatic Macbeth is. There's no need to deviate from the plot. The plot is the anchor, while the cinematography, performances, sound, and set shift in an array of technicolor. Every element is like the notes of a beautiful symphony. 
It's almost otherworldly walking through Coen's The Tragedy of Macbeth and nearly too bleak to ever really inhabit the space. Yes, it's tragic, but what sweet bliss it was to walk down this story once more through the keener walls of the screen and the melancholy tone of the black and white that colored this film. Amid the smoke and the drumming of Macbeth's guilt, like that of Poe's "Tell-Tale Heart," The Tragedy of Macbeth reminds viewers of the endless possibilities of filmmaking and theatre that the line can not only be crossed but should. – Mariana Delgado
Rating: 10/10
The Tragedy of Macbeth is available in theaters and will premiere on Apple TV+ on January 14, 2022.
---
Trending Now