'The Sex Lives of College Girls' Season 1 Review: "The Reality of Growing Up"
Posted On December 13, 2021
---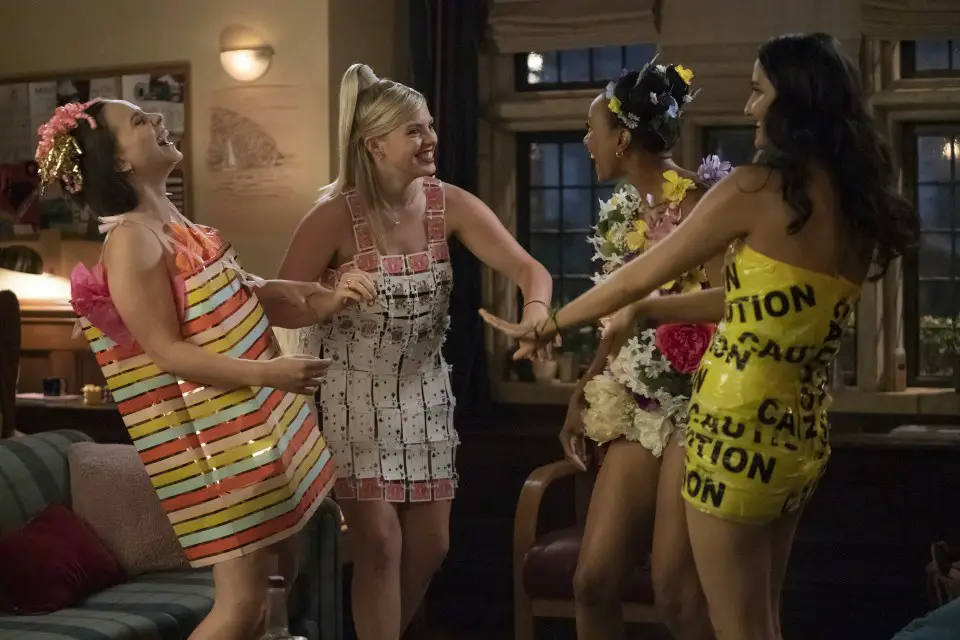 Coming of age stories are a dime a dozen – more than I can count with two hands in the last year alone. There's Euphoria, an overzealous attempt at elevating the everyday problems of teenagers by glamourizing the graphic details of their lives. The Gossip Girl reboot is just another quasi teen Sex and the City. With these shows, they run into a strange paradox. Specifically, they use teenage characters to work through mature situations that most young kids wouldn't encounter during their high school or college years. As a result, they tend to feel out of touch with their target demographic.
Well, as someone who is quite frankly not the biggest fan of coming-of-age stories, it took me by surprise how much I enjoyed The Sex Lives of College Girls. Even at a very young age, I've always felt that most depictions of youth are either overly sexualized or infantilizing. No in-between, which comes off as condescending. This is why The Sex Lives of College Girls is such a refreshing new take on the coming-of-age genre of teen shows. Unlike most depictions of youth, this one goes out of its way to create nuance. An impressive feat, especially as a comedy that also takes itself seriously when needed.

Starring Pauline Chalamet, Amrit Kaur, Alyah Chanelle Scott, and Renee Rapp, the show follows four freshmen college roommates who embark on adulthood. Well, not really adulthood. College is merely a timetable to adulthood until you realize that adulthood itself is a smokescreen. The show is one of the few to reference this. Turning the adults in their lives into fallible human beings. Mothers and fathers aren't the all-knowing forces of these kids' lives. In doing so, the show legitimizes these young girls as they navigate the pitfalls of being on their own. Whether it's through discovering their sexuality or finding community in each other through tough times, The Sex Lives of College Girls makes it a point to be involved in every aspect of their characterization.
Keeping the balance between comedy and severe points of contention, the show has an excellent equilibrium. There's an honesty to the humor that makes these characters feel real to their audience. The gimmick is not in exaggerated depictions of college life but their vulnerabilities and flaws. It's not about "finding themselves" in a way that equals knowing what they're doing at all times. Not even Rapp's character, who appears to have her whole life together at such a young age with her matching suits and overpriced bags, even though she is still just trying to find herself. She learns to accept her sexuality and tries to undo the years of self-loathing as she meets up with random women for one-night stands.

At first, I was hesitant about the show (can this show pretend it never had this name?). Usually, I gravitate towards narratives that deal with more mature topics and situations. I guess growing up and never fitting in during my high school years is one of the reasons. And not in a, "oh, I was bullied, an outcast, and I feel morally superior," but in a way that tends to happen when you move from South Florida to Central in the midst of middle school. I learned to grow up very quickly after that. It's why this show took me by surprise. It gave the college experience I never had. It feels raw and honest.
There's something special with a show that can give back the time to someone who lost it. Give them an experience they never had but wish they had. While it does take some slight liberties with a few of its interpretations of college, at the heart of the show is the friendship of these four girls. That's what we all want: connection and the safety of friendship. With people that understand you and know you. The Sex Lives of College Girls can only get better from here on out. I hope it does and continues to challenge the lives of younger kids. That maturity isn't "acting" like an adult but knowing that it's a gradual understanding of the self and of others. – Mariana Delgado
Rating: 9/10
The Sex Lives of College Girls is currently on HBO Max.
---
Trending Now