'Masters of the Universe: Revelation' Part Two Review: "A Nostalgic and Wild Ride"
Posted On December 6, 2021
---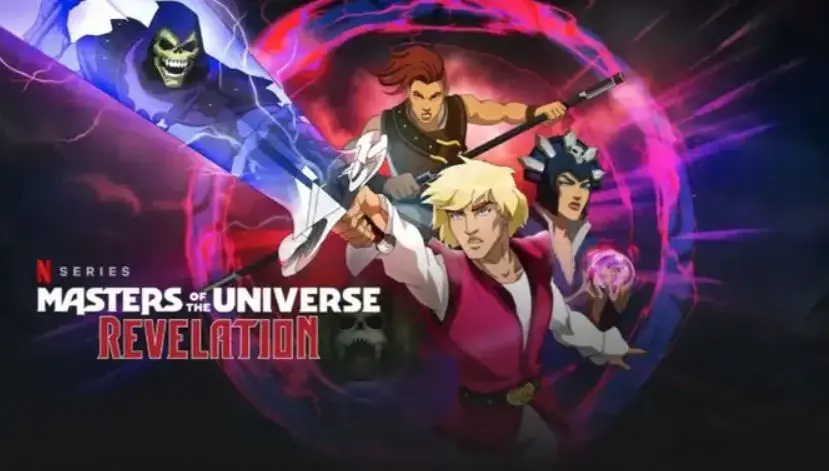 In July, Netflix released the first half of their Masters of the Universe show. It was filled with nostalgia of course, but it just missed something. Maybe it was the marketing playing toward a He-Man (Chris Wood)/Skeletor (Mark Hamill) show. While they were featured in the first half of the show, it focused more on Teela (Sarah Michelle Gellar) and Evil-Lyn (Lena Headey) and their adventure to bring back Prince Adam/He-Man and Skeletor. While Part One was lacking in certain areas, it was a very fun first half of a two-part series. However, Part Two makes up for the first and so much more.
Part Two of Masters of the Universe: Revelations was a very wild ride. It's a compelling story for our two heroes and the people around them. Teela and Adam must come to terms with who they are destined to be. As we see Adam and Skeletor return from their imminent 'death', we see all of the characters go on a journey to find themselves. Skeletor takes the Power and realizes his style of leading isn't for everybody, Evil-Lyn turns on him and takes the Power all while becoming the new Sorceress of Castle Greyskull.

Teela and Adam must figure out who they are and who they want to be. Teela is the true heiress to the Sorceress and Adam must understand that he has to trust the people in his life. The duo and their companions go on an adventure through Eternia to learn their valued lessons. Man-At-Arms (Liam Cunningham) and Andra (Tiffany Smith) must help Teela come to realize her destiny. While King Randor (Diedrich Bader) and Queen Marlena (Alicia Silverstone) must help Adam.
The storyline is beautiful and how our characters come to form is incredible. There has always been something majestic about Masters of the Universe, but Kevin Smith captures that magic perfectly. He brings his own magic as well, and it's amazing. Directors Adam Connaroe and Patrick Stannard do a wonderful job at helping the actors find their voices in this series. They maintain a steady ship and bridge the two parts together beautifully. The writing room delivers yet again with Eric Carrasco, Diya Mishra. Tim Sheridan, and Smith contributing. There was a high emphasis on closing the arcs of each character and possibly building in new ones in case they wanted to revisit the series.

The animation blew my mind. This wasn't like the animation in the other Netflix shows. Craig Nowicki, Stephen Swirsky, and Kathy Lin deserve some kind of award nomination. This was absolutely amazing, and not like anything I had seen before regardless of streaming service. The Battle of Eternia which featured the Masters of the Universe, Skeletor, Evil-Lyn, Subternia, and the people of Eternia was simply visually euphoric. There has never been anything like that for me. I would pay plenty of money to watch that in IMAX if Netflix decided to do so.
Masters of the Universe is one of the most iconic IPs in TV/Film history. This was a moment in time for anybody that grew up watching the show. Kevin Smith deserves all the praise for putting this together and pulling this off. Creating a show from an IP and making it something original is very hard. Making that original content good is even harder, and Smith did both. He gave the people who grew up with the show as he did and a new generation something to believe in again. The power, the power to achieve anything and conquer any problem. – Rascal F. Kennedy
Rating: 10/10
Masters of the Universe: Revelations Part Two is streaming on Netflix.
---
Trending Now