'Dickinson' Ep. 306 – "A little Madness in the Spring" Review
Posted On November 26, 2021
---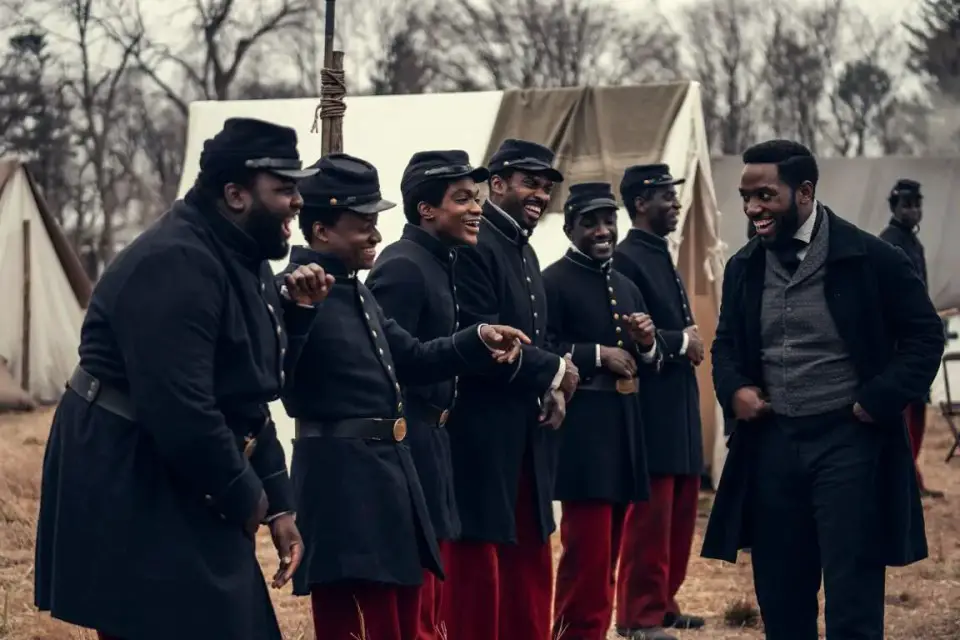 Season three of Dickinson raises the stakes a bit with the latest episode exploring the effects of the Civil War. The complexities of mental health are highlighted with the backdrop of a literal asylum. From the offset, the Dickinsons seek to make a good impression on behalf of Edward (Toby Huss). However, as always, the episode tends to shine a light on the morbid treatment of women. Emily (Hailee Steinfeld) and her mother (Jane Krakowski), suddenly find themselves under a microscope of a doctor with preconceived notions of a woman's behavior.
Meanwhile, Henry (Chinaza Uche) continues to lead a side plot that features one of the most unique and often forgotten points of view in American history: that of a Black soldier. Henry and Emily are both tackling extremely heavy and complex situations. Henry seeks to break down racist barriers within the Union while Emily finds herself destigmatizing women's mental health. This episode, as has been the case so far this season, sees Emily's perspective from home clashing with Henry's perspective from the front lines of the war. The episodes are beginning to find their footing as we enter the latter half of the final season of the Apple TV+ series.
Meanwhile, the chaotic marriage between Sue (Ella Hunt) and Austin (Adrian Blake Enscoe) seems to find its footing as well. So far, Austin has been an absolute mess with his incessant demoralization of his family members. However, after a shockingly brief conversation with Sue, Austin appears to drop his desire for a divorce. Sue sees the world as it is while her better half, Emily, sees it as how it should be. This idea shines as Sue seeks peace with Austin. At the same time, Emily attempts a breakout of the asylum's patients. However, when a doctor at the asylum attempts to convince Edward that Emily is a "lunatic", an ultimatum is on the table. Leave your daughter at the mercy of cruelty or give up a prominent trustee position. Episode six reminds viewers that the loyalty of the Dickinson clan is strong, despite the absurd dynamic of their relationships.
When the focus shifts back to Henry and his troop of all Black soldiers, Henry brings the episode to its dramatic and emotional climax. Whilst getting his friends prepared for an upcoming uniform inspection, he reminds viewers of all he left behind to join the war efforts. Erasmus (Myles Evans), Solomon (Nore Davis), Erasmus (Myles Evans), Everett (Tristan Griffin), Michael River Jordan (Curtis Morlaye), and The Wall (Wavyy Jonez) remain fun additions to the season three cast with their witty antics and genuine camaraderie. Notably, Erasmus' Michael Jordan references, like a "Just Do It" quip, provide fun moments that add humor to an otherwise grim situation. The Black soldiers were treated cruelly by their white counterparts. However, these young Black men seemingly make the most of the situation in their tight-knit found-family.
While Emily fights against men who treat women's mental health as a joke and Henry fights a racist system with cunning relentlessness, season three of Dickinson continues to tell relevant stories despite being set over 150 years ago. The show's efforts to explore depression, grief, and systemic racism through the lens of The Civil War are exemplary. With a season that arguably started a little slow for longtime fans of the series, the second half looks to outdo everything that has come before, beginning a brilliant sixth episode. – Christian Hubbard
Rating: 9/10
New episodes of Dickinson stream Fridays on Apple TV+.
What do you think? Did you enjoy the third episode of Dickinson? Let us know your thoughts in the comments below!
—–
Did you like this article? If so, consider visiting our YouTube channel, where we discuss the latest and greatest in pop culture news.
---
Trending Now