'Dickinson' Ep. 301 – '"Hope" is the thing with feathers' Review
Posted On November 7, 2021
---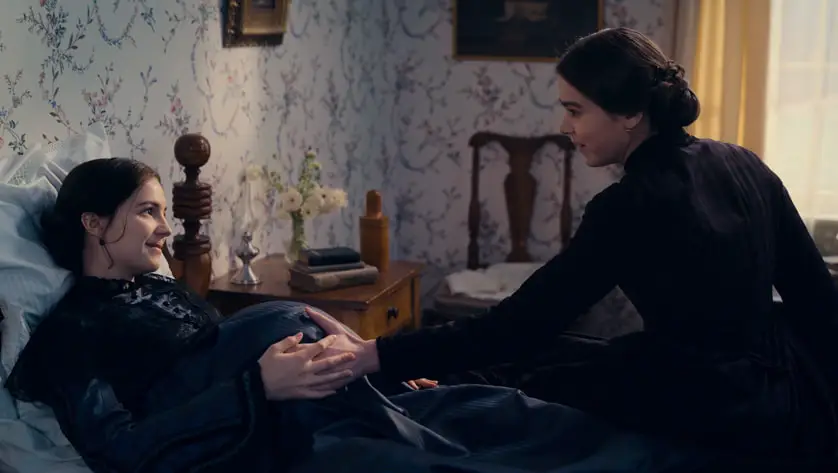 If Dickinson continues to prove anything, it's that Hailee Steinfeld is one of the most talented actresses working today. Unfortunately, there is not much else to praise in this disappointing season three premiere. The previous two seasons have gripped the hearts and minds of many, myself included. With that comes high expectations. For many fans of the show, which follows the life of esteemed poet Emily Dickinson (Steinfeld), this has been a long-awaited moment. To see such a profoundly moving project like this one come to an end feels like a heavy-hearted departure.
Season three quickly becomes more of a game of catch-up than a proper farewell. The first episode presents new challenges for our heroine while also reminding us of everything that happened previously. It is evident that shooting during the pandemic does come with its obvious challenges. It took a toll on the quality of the production.

Some of the charm that often accompanies the show was lacking. It seemed to be missing the spitfire nature of the first season. It is difficult to pinpoint what exactly produces this feeling. One reason might be that, at times, the dialogue feels uncharacteristic. The show tries to overcompensate for its challenges by even referencing the "new normal" we are living in today by tying it to the Civil War period.
While performances are up to par, the characters themselves feel like ghosts of their former portrayal. The most notable performances are those of Steinfeld alongside Ella Hunt as Sue. Their chemistry remains intact as the seasons change and war ravages the scene. Another notable performance was that of Edward Dickinson (Toby Huss). Despite the absence of his beard, he is able to bring a presence that feels both familiar and new alike.

The episode at least builds up to a good climax that is equal parts unfortunate. After the family spends their day at the funeral of sweet and inspiring Aunt Lavinia, tensions rise. This leads to a conflict between Austin Dickinson (Adrian Blake Enscoe) and his father Edward. What follows is a heart attack. Because of this, we are led to believe that this season will be one to deal with grief in the presence of loss. That will be the loss of a show beloved by many. The loss of characters to a fight for civil rights. There will also be the question of whether Emily will be able to cope with her decision to reject fame for anonymity.
This season also proposes many questions that will most likely, or hopefully, be answered. What will happen to Emily and Sue? Especially now that Sue is very much pregnant. Will Austin lead himself towards a self-destructive path of no return? Will Lavinia truly end up a spinster after she's been able to step out of her shell so gracefully? Only time will tell. – Josie Meléndez
Rating: 4.5/10
New episodes of Dickinson stream Fridays on Apple TV+.
---
Trending Now