Screen Screams: 'Basket Case' Review
Posted On October 30, 2021
---
It's that time of the year again. The month of October is upon us. So to celebrate, we at Full Circle Cinema put together another curated, month-long series with Screen Screams. This year, we will be checking our clocks as we wait in anticipation for the forbidden delight we call "the midnight movie". And with midnight movies comes a variety of projects that are perhaps too niche for the masses. Today we'll be talking about Basket Case – a film whose shoestring production helps it embody the midnight movie ethos.
Of all the shocking things that happen over
Basket Case's
91-minute runtime, the first ten seconds provide easily the most shocking of them all. Before being thrust into the depraved depths of Frank Henenlotter's 1982 cult classic, this latest restoration lets the audience know that "this film is from the collections of the Museum of Modern Art." A prestigious institution which, at the time of writing this, is slated to show both Roma and Lincoln today. Now, don't mistake me here, Basket Case is an incredibly enjoyable film. However, it seems to have a flagrant disregard for anything that could even remotely align with "prestigious" sensibilities. So what is it about this oddball slasher flick that has allowed it to endure four decades of artistic scrutiny? And why is it still a part of horror fans' collective conscience? And, frankly, how does Frank's $35,000 experiment hold up? Let's dive in.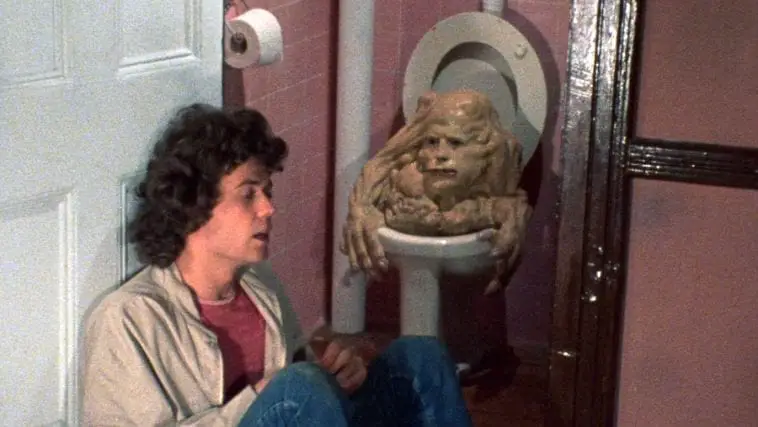 Basket Case is filled to the brim with objective flaws. The ADR only loosely lines up with lips most of the time. Characters seem to be played by random New Yorkers with no acting experience whatsoever. The director of photography seems to be over-caffeinated at times. Some scene transitions are so awkward that they elicit a chuckle. However, none of these flaws actively detract from the experience. If you're a fan of B-grade horror schlock, especially from the most cursed decade, there's a chance that you already have a decent tolerance for this sort of stuff. And, as was the case for me, these flaws will only enhance one's enjoyment.
It helps, too, that the film doesn't take itself too seriously. That isn't to say that the filmmakers didn't care about crafting a good movie, they absolutely did and, in my opinion, succeeded. However, although the performers are clearly trying their best, they can't help but deliver off-kilter, stilted performances. Personally, I find them endearing. Others, however, may find them annoying. Kevin van Hentenryck, who plays Duane Bradley, delivers a performance on par with Steve Rambo. But I can't stress enough how little this detracts from the film. It has a distinct, dream-like quality, evoking a term I'd like to avoid that rhymes with "Finchian." 
The film follows Duane Bradley, a young adult with a good head of hair and dreamy eyes, as he enacts vengeance on the myriad culprits responsible for separating him from his conjoined twin at birth. And to make matters odder, he carries his separated, animalistic twin in a locked basket with him everywhere he goes. Duane falls in love, forming a genuinely endearing relationship with Sharon, played by Terri Susan Smith, but as his twin's body count rises, and the spree spirals out of control, the waters get sufficiently muddy as Duane is forced to confront his own humanity. Will he choose his aborted tumor of a brother over his own happiness? Or will he acquiesce to his sentient former appendage's most horrible of demands?
One wonderful thing about Basket Case is, although some of the movie is funny, goofy, and endearing, it's still masterful at building tension effectively. When the film wants to slow down and frighten the audience, it's still absolutely capable of doing so. As a result, the film's tone is difficult to pin down, which makes viewing it, to this day, all the more surprising and effective. And make no mistake, this movie gets seriously dark at times. Gloriously dark, even. There's a point of no return, of sorts, during a particular scene in Duane's hotel room. I won't spoil it here, but you'll know what I mean if you see it. 
The gore is frequently shocking and satisfying. The puppet for Duane's formerly conjoined twin looks like Meatwad from Aqua Teen Hunger Force if he were condemned to the third circle of Hell. The way he's brought to life, either through stop-motion animation or actors using prosthetic hands, is extremely creative. Look no further if you wish to see filmmakers finding clever ways to work around existing limitations. The finale is a splendid display of satisfying carnage, with just enough development for the characters to feel invested in their fates.
Basket Case is gross, there's no way around that. The crunch present in Duane's surgical separation scene genuinely disgusted me. Props to whoever that foley artist is, they found one of the worst sounds ever recorded. Although the dubbing for dialogue may be wonky at times, the sound design is fantastic overall. The score isn't memorable necessarily, but it effectively underscores scenes with icy, dated synth melodies. Typically, however, the score is not present, letting the silence enhance the tension when leading up to particularly gruesome scenes.
In other words, Basket Case is an extremely efficient movie. It makes the most of its resources to deliver the best, most entertaining product that its creators could hope to conjure. Alongside movies like El Mariachi, it stands as a testament to the strength of sheer artistic willpower. Even if that art is low-brow to say the least. It's the perfect midnight movie to riff over with friends.
Final Score: 7/10 
Basket Case is streaming on TubiTV, Kanopy, and Shudder. It can also be purchased on Blu-Ray, DVD, or VOD.
---
Trending Now