Ten Vampire Movies You Should Watch
Posted On October 19, 2021
---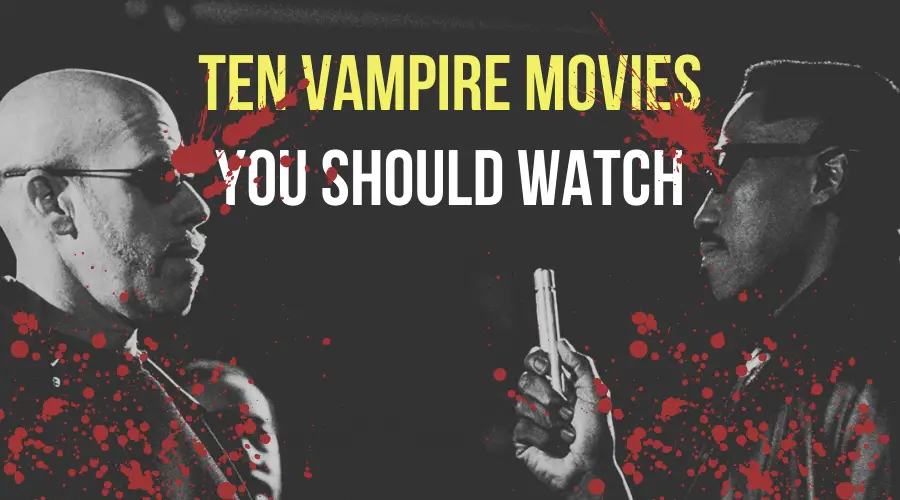 Vampires are creatures of the night that we love to fantasize about or are terrified by. There have been plenty of movies about them across plenty of genres. We have action, horror, and romance films about blood-sucking creatures. There are also plenty of television shows. Some of them focus on the King of the Vampires, Count Vlad Dracula of Wallachia AKA Vlad the Impaler. I have curated a list of ten vampire films for you to watch before the season of terror ends.
10. Let Me In (2010)

If the trailer for The Batman doesn't have you checking Matt Reeves' entire catalog, maybe I can help his case. This remake of the 2008 Swedish film Let the Right One In stars young Chloe Grace Moretz as a very vicious vampire. She gets fed by her caretaker and befriends a little boy that is being bullied. Let Me In has an intriguing story and a condensed script with an amazing conclusion. It reads like an indie film, so it's a very intimate and quiet film from top to bottom.
9. Vampire in Brooklyn (1995)

Wes Craven wouldn't be one of the masterminds of horror without a vampire film under his belt. And in a surprising move, he teams up with Eddie and Charlie Murphy for this horror/comedy. This film terrified me as a child, but as an adult, it's just a really funny vampire movie that's creepy. The perfect blend of horror and comedy between the Murphy brothers and Craven is great. The film also has an amazing cast that consists of Eddie Murphy, Angela Bassett, and John Witherspoon. A film about a Caribbean vampire looking for a woman that's half vampire, half human is… interesting to say the least.
8. Queen of the Damned (2002)

Is this a sequel to Interview with a Vampire? Ehhh, kind of. It features the Vampire Lestat (Stuart Townsend) who's clearly not Tom Cruise, that's about the only tie-in. Lestat becomes a rockstar that oddly enough makes music that sounds like the band Disturbed. He awakens Queen Akasha (Aaliyah) and things go a tad bit haywire. This is a fun film that has an amazing score and soundtrack. This was one of Aaliyah's final pieces of media, and it was released after her death in 2001.
7. 30 Days of Night (2007)

Based on an IDW comic of the same name, this is an intensely violent horror movie. It's about the citizens of an Alaskan town being attacked by a group of vampires that invade their town when it goes completely dark for a month. Josh Hartnett stars, and it's a wonderful thing. This may be the most comic-accurate film I've ever seen. Director David Slade and writers Steve Niles, Stuart Beattle, and Brian Nelson take everything from the book and make it real. I loved the film as much as I loved the comic.
6. Fright Night (2011)

Colin Farrell as a vampire is going to draw any woman to the movie theater if we're being honest. Based on Tom Holland's (no, not that Tom Holland) 1985 vampire hit, director Craig Gillespie and screenwriter Marti Noxon basically create an amplified version of its elder. Fright Night also stars Anton Yelchin, Imogen Poots, and Christopher Mintz-Plasse. A young boy discovering his neighbor basically eats people so he seeks out the help of a TV magician to help him kill his neighbor. It's such a fun and anxiety-driven ride. Also, Kid Cudi.
5. Priest (2011)

Before he was Vision, Paul Bettany was Priest. A religious nut with a fetish for murdering vampires, and saying prayers. A desert surfing maniac hunting Black Hat (Karl Urban) and trying to save an entire compound of Catholics and those on the outskirts. Scott Stewart directs this comic book film, and again we get almost near page-by-page scenes. Corey Goodman takes Min-Woo Hyung's graphic novel and turns it into an amazing screenplay. This is a sci-fi/fantasy film that's mind-blowing. The action sequences are great, Urban and Bettany have great chemistry and this was just insanity.
4. The Lost Boys (1987)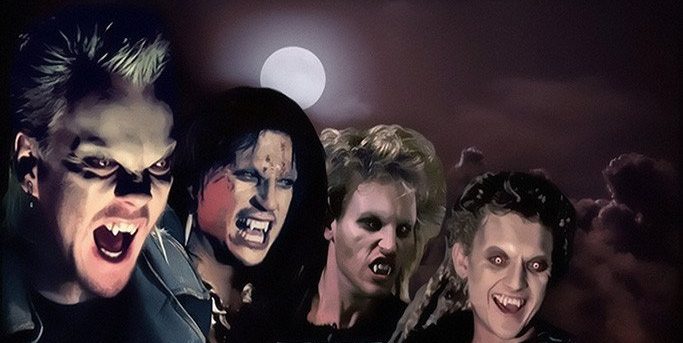 Joel Schumacher's The Lost Boys is a classic film. It follows brothers Michael (Jason Patric) and Sam (Corey Haim) that move to a new town, they find out the town is run by a biker gang that is actually vampires. Thomas Newman's score leans into my agenda that 80s films have the best ones. It also blends with the soundtrack to make for an extremely fun adventure. You cannot call yourself a vampire film fan and not have seen this cult classic.
3. Underworld (2003)

Kate Beckinsale in tights, need I say more? Ok, sure, this is an absolute masterclass from Len Wiseman. His work following was very meh, but this film here is incredible. Beckinsale plays Selene a vampire that's at war with werewolves and falls in love with Michael (Scott Speedman). They end up creating a hybrid werewolf/vampire that's been hundreds of years in the making. Selene finds out about a conspiracy and goes on a warpath. This film has great cinematography from Tony Pierce-Roberts and a great script from Danny McBride (no, not that Danny McBride). Just a fun action-packed ride any eleven-year-old would've enjoyed in 2003.
2. Bram Stoker's Dracula (1992)

Most of you probably have never heard of this movie unless you're either a cinephile or somebody like me that has old parents, and that's ok. Seriously, it came out the year I was born. I am here to tell you, WATCH IT. This is not only an incredible ensemble cast that consists of Gary Oldman, Winona Ryder, Anthony Hopkins, Keanu Reeves, and a slew of other folks, it's just a fantastic film from Francis Ford Coppola. It terrified me as a child, it still creeps me out as an adult. Bram Stoker's novel was turned into something beautiful, and it honestly started my obsession with vampire films. If there is a perfect vampire film, it would be this or number one on the list.
1. Blade II (2002)

This article actually started off as an ode to Blade II, but I figured I would expand it. Guillermo Del Toro is a mastermind. No matter how weird his films are, they always contribute to pop culture in a positive way. Blade II was no different, with a STACKED cast that featured Wesley Snipes, Ron Perlman, Norman Reedus, and Donnie Yen, this film was just different. It would set the stage for so many comic book films to follow.
If I could write a love letter to a movie, it would be this. It changed the way we watched movies, it changed the way we saw comic book films as a whole. Marvel, New Line Cinema, and Warner Bros (yes, I know) gave an entire generation hope. This movie is honestly why you have the MCUs, the DCEUs, and so many other comic book mediums. Blade saved more than just a comic company that was going bankrupt. I could go on and on, but this is most definitely number one on our list of vampire flicks you should watch.
This is my curated list of vampire films I think you should watch. There are definitely more, and maybe I'll come back with another next year. There's plenty to go around, and there's one for everybody, yes even kids. I hope you guys decide to watch a few or all of this list. Spooky Season is almost over, and these would make a really good date night if you need one. – Rascal F. Kennedy
Did you like this article? Subscribe to our YouTube page and check out content for the latest in pop culture!
---
Trending Now