'The Black Phone' Movie Review
Posted On October 15, 2021
---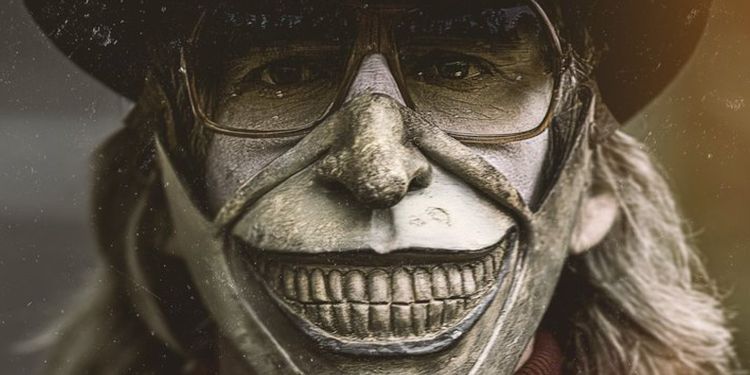 The Black Phone is a bold return to form for Scott Derrickson and C. Robert Cargill. After their turn on Doctor Strange, the duo has returned to their roots in intimate and terrifying horror. The Black Phone follows Finney (Mason Thames) who, after being abducted by a serial killer (Ethan Hawke), receives help from the most unlikely of places: a disconnected black phone mounted on the wall where he's being kept. If that premise doesn't hook you, nothing will. There's a lot of heart put into the production of this film and it shows. In a much more grounded approach than what Derrickson and co. have done before, The Black Phone is at times inspiring, heartfelt, and most of all, terrifying.
The premise, adapted from a short story by Joe Hill, keeps things simple. The tight script by Derrickson and Cargill allows the film to have a narrow and sharp focus. Because of that, we have a story with purpose and a film that tells it with deadly precision. Finney and his sister Gwen (Madeleine McGraw) do their best to survive in their household with an abusive father, and bullies at school. It does not romanticize the suburban life of the 1970s. Rather, it shows how some things don't really change at all, no matter the time period.
Finney and Gwen have a stressful life at home. They both have to tread lightly or face abuse from their alcoholic father. Derrickson and Cargill paint a tragic picture, and it helps to really get you to care about the characters and the small, intimate world that they're building.

Moreover, Finney and Gwen feel like genuine brother and sister. Madeleine McGraw is incredibly charming and helps propel the story forward in a fun way. Thames as Finney has to do a lot of heavy lifting, too. Most of his scenes have him either by himself or interacting with Hawke's masked abductor. Thames doesn't back down, and in doing so gives an electric performance, even when opposite a powerhouse actor like Hawke.
Speaking of Hawke, his presence in the film is absolutely terrifying. Wearing a mask for the entirety of the film, the mystery and chaotic nature of his character is unsettling. To say the least. Briefly seen in the film, each scene he is in only makes viewers more nervous. Derrickson and Cargill have crafted could very well be another horror icon with this character, aptly titled "The Grabber". The psychological conflict between him and Finney is exhilarating and stressful, and by the time the film reaches its climax, you'll practically be falling out of your seat.
The way The Black Phone goes about its premise is very inspired as well. Finney's contact with those who were abducted before him isn't done for cheap scares. Rather, each call on the phone feels like its own special moment in the film. Moreover, each call serves a specific purpose. As said before, the concise script allows each moment to be its own, while also connecting to serve a larger purpose by the film's end. They are also chilling to the bone. Thanks to sharp editing and visual effects, there are some well-earned scares in The Black Phone.

The narrative is split between Finney trying to escape, and Gwen attempting to find where he's kept. The only weak link in the story would be the suggestion of Gwen's clairvoyance. It is a bit of a plot contrivance, but it nonetheless helps McGraw's character have some memorable moments in the film. Eventually, it all comes together thanks to the structure of the story, and the payoff is immense. Every black phone conversation, every premonition, had a distinct purpose. The film rewards viewers with a satisfying, stressful, and visceral conclusion. Hearing the entire audience burst into applause after one chaotic and satisfying story beat will forever be engrained into my memory.
Overall, The Black Phone is quite an impressive horror movie. Seeing Scott Derrickson and C. Robert Cargill return to their roots is an absolute joy. The story is simple on the surface but filled with layered characters that have a certain heart and authenticity to them. While also boasting a terrifying new horror in 'The Grabber' and some great scares, The Black Phone is sure to be one of the better – and more genuine – horror films of next year. – Ernesto Valenzuela
Rating: 9/10
The Black Phone releases in Theaters on February 4, 2022.
---
Trending Now
You may also like