'Animal Kingdom' Ep. 513 'Launch' Review – 'Don't Break the Rules'
Posted On October 4, 2021
---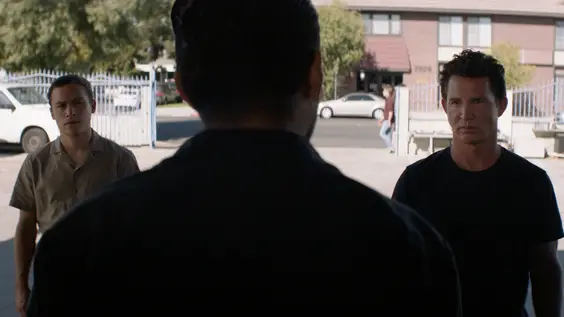 New beginnings, a lot of people wish for them, but rarely do they happen. Whether it is a job, new house or apartment, relationship; most people love them. They are a way to rebrand yourself, find yourself again. In the Animal Kingdom, the Cody family had a new beginning the minute season four ended, and at first it looked bleak, but now it looks beautiful. They get to keep their family property, and start over. No more Smurf, just the boys Andrew (Shawn Hatosy), Craig (Ben Robson), Deran (Jake Weary), and Joshua (Finn Cole) and their kingdom in Oceanside.
Read: 'Last Night in Soho' Review: "A Bold New Vision"
This final episode is everything we've been waiting on. The Codys have been scoping a Hawala's cargo ship, as they plan to rob it. The boys pull off their biggest heist since Pendleton in the first season, and come way with $1.2 million. The heist almost takes a left turn, but when you're a pro, you're a pro. Renn (Christiana Ochoa) and Craig are still having their issue. She sends Tonya (Gabrielle Bourne), a friend to get her stuff and Craig denies her. Deran makes Tommy (Cody Callahan) a manager of the bar. The boys decide on a new way to launder the money. J and Andrew go visit Pete (Reynaldo Gallegos) after finding out what happened with the Cartel cocaine, and they remind him who runs Oceanside. The episode ends with a shocking reveal as we see something from season 1 finally catch back up to the family, Catherine.

The flashbacks, are light, but they are interesting. We know Janine (Leila George) is pregnant with Craig, and that Jake is his father. Julia (Scarlett Abinante) and Andrew (Houston Towe) get caught stealing, and Jake and Janine argue, he thinks her having them steal is wrong. She is pregnant with his child, so I understand. Janine takes the kids to their 'new' house. The house they would eventually grow up in. We continue seeing the seeds laid down as Janine takes over Oceanside.
Nick Copus is back again as director, and he goes out with an absolute bang. Screenwriter Daniele Nathanson takes on the script for this episode, and crushes it. She gives some of the best pacing for an episode yet. She never misses a beat and navigates us through a perfect ending, while setting up the plot for the final season. This duo gives us a great finale, and has us excited for the last season all in the same.

This season was great, this finally was great. I have nothing but praise to give the Animal Kingdom crew. They had a plan and stuck with it. This was a fun season, with a grand finale. Thus far, Animal Kingdom is one of the greatest TV shows I've ever seen, and i highly advise you guys catch up on all 5 seasons before next year. This show is about family, loyalty, and trust. The boys could've gone separate ways, but they stuck it out and have a bond most people couldn't fathom. I hope you all enjoyed this season as much as I have. See you in 2022! – Rascal F. Kennedy 
Rating: 10/10
All five seasons of Animal Kingdom are available to stream on the TNT app, season 1-4 are available for free on Amazon Prime, and season 5 will be available soon on Prime
---
Trending Now