'Ted Lasso' S2, Ep 11 – 'Midnight Train to Royston' Review: "Not All Roads Or Trains Lead To Rome"
Posted On October 1, 2021
---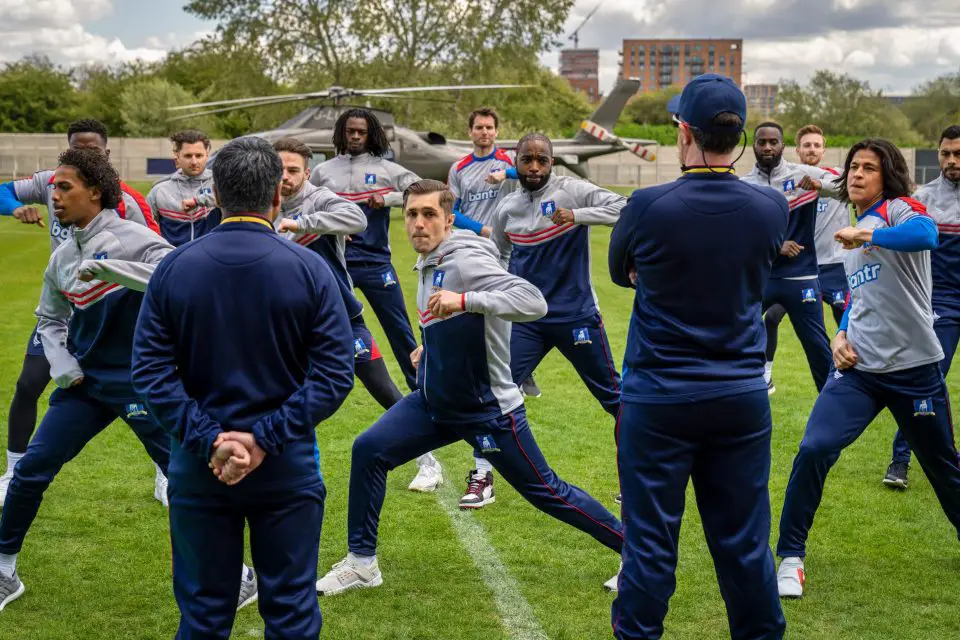 Ted Lasso finds itself at a crossroads. It's become its own thing, where its genre bends from one episode to the next. However, amid its identity crisis exists an issue that is just too glaring to ignore. When will the moral and ethical implications of Rebecca (Hannah Waddingham) and Sam's (Toheeb Jimoh) relationship come to the foreground? Will the show ever address this? If so, what does that mean for the running thesis of the show's core value on accountability? As of now, the show seems hellbent on ignoring all of these questions.
"Midnight Train to Royston" is the calm before the storm. In this case, it plays out as the actual penultimate episode of the season. It sets up conflicts that may or may not resolve by the season's final episode. In a strange turn of events – bizarre enough for Ted Lasso anyway – a Nigerian billionaire named Edwin Akufo (Sam Richardson) arrives at Richmond to make Sam an offer he can't refuse. With the hope of building his own Premier League-style team, Edwin offers to buy out Sam's contract.
As an episode, "Midnight Train to Royston" does a great job setting the pieces for its final episode of the season. It's like watching a lion slowly approach its prey. However, there's almost too much left to resolve. Can one episode resolve all of this? Realistically, the answer is "no." It's evident at this point that Ted Lasso, as an entire second season, has bitten off more than it could chew. It's left too many shoes untied, and not enough time will help them get through them all.

This brings me to one of the most glaring issues with this episode and this season in general: Sam and Rebecca. I think it'd be wise to preface that having Rebecca prioritize her romantic life this season is not the issue here. The idea of romance itself is already heavily coded in misogynist ideology. Love is for women, while stoicism is for men. No, the real issue here stems from Rebecca herself in direct context to Sam. Rebecca is a woman of power, status, and wealth. She is also Sam's boss. She is the owner of the club Sam plays for. The underlying theme of race also enters this relationship, which the show highlights through Akufo and the museum scene.
Yet, the show – and by extension, its writers – has not delved into the nuances of this relationship. Whether it's Sassy and Keeley applauding Rebecca for her "conquest" in her father's funeral or Ted's blase response to her confession, there's no one there to hold her accountable. That's not to say the show itself is overall reprehensible. It's just this particular narrative that no matter how much they try to pass it off as some sweeping romance, it's only leaving this bitter taste in the viewer's mouth.

This is incredibly disappointing as it becomes a disservice to both of these characters. For Sam, should this get out, it could become the defining moment of his career. It lends itself to questions of ethics. He'd spend more time questioning whether anything he accomplishes is of his merit or if it's just because his girlfriend owns the club. It could put him in an uncomfortable position with the rest of his teammates. There's an array of complications that arise from this relationship that the show seems determined to dismiss.
As for Rebecca, her decisions this season suggest more of someone who's not dealt with their trauma. The repetitive nature of the traumatic cycle. Therein lies the deepest of concerns this relationship conjures. She is also, emotionally, in another moment in time than Sam. Rebecca has yet to acknowledge the emotional abuse endured in her marriage to Rupert (Anthony Head). Because that's what it was. And continues to be as Rupert shows up at events where Rebecca is uninvited. Flaunting his young wife, also named Rebecca, and their baby. The final blow Rupert personally delivered to Rebecca in season one.
In this episode, Rebecca is presented with the moral dilemma of being Sam's boss and former lover while contemplating whether she wants Sam to leave. That in itself is the tragic position the writers have put Rebecca in this season. When she goes to Sam at the end of this episode, her mere presence is already a conflict of interest. One might even say the entire exchange was highly manipulative on Rebecca's part, leaving Sam conflicted with the choice he seems to have to make. I guess what a lot of viewers are wondering is this: why? What exactly is the show trying to say?
It's also doubly confounding when season one essentially extracted Rebecca from an already dark place and situation. Aside from the obvious problems with the relationship, it's more so this level of confusion that shrouds this narrative. This critique doesn't erase the show's overarching thesis of understanding and kindness. However, it does make its audience question it to some extent. How can Rebecca tell Keeley that accountability matters when she cannot hold herself accountable this season?

In an overwhelming ending, the show does reveal what Nate (Nick Mohammed) has been hiding since the last couple of episodes. In the act of Biblical standards like that of Judas, Ted finds out Nate leaked his panic attack during a game to the press. Can the show redeem Nate's character after this reveal? Just add it to the already long list the show has yet to resolve. – Mariana Delgado
Rating: 8/10
Ted Lasso Season 2 episodes premiere every Friday on Apple TV+.
---
Trending Now