'Animal Kingdom' Ep. 512 – 'Loose Ends' Review: "Tying Loose Ends"
Posted On September 28, 2021
---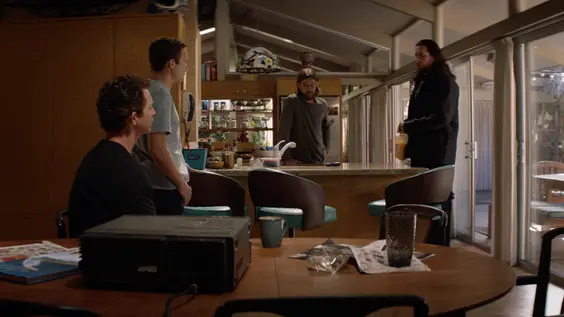 Tying up loose ends is part of the territory in a crime family. We've seen plenty of mob films from Goodfellas to Casino where it's needed. The Cody family has been tying up loose ends for five seasons. Now, we have the Livengood/Chadwick situation. This problem before the biggest heist since the Pendleton job is definitely an issue. In this week's Animal Kingdom episode, we tie loose ends and resolve issues.
The Livengood plan goes just how J (Finn Cole) predicted it would. He and Deran (Jake Weary) go to scout the Hawala's "bank" while Craig (Ben Robson) and Pope (Shawn Hatosy) go to find Pope a new car. Craig is still dealing with Renn leaving and the Frankie situation. Pope explains to him how his current addiction is a terrible spot for himself. The day goes, Deran meets the FBI at his bar and says his piece about Livengood. J and Pope meet Officer Chadwick (Elliot Knight). In the midst of it all, Pope finds out a secret about Pete from Ralphie (William Guirola) that may start a war between the Trujillos and Codys.

Janine (Leila George) deals with the fallout or lack thereof from Max's death. She goes to his bar, and raids the place for things left behind. Along with Manny (Rigo Sanchez) and Jake (Jon Beavers) she tries took cook up a plan moving forward. They aren't down with it, but she goes forward with her plan. Meeting with Linda (Annie Heise) and explaining to her what the process will be from now on. Things are looking up as we can continue to watch Janine take over Oceanside, and Andrew (Houston Towe)/Julia (Scarlett Abinante) grow up.
Nick Copus is back as director and he brings us that slow beat episode we usually get before a job. The pacing is very steady and while crazy things aren't happening, things are still being set up. Matt Kester does a great job with the screenplay and setting up those future plotlines. The possibility of a war between the Trujillos and Codys is something to ponder. Longtime fans of the show know how important that relationship is, so Kester and Copus setting that up is fun.  I'm sure J would love to finish getting his revenge for his father's death.

The season finale is coming this Sunday. The biggest heist since Pendleton, and tons of cash would put the Codys back on top. They are adapting to the gentrification of Oceanside, and figuring out new ways to run their business. Adapt and survive in the Animal Kingdom, that's what Lions do. The ends have been tied, and it looks like the fanbase is in for one hell of a finale. – Rascal F. Kennedy
Rating: 9/10
Animal Kingdom premieres Sundays at 10pm/9c on TNT!
---
Trending Now
You may also like