'Midnight Mass' Review: "A Revelation of Grief"
Posted On September 26, 2021
---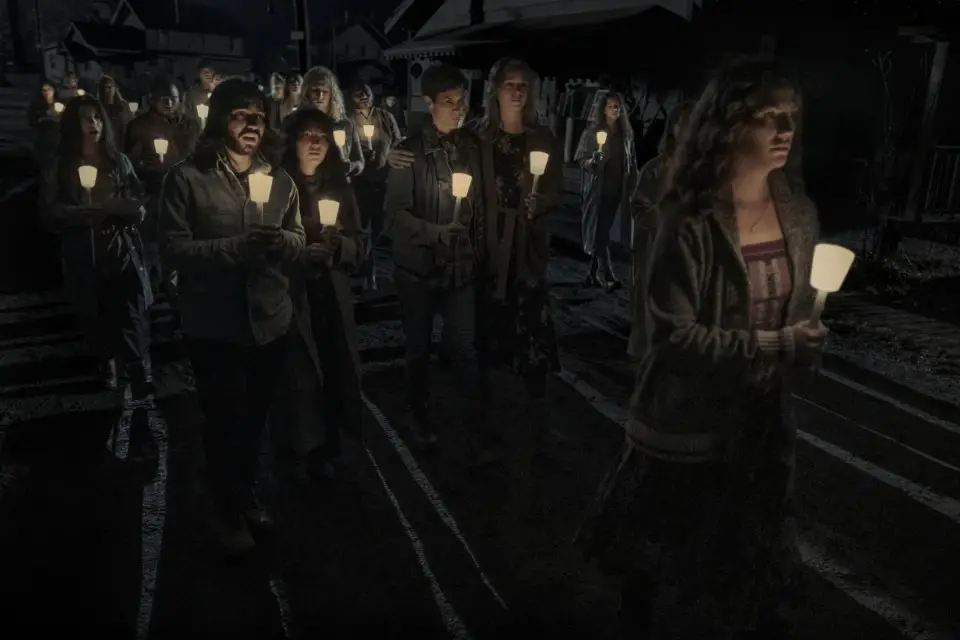 "That's what it means to have faith. That in the darkness, in the worst of it, in the absence of light and hope, we sing."
In the midst of so much darkness and grief, how do we move forward? Mike Flanagan's newest anthology, Midnight Mass, attempts to answer that question. A departure from his ghost stories of the past, it's hard to consider Midnight Mass as horror. It's a meditation on loss, grief, anger, and guilt. It's an amalgamation of what makes the human condition so muddled in the midst of its very existence. 
Flanagan isn't interested in the afterlife coming back to haunt the living. He's more concerned with humanities' lack of hope, compassion, and overwhelming apathy towards one another. It's an unveiling of what lurks beneath humanity: a gaping black hole that only takes and takes until there's nothing left. However, in looking deeper, there's a small glimmer of light that still manages to shine amid the plunging darkness.

Starring Kate Siegel, Zach Gilford, Rahul Kholi, Hamish Linklater, and many other notable figures, Midnight Mass opens up pretty much the same way audiences are left by the end of the series: in utter chaos and confusion. However, it's in the journey there that confusion takes on a whole new meaning. Riley Flinn (Gilford) moves back to Crockett Island. The population: a humble 127. It's the equivalent of "cabin fever" but instead it's an island in the middle of vast ocean space.
After spending three years in prison for committing manslaughter, Riley comes back to the place he's been running from his entire life. Ironically, it's because he has nowhere else to go. Who knew home is where he'd end up finding himself again? In this desolate, ravaged town that's barely clinging to what it used to be after major oil spills and storms pillaged beyond recognition. 
Riley's tale is merely a speck of cosmic dust in the midst of the nebula that's this story. Everyone is hurting. Everyone is surviving. And most of all, everyone has lost hope. Whether it's Riley's father and the lack of economic prosperity in fishing after the oil spill or Erin Greene's (Siegel) abusive marriage, Midnight Mass is about restoring that hope. It's about giving meaning to grief. The plot of the priest who comes back and unleashes this beast posing as an angel of God is merely a distraction… well, something like that anyway. At the heart of this series is the ever swirling doubt of humanity. The doubt of parsing out what really matters in the great chasm of this world. 

Something Flanagan never fails to deliver in each of his anthologies is these beautifully laid out monologues. Long and arresting in their structure, they hold a viewer hostage in the most breathtaking way ever. Every word matters, and it makes sure you know that. Whether Riley and Erin are mussing on what happens after we die or Father Paul's sermons, they're heavily drenched in suffering and love. A combination that beautifully defines living in this world. It's why it comes to no surprise when Father Paul admits that behind his actions is love. Love is almost no surprise to viewers when they find out that Sarah Gunning (Annabeth Gish) is his love child with Mildred Gunning (Alex Essoe). Father Paul thought he could turn back the time. Get to know his daughter. Perhaps selfishly so, but always with love in his heart.
The actual "villain," because the show refuses to acknowledge a drastic binary such as "good vs. evil", is self-righteousness. This comes in the form of Beverley Keane in a tour de force performance by Samantha Sloyan. It's the perils of playing God on Earth. The hubris of humanity. Bev becomes a driving force of hatred and racism. Of upholding structures that benefit whiteness and purism. 
It's Bev arbitrarily segregating those who are "good" and "bad." Sometimes it's incredibly explicit, such as calling Sheriff Hassan (Rahul Kohli) a terrorist just because he's a Muslim. Sometimes it's in much more subtle ways like speaking over Sheriff Hassan at a parent-teacher conference in the semantics of religion. Or passive-aggressive comments about Erin's pregnancy and her status as a single mother. Beverly represents the bindings of Catholicism and its inherent oppressive nature, rooted in conservatism and exclusion of "otherness". 

However, Midnight Mass reminds its viewers that what truly binds all of us is love. It's the idea that our pains and sorrows can heal. But they can only heal if we allow ourselves to care for others. To sacrifice for others what we would do for ourselves. Riley renounces immortality for Erin on that boat. Letting the flames consume his body until he's ashes.
"Remember you are dust, and to dust, you shall return." (Genesis 3:19).
In giving up for Erin, Riley also forgave himself. He let go of the guilt, pain, and grief he's been carrying since the opening sequence of the series. It's the kind of rebirth most crave. It's about more than asking for forgiveness but allowing yourself to be forgiven. This particular scene is also working on multiple registers that aren't just about Riley's guilt. Once again, it's about love and its ever-complex abstract existence in our world. Because in loving Erin, in sacrificing himself for her, he also ended up loving himself once again.

The brilliance of Midnight Mass is the infinite depths one can take in talking about it. In what it can mean, or not mean, for that matter. Flanagan looked at the world around us and gave us a kaleidoscope of a story. All different shapes and colors reflect such beauty. Such life. There's an endless bout of commentary that can be said about Midnight Mass. That's its hook. It doesn't so much preach at you but makes you part of the sermon. It lets viewers weed out the complicated nature of being a human being on this Earth and allow for grace, forgiveness, and love to be the antidote to our own absolution.
A strong departure from his original two anthologies, Midnight Mass will become a before and after for Mike Flanagan. A deep and emotional respite from his ghost stories and jump scares. It's also a much-needed reevaluation of everything humanity is currently overcoming, or at least trying to. Not since Damon Lindelof's The Leftovers has a series gripped its viewers in a tight vise and not let go until the very end. – Mariana Delgado
Rating: 10/10
Midnight Mass is now streaming on Netflix.
---
Trending Now