'Reservation Dogs' Ep. 8 – ' Satvrday' Review: 'An Emotional Ending'
Posted On September 20, 2021
---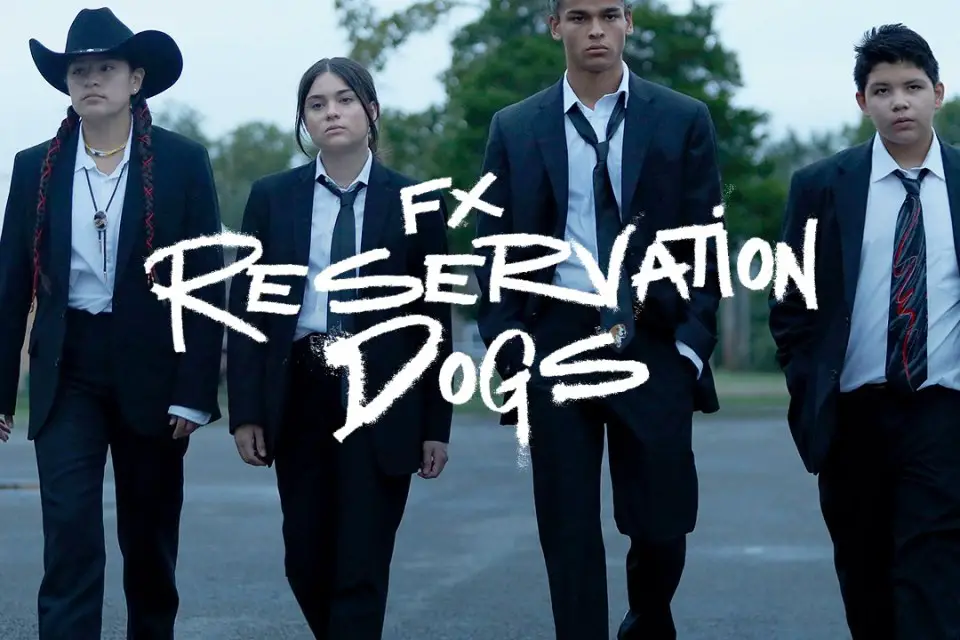 Friends and family are important to anyone's life. Especially after traumatic events, death for example. You try to carry on people's legacies. You try to fulfill their wishes, as if they're still alive. You feel like you're doing it for them, but ultimately – it's for you. It helps feel like they're still around, like they're apart of you. For the Reservation Dogs, this is the trip to California. They feel like they are doing it for Daniel, but it's for them.

So we've seen all of our personal Reservation Dogs episodes. Each main character had a personal episode. Bear (D'Pharoah Woo-A-Tai) spent the entire day waiting for his father, Punkin Lusty (Stenn Joddi) to arrive. Cheese went on a ride along with Big (Zahn McClarnon). Willie Jack (Paulina Alexis) went hunting with her father Leon (Jon Proudstar). Elora (Devery Jacobs) went to take her driver's test with Coach Bobson (Bill Burr). Now, all of our Reservation Dogs are back together for the season finale.
Read: 'Animal Kingdom' S5, Ep. 11 – 'Trust The Process' Review: "Protecting Your Own"
Bear is woken up by the Spirit Warrior (Dallas Goldtooth). The Spirit tells him before he leaves he one more thing he must do. He assumes it's fight the NDN Mafia and goes to get the Rez Dogs. Willie Jack wakes up and giver her father Leon, and mother ((Jennifer Podemski) their anniversary present before she leaves. Cheese tells his fake grandmother that she's not his grandmother, and Elora thanks her grandmother for everything. In the meantime, there's a tornado coming and Uncle Brownie (Gary Farmer) plans to do a Native American ritual to stop it. The Rez Dogs and go to Jackie's (Elva Guerra) house to fight, but it gets broken up by a hail storm.

Everybody runs to the basement of a church and things seem to be going smooth. the twins – Mose (Lil Mike), Mekko (Funny Bone) freestyle in the basement with White Steve (Jack Maricle). Willie Jack celebrates her parents anniversary, and Elora sneaks off with Jackie. This leads Bear and Elora to an argument, remember Jackie has plotting to leave the Reservation with Jackie for awhile. There are some very emotional moments in that basement. The tornado misses them, and Bear goes to see his mother Rita (Sarah Podemski). The episode ends on a cliff hanger as Jackie and Elora leave. Bear waits for Elora on the curb in front of his house. Elora doesn't look comfortable leaving at all. Her mind is made up, but her heart isn't.
Sterlin Harjo directs the season finale, with Migizi Pensoneau writing the script. This was definitely a choice, in letting the first season end with no true resolution. All of the emotional build-up, and it is clear that everything is unsettled. The episode was really good, and contained all of the emotions from the previous episodes. I just personally, didn't like the ending. I know the series isn't over, but it just felt empty at the end. All of the build-up, and it felt like nothing. It did leave me wanting more, and if that was the idea then they did a good job. I just feel cheated, in a way.

Reservation Dogs is a good coming of age story, so far. The story is about growth, facing demons, and dealing with your reality. We all have a different reality, and a similar one at the same time. You'll never be able to live another person's life, but there's always someone you can relate too. Friends are people you can relate too, even if you disagree on things – you ultimately have the same interest. That's the base of this show, friendship. Are the Reservation Dogs done forever? Does Elora return? Hopefully season two comes soon, so we can get those answers. – Rascal F. Kennedy 
Rating: 8.5/10
Reservation Dogs is available on Hulu
---
Trending Now