'Animal Kingdom' S5, Ep. 11 – 'Trust The Process' Review: "Protecting Your Own"
Posted On September 20, 2021
---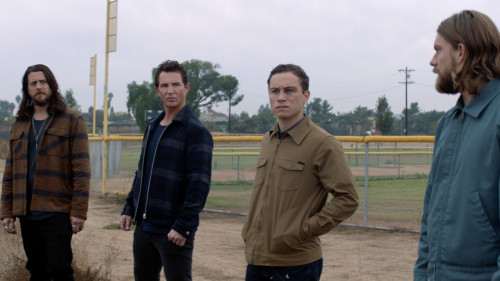 Sometimes, all you have is family. There are a lot of people that would agree, with Dominic Toretto being the prime example. But this isn't about the Fast & Furious franchise. This is about Animal Kingdom and the Cody family. This season has been all about looking out for each other. The present and the flashbacks of the past show nothing less, especially in this week's episode. Family is the name of the game.
Last week's events in Animal Kingdom included a dead DEA agent, a rogue cop, and Deran (Jake Weary) almost losing his bar. J (Finn Cole), Pope (Shawn Hatosy), and Craig (Ben Robson) help their brother/uncle Deran get rid of evidence after Officer Chadwick (Elliot Knight) killed DEA agent Dennis Livengood (David DeSantos) at Deran's bar. They bleach everything and come up with a plan that makes it look like Livengood got murdered by the Cartel. J and Pope journey into Mexico while Deran, Craig, and Frankie (Dichen Lachman) come up with their next job, robbing a Hawala. After a long two days, it looks like the Cody boys may have their biggest most important jobs yet; robbing a Longshoreman of possibly $1,000,000+ and convincing the DEA they had nothing to do with Livengood's death.

In our flashbacks, we remember Max Cross (Jamie McShane) threatening Janine's (Leila George) life. Well, Janine has a plan, and that plan is to kill Max Cross. Involved in her plan is Linda (Annie Heise), the mother of…. BAZ (Reeve Baker) *crowd definitely is going wild.* Janine's plan goes sideways and we finally completely understand why Andrew (Houston Towe) and Julia (Scarlett Abinante) were not normal kids. They have one of the most traumatic experiences a child can have. As usual, Jake (Jon Beavers) and Manny (Rigo Sanchez) come to her aid. Is this how Janine took over Oceanside? I'm sure we will soon see.
Shawn Hatosy has most definitely delivered as director for the third time in the Animal Kingdom series. Producer of the show Shukree Tilghman, contributes as the writer of this episode. This is his second episode all-time in the series and second this season. The duo created a very memorable episode. You just kind of have to appreciate that they continually lay the foundation. Also, each episode is a mirror of itself. This episode was definitely a mirror. The family is put in difficult situations, and they must find a way to help each other through it all. Hatosy and Tilghman did a wonderful job.

This episode will be emotional for Animal Kingdom fans. We are reintroduced to Baz, who was portrayed by Scott Speedman for two seasons. Baz was most definitely a fan favorite, and the reveal of him being J's father also contributes to the emotions here.  I enjoyed this episode because it was spot on in sticking to the theme of the season. The flashbacks mirrored the present perfectly, and I mean, BAZ. I really feel like there's an emotional connection to this episode. Incredible work by everybody involved in this episode. – Rascal F. Kennedy 
Rating: 10/10
Animal Kingdom Premieres Sundays at 10pm/9c on TNT.
---
Trending Now