'Petite Maman' Review: "A Slice of Loss"
Posted On September 9, 2021
---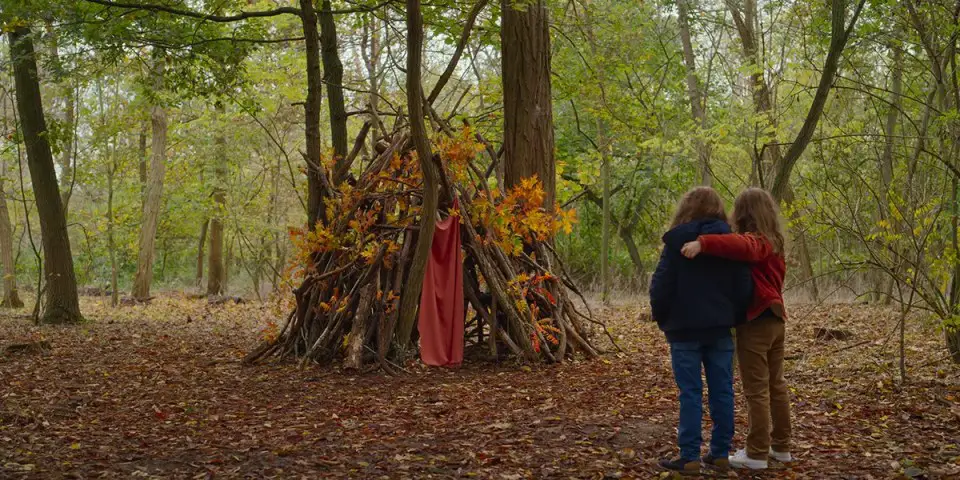 Following a stunning run with Portrait of a Lady on Fire back in 2019, Céline Sciamma pulls back and explores loss yet again but in a much more tangible way. While it was present in the acclaimed queer romance, with Petite Maman the viewer can see how grief is present in every scene, in every glance, and every word.
After having lost her grandmother, 8-year-old Nelly (Joséphine Sanz) visits her mother's childhood home where her parents intend to clean it out. She sets off to explore the house and the surrounding woods, recalling old memories her mother had told her about when she was her age. In a peculiar turn of events, Nelly comes across another girl her age named Marion (Gabrielle Sanz) playing in the same woods. She also just so happens to bear a striking resemblance. 

With a runtime of 72 minutes, it follows a solid script with not much room for error or doubt. Everything feels dealt with a masterful touch but never cold and calculated. It is the embodiment of a fireplace's warmth, a chill Autumn breeze, and the delicious taste of a hot, chocolatey beverage. It is not a film you dissect in hopes of finding the answers to life's more concerning questions. Instead, it is one you simply experience, in hopes that the solutions you seek will find their way to you.
Sciamma has quickly become a director known for her expert take on visual language. From the beginning, it is evident that they are in their prime. The dialogue is similar to her previous work, with profound truths hidden underneath the surface. Oftentimes, they are also blatant, honest, and raw. But there's also something new, almost tender, about Sciamma's approach to filmmaking when it comes to Petite Maman. It is often quiet and waiting as if viewed through the eyes of an infant, which is perfectly fitting. However, she is able to counterbalance the stillness with precise musical moments. Many tend to point out the lack of a score when it comes to Sciamma's work, but she never fails to use music at the right time. At the height of catharsis, tunes play. 

Now, while it was a delightful watch, there is a lingering feeling as though something is missing. However, it is quite difficult to point out what that may be. Perhaps it could be a desire or a request for more. Yet, it is evident that Sciamma accomplished what she set out to do with the film. That should be enough. It's a true slow burn that will ignite a fire in your heart ever so slowly. It will no doubt creep into your mind long after the film has ended. 
It is easy to forget or ignore this nagging thought because of all the pieces that come together so nicely. From the delightful performances of the Sanz sisters to the life-like still shots Sciamma captures, Petite Maman is a heartwarming flick. It is a reminder that every moment acts like a candlelit moment. It should be cherished, for it can quickly be snuffed out. – Josie Meléndez
Rating: 7.5/10
The film has been acquired by NEON for North American distribution. 
It stars Joséphine Sanz, Gabrielle Sanz, Nina Meurisse, Stéphane Varupenne, and Margot Abascal.
---
Trending Now