'Reservation Dogs' Ep. 6 – 'Hunting' Review: "Father-Daughter Trauma Bonding"
Posted On September 8, 2021
---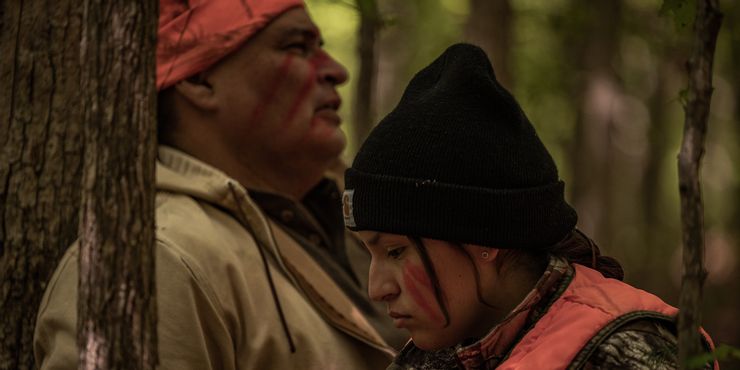 Bonding with your parents is important. Typically, when a child can actually speak to their parent without being chastised and ridiculed, they are more stable. Being able to express yourself will always be something that helps build confidence. For this episode of Reservation Dogs, Willie Jack (Paulina Alexis) spends a lot of time doing exactly that with her father Leon (Jon Proudstar).
The episode starts off with Leon putting down deer feed in the woods, and see the Tall Man. After the sighting, we jump one year later to the present day. Willie Jack wakes up on the first day of hunting season and talks to Daniel (Dalton Cramer)… at least she imagines she does. She vows to catch Chunk, a giant deer that they saw a hunting season or two ago. The episode follows Willie Jack and Leon as they go hunt in the woods on a property that Leon's great grandfather used to own.

They have a very deep and intimate discussion about Willie Jack leaving for California, family, Native American values, and most importantly Daniel. Daniel is Willie Jack's cousin that passed away the year before the events of the show. They reference him often, it's been subtly mentioned he died from suicide. In the first episode, Willie Jack says "this place" killed him. The episode is very emotional and has a few funny moments like when the Texas Ranchers (Darryl Cox and Brian Shoop) appear on the property. They mention a lot of things conservatives hate as what's wrong with this country, it's great comedic relief.
Leon speaks about the night Daniel died. He and Willie Jack both look back and think about what they could have done to help him. The scenes mix together with flashbacks of Willie Jack, Daniel, and Leon in the woods hunting. They also show Daniel in the woods with a very shadowy background. It all ties into the fact that maybe the Tall Man had something to do with Daniel's death. It's all very emotional especially the ending of the episode.

Sterlin Harjo has complete control of this episode of Reservation Dogs as writer and director, and thus delivers another superb episode. Cinematography Mark Schwartzbard also does a wonderful job at capturing the various landscapes. The settings were small even in big places like the woods. Harjo using another Native American legend in this episode was really neat, and just making something that involved a small amount of characters being so good.
Harjo has used two Native American legends simultaneously and it worked like a charm. Both episodes involve one of the Rez Dogs and an elder. We had the Deer Lady being an intricate part of the the last episode, and in this episode it's the Tall Man. They both are showcased heavily for the most part. The Tall Man is a folklore about a being that stands about 12-15 feet tall, he is said to have the ability of influence or mind control. He supposedly is an influence for Slenderman, the CreepyPasta internet sensation.

This episode has an important conversation about suicide. The death rate for suicide is ridiculously high, and sometimes the clues just aren't there. Willie Jack and Leon discuss the night Daniel died, and in hindsight, they see the signs. The night of, they don't though. There's a lot to unpack and it just creates a tense atmosphere. Suicide is a sensitive topic, and we as a society shouldn't demonize those who are suicidal. We should work with them to help them as much and as often as we can. If you or someone you know is thinking about suicide I urge you to call the suicide hotline 1-800-273-8255. Somebody out there loves you, I promise. – Rascal F. Kennedy
Rating: 10/10 
Reservation Dogs premieres Mondays on FX on Hulu.
---
Trending Now