'Money Heist' Part 5 Review: "El Final Ha Llegado"
Posted On September 3, 2021
---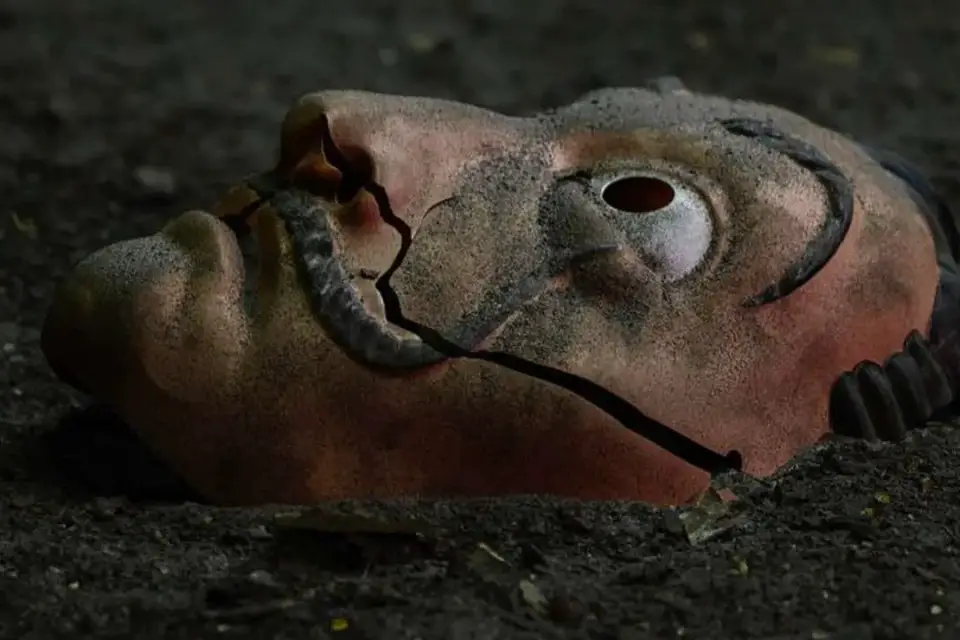 What once was considered a bust in Spanish television is now one of Netflix's biggest IP's. Money Heist is back with its fifth and final installment, which has been divided into two. To say that the show has become a global phenomenon is certain and maybe even an understatement. It's influence has been wide and throughout the globe in almost every facet you may think of. I've always been gravitated to it because it's premise reminded me of Ocean's Eleven, but in Spanish and on steroids. With a great cast and pretty solid offerings throughout, it was pretty hard not to fall in love with it as soon as it came out.
If you haven't seen the show, let me give you a quality breakdown as to how it's been. The first two parts were really solid and a great standalone story that worked perfectly. If it were to have ended there, I would have not said anything against it. Then of course Netflix, aka Mr. Moneybags, came in and ordered two more parts. Although the concept for these parts were good, it saw the show lose its identity a bit. Killing off fan favorites has certainly not helped and finding ways to bring them back creatively has been a challenge and a stain for some.
That said, Money Heist gained some really good traction again because it leaned into some heist gimmicks that were just fun to watch. Seeing these intricate plans to fool the police and government were executed spectacularly and its really when the show shined. They've always been held by a great cast with fantastic chemistry as well. Then they just had to kill ANOTHER fan favorite and everyone evidently got mad again.
Fast forward to the present, where Money Heist has kind of overstayed its welcome. The smart choice was made to then make this fifth installment the last. They also decided to split it into two so the hype can live on for an extended period of time. It's the same strategy Netflix is employing with Ozark and I think it works really well. It lets the episodes breathe and doesn't become another forgettable binge watch. Context aside, the time has come to determine how good this first part in the concluding chapter to Money Heist is. Does it offer enough to keep it going for a second part or does it fail to deliver the hype fans created? Let's find out…
The following review contains SPOILERS for Money Heist Part 5's First Half

It's only been five episodes but my goodness, talk about a dynamite start to the conclusion of Money Heist. The offering of action, intense drama, character work, and heist goodness have been nothing short of spectacular. That said, the show does have an identity crisis with regard to Berlin's flashbacks.
The lovable antagonist known as Berlin was a fan favorite and died early into Money Heist's run. That hasn't been an issue for fans because he's still been a prominent part through flashbacks in the following seasons. The parade comes to a halt here, as his flashbacks (at least so far this season) have been useless. We're introduced to his son out of thin air and then they form a heist crew.
Yes, it does provide some fun moments in Episode 4 when they execute the actual heist, but it serves no point. I'm not judging it too hard because there is still more to go and connective tissue can be made. But the fact remains that he is in this season solely because the writers just know that we like him. That said, Berlin is still as charming and slick as ever. His moments are good, but they just don't provide any context or meaningful movement to the main story.
The true highlight of the season and a general strong point of Money Heist has been its character work. Whether it be Alicia's internal battle or Stockholm's inner conflict with her first kill are some examples of these great moments. A particular highlight comes in the 5th episode, but we'll get to that later.

I was also particularly fond of the action in this season because it wasn't just meaningless. The action presented works well because it tells a story, and it carries enormous baggage. The standout was the showdown between hostages and the crew, something that has been building up for a while now. It's intense and visceral, especially considering that most of these people have no military or combat expertise whatsoever. The confrontation with the military also made for a great spectacle. It offered a great shoot around that focused on the characters around it, making me as invested as I possibly could be. Money Heist has always known that its characters are what make its heart beat, so seeing the execution of the action around them is really no surprise.
I also must mention some standout characters so far. Manila, Alicia, The Professor, and Tokyo are just some that stood out. Manila stands out because of the relationship with her cousin and all its complexities. I also really appreciated that she was feeling panic and as if the stage was too big for her sometimes. That grounding of her character can really do a lot for her character and others around her. Alicia and The Professor go hand in hand due to the dynamic presented so far. It's been great to watch these intellectuals battle it out and eventually form a "pact" due to circumstance. Alicia seems to have something up her sleeve, so that's something I have my eye on for sure. Now, with regard to Tokyo…
(LAST WARNING, ENORMOUS SPOILER INBOUND)
Tokyo. My dear, sweet Tokyo. Like Nairobi, she is gone too soon. Her character was a standout because she made a comeback, all for it to fall short upon her death. Her character had regressed in previous seasons tremendously, pushing her to a point where many fans did not like her. To see her be great again and have such a fitting death just broke my heart. I was spoiled beforehand of her impending fate and that actually enhanced the character work in the fifth episode. Seeing those flashbacks regarding her previous relationship, how she got to meet the professor, and of course her relationship with Rio. It made this particular episode pack a strong emotional punch from start to finish knowing what was looming. It was the perfect end to her story, and a perfect way to cap off this first part.
Another aspect I want to commend Money Heist for is the sense of dread they are instilling upon this season. There have been one too many times when the crew have been painted into a corner and they've come out unscathed. It finally feels as if all is doomed and there isn't an exit this time. It adds to the general intensity of the show and I actually feel like if its all about to end soon (because it is).
Overall, Money Heist delivers a great start to its concluding season. It is filled with great character moments, visceral and meaningful action, and a story that is heading towards its ending with full steam. It fixes many of the identity issues it had previously, but still has a couple to deal with before its end. December 3rd is when its last chapters arrive and it cannot come soon enough. – Kenny Colon
Bella Ciao, Tokyo…
Rating: 9/10
—–
Did you enjoy this article? If so, consider visiting our YouTube channel, where we discuss the latest and greatest in pop culture news.
---
Trending Now
You may also like