Ted Lasso S2, E7 Review: "Headspace"
Posted On September 3, 2021
---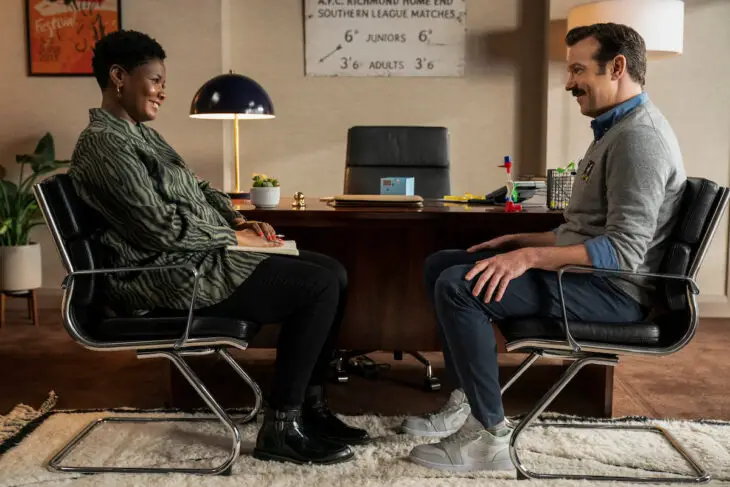 Ted Lasso continues to change and evolve throughout it's sophomore season in new and interesting ways. It's especially evident in this weeks episode, aptly titled "Headspace". After the heavy-implications ending of last week's episode, "Headspace" picks up soon after with Ted finally attempting to confront his long buried issues. This episode demonstrates that Sudeikis truly shows a new angle to Ted that hasn't been explored before. What happens when a character who pushes any negativity he has deeper inside himself is finally forced to confront it?
The answer is surprisingly realistic and in depth. Watching Ted attempt to fight the inevitable was entertaining and felt genuine. His choice to come across antagonistic towards Doctor Sharon to avoid confronting his feelings is… A very interesting storytelling choice. Thanks to Sudeikis' performance, it works. There's a level of intensity to this episode not seen in the season yet.
Keeley's story in this episode also shows trouble in paradise. Her relationship with Roy is put to the test, as well as the concept of "too much of a good thing". The way the show acknowledges healthy boundaries in a relationship while making it organic to the story is impressive.

Ted Lasso continues to swing big in its second season, and this episode continues that trend. Throughout, Ted get's sporadic therapy sessions before abruptly ending them. It's a humorous glimpse into the psyche of our favorite coach. Getting a glimpse of Nate, Keeley, and Roy's "headspace" as well in this episode shows that the writers know how to make a consistent theme. Others like Rebecca have their stories somewhat put on pause in this episode. At this point, the season has started multiple storylines with its large cast.
Because of this, it seems that they're having trouble juggling them all. Certain relationships seem to be on pause. It's an awkward phase that is most evident in this episode. While interesting developments are made, other things that were set up in previous episodes come to a grinding halt.
Overall, while this episode certainly does a good job of getting into certain characters' headspace, it still struggles in other areas. More importantly, though, Ted Lasso finally addresses some long dormant issues. It's more than enough to hold fans over until next week. – Ernesto Valenzuela
Grade – 8/10
Ted Lasso Has New Episodes Streaming Every Friday on AppleTV+.
---
Trending Now