'Heels' S1, Ep3 – 'Cheap Heat' Review: "The Summer Of CM Punk Continues"
Posted On August 30, 2021
---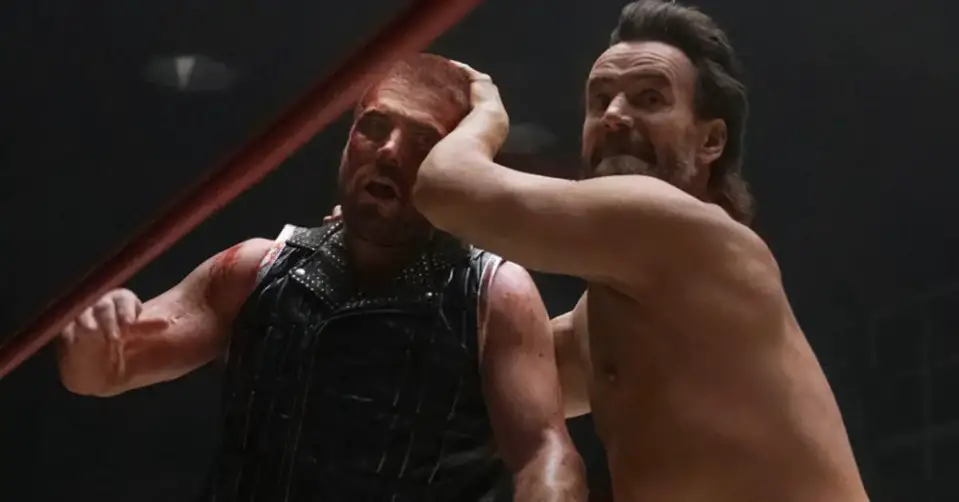 In January 2014, Phil Brooks aka CM Punk walked away from the world of professional wrestling. For years, fans chanted his name in hopes to see him back doing what they loved watching him do. Imagine the surprise of wrestling fans when it was reported that CM Punk was going to appear in an episode of Heels. Additionally, the episode just happened to air one week away from CM Punk's real-life return to the world of pro wrestling when he takes on Darby Allin in AEW's upcoming pay-per-view event All Out.
However, the character CM Punks plays in Heels, Ricky Rabies, is a far cry from his wrestling persona in the WWE or AEW. Now, CM Punk has played a wonderful heel in his twenty+ year career. Notably, his Straight Edge Savior persona in 2009-2010 is one of the most hated villains in WWE history. However, in Heels, Ricky Rabies is a foul-mouthed, old-school wrestler with a longstanding career on the independent circuit. Alongside his valet Vicky Rabies (Bonnie Somerville), Ricky brings a viciousness to his work as a heel and ends up turning Jack into a bloody mess during their match. Unfortunately, while fans of the DWL want to see Ricky Rabies do his thing in the ring, Ace sees it as a slap in the face.
Ace hopes for a moment to undo what was done to him during The Duffy Screwjob. Furthermore, he hopes to win the fans back with a heroic speech. In actuality, the fans turned on Ace the moment he shed tears in the ring. Ace is a heel in the eyes of the fans. Ace is a heel that realizes that he needs to lean into the new persona and change his attitude in the ring.
Heels displays something that happens in pro wrestling all the time. When the creative team makes a choice for a character, the crowd can either accept the position or reject it. In the case of Ace, the fans of the DWL have changed their mind about him. The art form of wrestling needs the crowd to react. Whether or not they are cheering or booing, they are responding. Faces and heels are both working on the same team to get the audience to feel something. And at the end of the day, that's what the business is all about.

Additionally, episode three of Heels offers perhaps the most gut-punching flashbacks TV fans will see all year. The episode begins with the recently deceased father of Jack and Ace, Tom Spade, going through the normal motions of his day. After jogging through town, mowing the lawn, hanging a new sign on his shed, Tom notices a deer in his yard and goes to grab a gun, seemingly to scare the deer away. However, Tom walks out to his porch, places the gun under his chin, and shoots himself. Seconds later, Ace discovers his body after hearing the shot from the living room.
This moment is the catalyst of the entire episode. Ace's mental health and motivation are called into question stemming from the tragedy. Jack and Ace continue to butt heads with Jack manipulating and exploiting Ace's insecurities to get what he wants. However, Jack reminds him that Tom knew Ace was home when he pulled that trigger. The lines are blurred. Jack plays a heel in the ring but hopes to be a good man in real life. Ace wants to be a hero in the ring but handles life questionably in real life.
Heels offers wrestling fans and casual viewers a masterclass of how difficult it is to be a pro wrestler. Eventually, Ace chooses to embrace the negative reaction from the fans and fully turns heel. Much to the adulation of his peers. "I'm a heel now" is a line delivered by Alexander Ludwig through tears and will undoubtedly be remembered as one of the best of season one.
The cast of Heels continues to deliver memorable and charismatic performances. Additionally, thanks to Allen Maldonado's Rooster to James Harrison's Apocalypse, the perspectives of independent wrestlers are on full display. Most of all, as a lifelong wrestling fan, I am happy to see CM Punk back. He is back doing what he loves after disillusion by corporate mismanagement. Being able to see him do what he does again in the AEW and on Heels is an extremely welcome treat.
Rating: 10/10
Heels airs every Sunday on Starz!
—–
Did you enjoy this article? If so, consider visiting our YouTube channel, where we discuss the latest and greatest in pop culture news.
---
Trending Now